Description
An exploration of the fascinating and fabulous world of fungi at Scotland's Wild Food Festival.
September is high fungi season in Central Scotland and this event is designed to make the most of it. Over about 1 km of easy walking over 2 hours you will explore the fungi around the Festival site, learning about fungal ecology, identification skills, and some of the food and medicinal uses of wild mushrooms.
Ticket price does not include admission/parking for the Wild Food Festival, which must be purchased separately – see link below.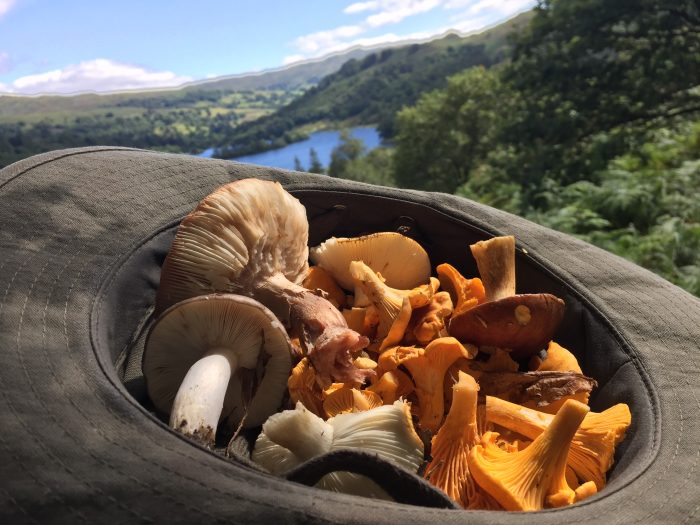 About Mark your Guide
Your host for the walk will be Mark Williams of Galloway Wild Foods. Mark is a passionate mycophile, wild gastronomer and professional wild food educator, who has been teaching about wild mushroom identification and edibility for over 30 years. Mark is a font of knowledge and enthusiasm on wild fungi, specialising in making this often daunting subject fun and accessible to novices, while providing solid foundations for a lifetime of discovery, enjoyment and worry-free wild eating. Mark writes widely on this subject and works closely with leading mycologists, landowner/conservation organisations such as The National Trust and Scottish Natural Heritage.
Check out Mark's free online wild fungi guide here
Read, listen, watch more about Mark Williams and Galloway Wild Foods
Please note that we will be exploring all aspects of fungi, on and around the festival site. The location has an interesting and diverse mycota from which to learn, but is not full of basket loads of choice edibles!
---
About The Scottish Wild Food Festival
Set in the spectacular surroundings of Tir na nOg, the Scottish Wild Food Festival encourages people of all ages to step outdoors and learn about local wild food. With dining experiences, foraging walks, wild cocktail making, bushcraft, talks and demos, workshops, live music and a marketplace there really is something for everyone to get their teeth into! Explore, eat and relax in our main festival hub or take a walk round the grounds – beautiful woodland trails packed with wild food surprises around every corner.
The Scottish Wild Food Festival was launched in 2019 as part of the Forth Valley and Lomond LEADER project, Wildwonders, which aimed to encourage a greater connection with foraging and wild food in the region as well as international exchange. Over a year long course of tuition and mentoring designed and led by Mark Williams of Galloway Wild Foods, local individuals and businesses learned how to sustainably incorporate wild foods into their businesses, and took part  in an international exchange with similar festivals in Latvia and Finland. After a very successful first event in 2019, and a pandemic pause for 2020, the event moved to our new venue for autumn 2021 and expanded to a weekend format. This year's festival will pack even more into two days in the woods!
Visit the Scottish Wild Food Festival Website
---
Fascinating Fungi Walk @ The Scottish Wild Food Festival
Location: Scottish Wild Food Festival, Tir Na Nog, Balfunning, Balfron Station, G63 0NF. Map etc here.
Date: Saturday 17th September 2022
Start time: Arrive in time for a 10.30am start. (Festival site opens at 10am)
Finish time: The walk element finishes at 12.30 pm – allowing lots of time to explore further festival events during the afternoon. Your ticket for this walk also includes priority seating/tasting at my wild mushroom cookery demo running 12.45pm – 1.15pm (right after the walk)
Fungi Foray Tickets: Adults £50 Children aged 12 to 16:  £25 (Please note: fungi identification can be complex and this event is recommended only for children with a keen eye for detail)
Wild Food Festival Tickets: Tickets for the Wild Food Festival must also be purchased in order to attend this event. I recommend booking your festival and parking tickets at the same time as you book tickets for this event, as it may sell out. The festival has lots of free and paid events to entertain you for the rest of the day or weekend. Festival info and booking here. (Early bird tickets from £16pp)
Expect: Up to 1km gentle walking on well made paths, occasionally steep, over 2 hours, with wild & fungi-themed tasters en route, followed by an edible wild mushroom cookery demonstration.
Learn:
The important role fungi plays in nature
How to go about identifying important families and species of fungi
How to home in on the most rewarding edible species
How to recognise dangerously poisonous species
Medicinal and utilitarian uses
Sustainable harvesting practices
Preservation and cooking techniques
Key resources for taking your personal learning forward
Other autumn woodland wild foods
The cookery demonstration after the walk will be open to all festival-goers, but ticket holders for the walk will have priority seating and tasting.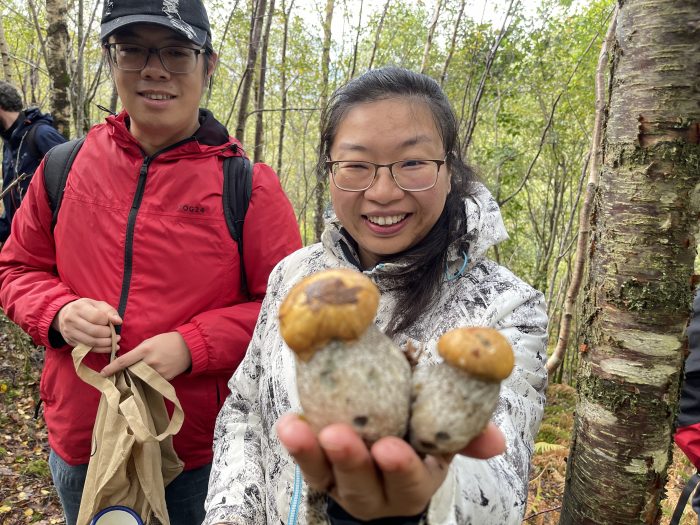 Bring: 
Essential: Stout footwear, weather-appropriate clothing, drinking water
Optional: A small basket or cloth bag, notebook, camera, fungi field guide if you have one. If you make any foraged delights at home and would like to share them with the group, please bring them along!
Please read the IMPORTANT INFORMATION tab on this page before booking and again before setting off for the event.
Please note: I do not recommend this event for children under 12 years old. Sorry, this event is unsuitable for dogs.