Description
Take a plunge into seaweeds…
Join full time foraging teacher Mark Williams for a deep dive into the delicious and nutritious world of seaweeds.
Please play the video to see what to expect.
This webinar is timed a few days ahead of the lowest tides of the year in the UK, so you'll have plenty of chance to use your new knowledge while it is still fresh in your mind!
The webinar is designed to give you all the information you need to get started safely and sustainably foraging seaweeds and how to use them in your diet. Areas covered include:
What seaweeds are and a little bit of their science
The important jobs seaweeds play in nature
Safe, considered and sustainable harvesting strategies
The how, where and when of the most most rewarding seaweeds
In-depth coverage of 15 common seaweeds
Cleaning, processing and preserving seaweeds
The nutritional properties of seaweeds
How to use seaweeds in the kitchen
Recipe ideas and videos
A live question and answer session
Further reading and resources to take your learning forward
Please note: This webinar is focussed on UK seaweeds. While much of the information, and many of the seaweeds covered, are relevant to other areas of the world, some may not be.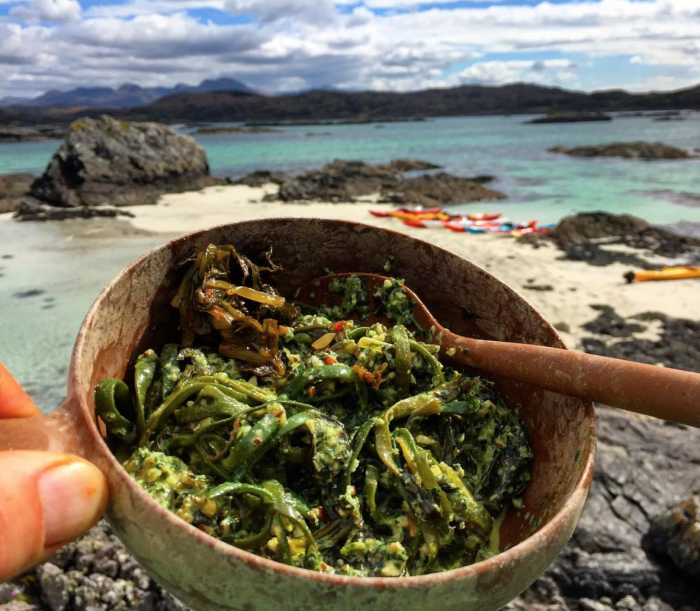 This webinar is aimed at beginners, and more experienced seaweed enthusiasts who wish to connect more deeply with the subject.
The full webinar will last for around 1 hour 30 minutes and includes on-location recorded videos, live chat, detailed photographs and diagrams, and a live question and answer sessions.
Click here to buy gift vouchers that can be used to purchase this and other Galloway Wild Foods webinars, guided walks, private tuition and online mentoring.
How it Works:
On completion of purchase you will be emailed a link and password for one household to attend the zoom webinar. You do not need to have a zoom account to participate.
The webinar has a host (Emily Goan) and a presenter (Mark Williams). Participants are muted during the presentation, but can type questions that will be read out by the host to the presenter.
Can't make the time? Dodgy connection? Don't worry! Within 2 days of the live webinar, all ticket holders will be emailed a link to a recording that is valid for 7 days. The email may also include further information and links relevant to questions that came up in the Q&A session. To ensure you receive the email, it is important that you add mark@gallowaywildfoods.com to your email contacts. Failure to do so is likely to mean it will get caught in your spam filters.