Description
Paddle, explore, forage, taste and generally immerse (but hopefully not submerge!) yourself in the stunning edible landscape of South-West Scotland…
I'm super-excited to be teaming up with my friends at Adventure Carrick  to offer this fantastic experience.
Paddling, wild camping, coastal foraging and cookery around the remarkable coastal foodscapes of Galloway, SW Scotland.
Beaches, forests, salt marshes, remarkable flora, fauna and seaweeds.
3 day's easy exploring by kayak, with shore-based foraging sessions, and 2 wild camps
All equipment including kayaks, paddling gear, tents, sleeping mats/bags, and dry bags is included in the price
Fully catered with wild ingredients we will gather along the way, plus lots that have been pre-prepared and brought along – a chance to taste the finest food SW Scotland has to offer.
Identification, harvesting, medicinal/bushcraft uses and wild cookery of seaweeds and coastal plants, with Scotland's only full-time foraging instructor.
Instruction in safe sea kayaking from highly qualified instructors.
Foraged cocktails, campfire cookery and wild feasting – a chance to fully imbibe a stunning marine landscape.
Perfectly suitable for novice paddlers as full sea kayaking kit and tuition will be given, or for more experienced kayakers wanting to learn more about coastal foraging.
This trip: 9.30am Mon 28th June – 5pm Wednesday 30th June 2021 
Dates don't work? We are planning more of these trips, so please get in touch if you want to be notified about future paddling and foraging events in SW Scotland.
£555 pp, including kayak, paddling kit (waterproofs etc), camping gear (if required), all food, drinks, paddling and foraging instruction.
Booking, Enquiries and Payment are all dealt with by Adventure Carrick – phone and email details here. (Please do not contact Galloway Wild Foods about this, as i'll just ask you to contact Adventure Carrick!)
Galloway Wild Foods Gift Vouchers can be used towards this event – please quote your voucher code on booking.
---
Event Details and Logistics
Meeting Point: Galloway coast between Kirkcudbright and Isle of Whithorn. This is a large stretch of coast, offering us maximum flexibility according to sea conditions. We will give as much notice as possible as to our exact meeting point, but if you need to book accommodation in advance of that, the Newton Stewart to Gatehouse of Fleet area will be the best area to go for. For more information on visiting Galloway for Galloway WIld Foods events, including an accommodation/camping guide, see here.
Route: This will be entirely dependant on weather (especially wind), sea and tidal conditions, as well as the paddling ability within the group. While we have preferred routes in mind, is not possible to accurately commit to a route more than 1 week ahead. The route and itinerary will be outlined when we meet, but remains flexible throughout the trip  to maximise enjoyment, and foraging opportunities, and to ensure the safety and comfort of everyone involved. Your guides know the Galloway coast intimately, are extremely experienced in looking after people in the wild, and will constantly be balancing and adapting the itinerary to account for conditions, clients needs, and group safety.
Finish Point: Conditions may mean that our paddling journey does not finish in the same location as it begins. In this eventuality, everyone will be returned to their vehicle or other connection at the end of the event.
Equipment: Adventure Carrick will provide you with sea kayaks, paddling equipment, buoyancy aids, tents, sleeping mats, and any other equipment highlighted prior to the event. You are welcome to bring your own kit if you have it, but there is no price reduction for this.
Kit List: A kit list will be provided prior to the event and also what equipment we have on offer, including dry bags. We will show you how to pack your kayak.
---
About Your Guides
This event is a collaboration between Mark Williams of Galloway Wild Foods and Chris Saunders of Adventure Carrick. It is born of friendship, a shared love of the outdoors and eagerness to offer an amazing experience in an accessible location that showcases all the wonders of the Galloway coast through an immersive experience.
You are in good hands: Chris is a true waterman with a strong affinity for the ocean: a super talented SUP surfer, yoga and holistic adventurer, river and sea paddler. When he's not out surfing, he's planning an epic river trip. Chris has over 30 years industry experience in teaching watersports and an abundance of qualifications which allows him lead, guide and teach in various crafts and environments. Chris also trains instructors, nurtures apprentices into the industry and is a respected technical advisor on outdoor adventure. When he isn't on the water, Chris runs a mobile Gin Bar!
Mark has been teaching about foraging and wild food for over 30 years, and has taught and nurtured many of the new wave of foraging guides and enthusiasts. Based in Galloway, Mark is deeply entwined with the coastal foodscapes of Scotland, and this adventure will be a journey through some of his favourite foraging locations, meeting his favourite plants and seaweeds. Mark has taught on paddling and foraging trips for the last five years in the highlands with Arisaig Sea Kayak (with whom more trips are planned), but is extra excited to be guiding one in the rich foraging grounds around his home in Galloway.
Mark will provide the foraging tuition and lead the wild catering, while Chris will be responsible for keeping everyone safe and comfortable on the water. Both will enjoy telling you about the geography, folklore, smuggling stories and natural history of the Galloway coast,  keeping you comfortable in camp, and sharing their passion for foraged cocktails! 🙂
---
What To Expect
The Journey
We will disembark in a calm, sheltered area of water where everyone will have a chance to get a feel for their kayak, and how it handles, and practice a few strokes. (This won't take long as kayaking is really simple and intuitive. Once everyone is comfortable we will head towards our first night's camp spot, stopping for foraging and food along the way. Upon arrival at our first night's destination we will make camp and enjoy a foraged meal together.
The next morning after breakfast we will decamp and head off on the next day's adventure There is also the possibility that we will use one camp spot for both nights, which minimises packing/unpacking time, and maximises foraging/paddling time.
More journeying, foraging and lunch, exploring tidal islands, and catching low tides to explore seaweeds.
The second nights' camp will also consist of an evening foraged meal, time for socializing and enjoying the natural environment with a foraged sunset cocktail or two.
The final day will consist of more foraging and lunch as we head to our final destination and the end of our expedition.
---
The Foraging
The Galloway coast is an amazing natural environment, with a multitude of habitats and coastal foodscapes, including rocky shores, shingle beaches, sandy bays, salt marshes, maritime hedgerows and coastal woodlands. This is the richest foraging environment North of Cornwall, with an array of nourishing, succulent and delicious wild coastal herbs, vegetables and seaweeds that is not available anywhere else in Scotland.  Mark's intimate knowledge of the area will allow us to dive deep into the area's extraordinary foodscapes. During the course of the trip we could encounter every coastal plant and seaweed on this website's wild food guide.
Foraging on a kayak journey is not the same as foraging on a guided walk. While, on occasion, we may be able to connect with and learn about seaweeds while at sea, generally we will need to set ashore and explore on foot to forage. So the foraging elements become opportunistic sorties as part of a wider experience of journeying and observing the land from the sea. Times spent paddling are also a chance to mentally (and sometimes physically!) digest what we explored at the last stop.
In general, the foraging element of the trip will focus on teaching rather than harvesting, though there should certainly be opportunities to gather elements of our meals as we go.
---
The Paddling
The trip is suitable for all levels of paddling experience including complete novices. We will adapt to the comfort level of all attendees, which will most likely mean short stretches of paddling (maximum of 2 hours usually a good bit less)  at low speeds. This is a gentle imbibing of the landscape, not a race or endurance event, so if you are a fit, experienced paddler, looking to clock up miles and miles, this may not be the trip for you.
Stability/Capsizing: Sea kayaks are stable in the water, especially when loaded, so novices should feel comfortable and able to enjoy the journey throughout the trip. You will be fully briefed on capsize drills before going on the water, but capsizes are rare. In the event of a capsize, the kayak guides are highly trained and will have you back in your kayak in minutes, with water pumped out. Gear is stored in dry bags in watertight holds, so won't get wet.
Fitness Levels: In terms of effort required, paddling a sea kayak is comparable to walking, only you are predominantly using upper torso and arm muscles. You do not need to be muscle-bound to paddle, but a moderate level of fitness and the ability to sustain a gentle effort over an hour or more will mean you can fully enjoy the experience. If you do not enjoy physical exercise or have a low level of fitness, you may find sea kayaking challenging.
Gear: High quality kayaks, paddles, spray decks and specialist paddling waterproofs are included in the price. Sorry, 2 person kayaks are not available for this trip.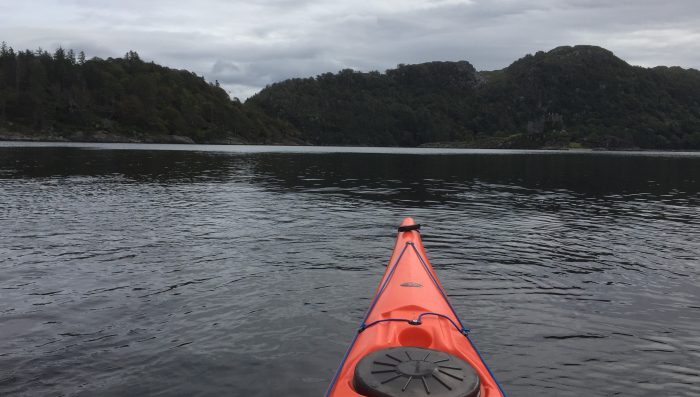 ---
The Food
The trip is fully catered to a high level and we can accommodate most dietary requirements. Your dietary requirements will be requested on booking.
Breakfast is usually porridge, with lots of trimmings. Lunch and dinner will incorporate many wild ingredients, some of which will have been pre-prepared by Mark, and others that we will forage during our journey. Meals will be freshly prepared and also include the finest produce Galloway has to offer. 90% of what we eat will be from Galloway and South Ayrshire Biosphere, so this is a true immersion in the culinary heritage of the region.
Mark and Chris will also provide a selection of foraged cocktails to enjoy in the evening around the camp fire.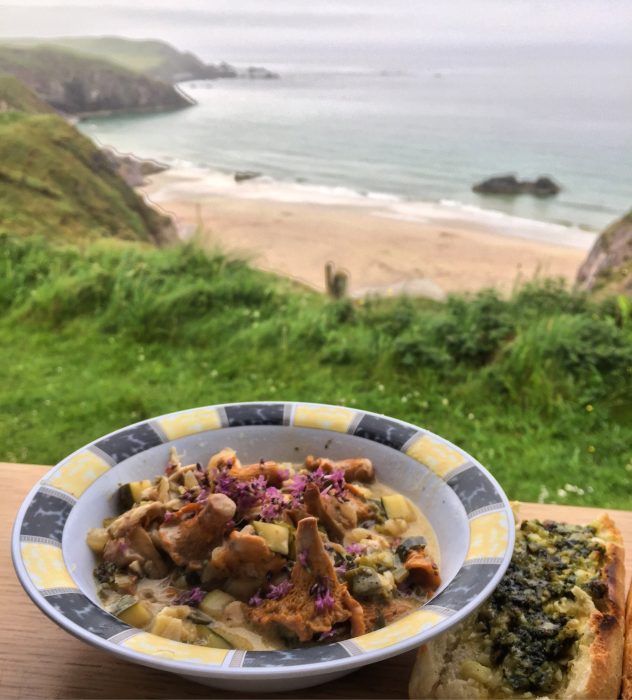 ---
Wild Camping
Our journey will take us to remote beaches and coastal woods where we will make camp. We are hoping to make a different wild camp on each night of the trip, which enhances the journeying experience. However, conditions may make it better to camp in the same location for two nights, and this brings the advantage of less time spent setting up and taking down camp, repacking kayaks etc, allowing more time for exploration. So either arrangement feels like a win!
Unlike the Scottish highlands, midges are not generally a major issue around the coast of Galloway, and we should be able to enjoy our camps unmolested!
Weather can be less reliable, and you should bring waterproofs (other than the ones provided for paddling in) and warm clothes. The trip will not be cancelled due to rain – only high winds from the wrong direction will result in cancellation, in which case you will be offered a full refund or alternate date.
Tents, sleeping mats and dry bags in which to stow them are included in the price of the trip. A full kit list will be provided on booking.
If you aren't a happy camper you might want to consider booking an on-foot foraging event with Galloway Wild Foods and/or a day/half day paddling trip with Adventure Carrick instead.
---
Corona Virus
The event is fully risk assessed with safety protocols in place. It is well within both the spirit and the letter of current regulations. Due to the outdoor, socially distanced nature of the activity, and low number of participants, transmission risk is very low.
In the unlikely event that the trip cannot take place due to corona virus restrictions, a full refund, voucher, or alternate date will be offered.