Description
A fabulous day out exploring Galloway's diverse wild foodscapes by bike, with foraged treats and tasters throughout and a wild food tasting picnic by the sea.
Using bikes allows us to explore a range of different habitats and the extraordinary wild foods they harbour. On this tour we will visit wetlands, forest, hedgerows, sandy shore and rocky coast via about 15 miles of mostly flat off road routes.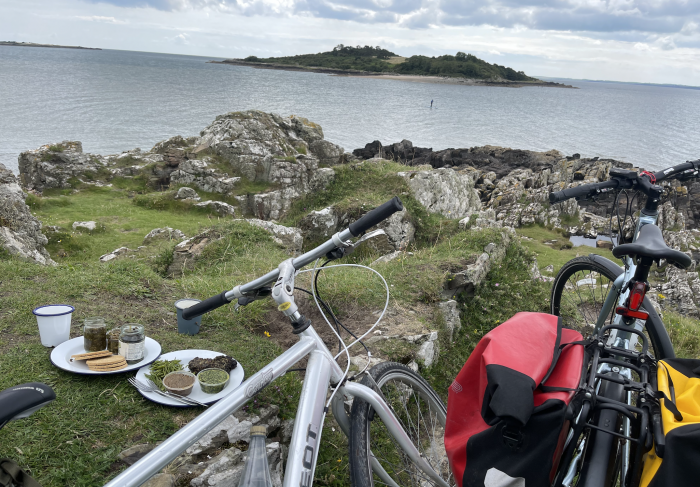 I'm super-excited to be teaming up with cycle guide/trainer Josh Wood to offer this fantastic experience.
7 hour cycle foraging course around a stunning area of Galloway
A wonderful day trip from Glasgow/Edinburgh or part of a weekend away
Learn about a range of wild ingredients, including woodland herbs and roots, hedgerow greens, succulent coastal vegetables and seaweeds
Includes a foraged treats, taster and tipples throughout, and one of Galloway Wild Food's famous wild food bento boxes
Bring your own bike or a hire bike can be organised with our partners in Galloway – see below
Expert-led: the foraging is led by Mark Williams of Galloway Wild Foods while the cycling is overseen by cycling guide Josh Wood
The Foraging
Galloway is an amazing tapestry of habitats and coastal foodscapes, including hedgerows, woodlands, rocky shores,  sandy bays, and salt marshes. This is the richest foraging environment in Scotland, with a diverse array of nourishing, succulent, aromatic and delicious wild herbs, vegetables and seaweeds, and this trip is timed to maximise encounters with them at the peak .  Mark's intimate knowledge of the area will allow us to dive deep into the area's extraordinary foodscapes and you'll leave with a full head, belly and heart! Expect to learn about upwards of 30 species, how to sustainably and considerately harvest them, their use in the kitchen, health benefits, preserving tips and lots more.
The Cycling
With its extensive  traffic-free cycle networks, gravel trails and quiet country lanes Galloway is a cyclist's paradise. This event makes use of some of its prettiest parts as we weave between hedgerows, through forests and along the coast on a more-or-less flat route for about 15 miles. We will move as a group, with expert cycle leaders to keep you safe and comfortable. There will be lots of stops to take in stunning views and learn about wild plants and seaweeds.
Your Guides
This event is a collaboration between Mark Williams of Galloway Wild Foods and JoshWood of SW Scotland Cycle Training. Mark and Josh met when Josh attended one of Mark's Kayak and Foraging trips, where Josh enjoyed the holistic nature of moving between habitats, learning and eating as he went, and saw how it could translate to bikes.
This event is born a of shared love of the outdoors and eagerness to offer an amazing experience in an accessible location that showcases the natural delights of the Galloway through an immersive and wholistic experience.
Mark has been teaching about foraging and wild food for over 30 years, and has taught and nurtured many of the new wave of foraging guides and enthusiasts. Based in Galloway, Mark is deeply entwined with the  foodscapes of SW Scotland, and this adventure will be a journey through some of his favourite foraging locations, meeting many of the plants and seaweeds featured on this website.  You can hear Mark discussing his love of foraging on podcasts and in films here.
If Josh isn't eating…then he is usually out somewhere on his bike. He has an extensive knowledge of Scotland through many cycle touring adventures and has worked in the cycling sector for almost a decade. He is passionate about the benefits cycling can bring to day-to-day life. He is a Cycling Scotland Tutor who runs their full range of cycle training programmes and  has a wide range of cycling qualifications. All the best bike rides feature food stops so this collaboration is something Josh is extremely excited about! Josh currently runs his own cycling training business based in Dumfries and Galloway. One of Josh's main motivators to ride a bike is the interaction you can get with wildlife when on two wheels. With luck he may be able to point out some of the wildlife we might see on the ride.
The client to cycle guide ratio for this trip 6 clients to 1 cycle guide. This allows maximum support, safety and (if you would like some) expert guidance and tuition on bike handling, cycling technique and bike care.
Mark will provide the foraging tuition and prepare foraged treats. tipples, tasters and picnics, while Josh will keep you safe and comfortable while riding. Both will enjoy sharing their love of Galloway and the outdoors!
---
Galloway Wild Foods Gift Vouchers can be used to book this event by applying the voucher code at the checkout
---
Event Details and FAQs
Start/Finish Point: Gatehouse of Fleet – exact meeting details will be emailed to ticket holders
Start/Finish Time: 9.30am – approximately 5.00pm
Route: Approximately 15 miles, mostly off-road on well made tracks or cycle routes, occasionally on quiet country lanes for short distances. Mostly flat, with the some gentle inclines. Lots of stops.
What can I expect?: A gentle day out with like-minded people, learning about and eating delicious wild things, with quiet cycling time in between to help you digest what you have learned/eaten!  The cycling will be broken up by the foraging, so you won't cycle for more than about 3 miles between stops. The foraging stops will require short, very gentle walks (less than 300m each) on a variety of terrain, from woodland to sandy beach, and with a bit of rocky shore when we look at seaweeds. We will stop for a full break and picnic in a beautiful coastal spot mid afternoon. While the timing of this event gives us the best chance of good weather, you should be comfortable spending a whole day outdoors in mixed conditions.
Is the event suitable for children? The minimum age for this event is 16 years old. 16 and 17 year olds must be accompanied by a ticketed adult. All tickets are the same price.
How fit do I need to be? Not very! The riding time will be for about 2-3 hours in total and will be ridden at a gentle pace as a group. There will be lots of breaks in the riding whilst we forage. There will be no pressure to "keep up" and it is a very relaxed and inclusive ride. You will be asked to ride as part of a group and the cycle ride leaders will assist with this. If you ride reasonably regularly you will have no issues at all with this ride. It is not hilly.
What skills do I need? The route is not technical and you will need only basic bike handling skills. The day will begin with some gentle bike warm ups and games. If the ride leader believes that it would not be suitable for you to join the group based on this, then they will have ultimate responsibility for this decision. Please contact Josh at South West Scotland Cycle Training if you have any worries or concerns about this  – and depending on where you are based it may be possible to organise a bike session with you in advance of the ride.
Can I bring my own bike?  Yes (or you could hire one from our partners at the start point – see below). The ride could be done on any roadworthy bike type but we would recommend tyres at least 28mm thick as some of the off-road sections are a little gravelly but do not require technical bike skills.
What is meant by a roadworthy bike? A roadworthy bike should pass an M-Check. This video shows you a basic M-Check you can do at home yourself. If you identify any issues on this M-Check then you should have these addressed before coming on the ride. Two working brakes are absolutely essential.
Can I hire a bike? Yes. Bikes can be hired from Wheels of Fleet, a wonderful bike charity based in Gatehouse of Fleet right by our start point. Danny who runs the charity will give you a 50% discount if you tell him you are booking for this event – that makes it just £15 for the day! Email Danny on wheelsoffleet@gmail.com to book your bike in advance, and ensure you are bike ready by our start time. (Bike hire is not included in the ticket price, and Galloway Wild Foods is not responsible for organising your bike hire).
Food: The day includes a foraged picnic, lovingly foraged and prepared by Mark and served in your own personalised bento box. All dietary requirements can be catered for and you can note these on booking. There will also be foraged snacks and tasters at our various stops to illuminate what can be done with our finds. Our picnic time may not be until mid afternoon, so you should bring your own snacks to keep you going through the day, and your own drinking water. Below is a short reel to give you an idea of what to expect in your bento box.

Can I get to Gatehouse of Fleet by public transport with my bike? Yes, you can take the 500 Stagecoach bus which runs between Dumfries and Stranraer (with a stop at Gatehouse). We would recommend contacting Stagecoach to get advice on this service.
.
Do I have to wear a helmet? No, helmets are not mandatory but we would recommend that you do as you are likely to be riding on roads and surfaces which are new to you.
.
Do I have to wear high-viz? No, please wear what you feel comfortable in but we would recommend something which makes you stand out from the background.
.
What should I wear? Although we will be doing some riding which will hopefully keep us warm, the foraging element tends to be very slow-moving. It is easy to get cold in these circumstances. Please bring clothes to suit standing outside in and of course, please check the weather. We recommend against using pedals with cleats for this trip.
.
What should I bring? Please bring with you a spare inner tube to fit your bike, any medication you may require and clothing to suit the weather. Also please bring a bottle of water as well as a snack (food will be provided but we can all get a bit peckish from time to time!). For the foraging, you could bring some small bags or tupperwares to take things away, but our main focus is on learning, not harvesting lots. A camera and notebook are also useful as there is a lot of information to take in! The easiest way to carry things on the bike would be to bring a backpack. Pannier racks are available for some of the hire bikes – mention this to Danny if you are hiring and would like them.
---