Foraging Tuition and Private Bookings
Book Mark for your own private foraging event at any time of year
"You've really changed my life with the exceptional knowledge you passed on to me on the foraging day. I have just finished a delicious meal of chanterelles, amethyst deceivers, puffball and ceps! So ecstatic that the rest of my life is now an everlasting treasure hunt. Life changing! The skills you passed on and the enthusiasm for observance was a true gift and I now see the world through an extra dimension!"
– Kit Cubitt, E. Lothian
To really learn and gain the confidence to identify edible plants, fungi and seaweeds, it is extremely useful to go out in the field with an experienced foraging teacher.
Book a private session and you'll enjoy getting to know the wild flavours of your area in a session designed around the needs of you and your group – from relaxed nature bimbles to big days out on fungi-filled forests, or even multi-day
All private events booked with Galloway Wild Foods are hosted and taught by Mark Williams, who has been teaching about foraging for over 30 years. Learn more about Mark here.
Mark specialises in giving you a fun, fascinating, delicious outing that suits the needs of you and your group.
What To Expect on a Private Booking with Galloway Wild Foods
Click Play to listen to a Visit Scotland Podcast, recorded on a private booking with a family. (Play from 1m 10s)
Having guided foraging, mountaineering and nature watching groups for over 30 years, Mark can find a good formula for most needs and interests. The following gives a sense of what most people are looking for, but do feel free to design your own event:
All private bookings are tailored to your own needs, interests and location
Welcome wild flower champagne/soda
A gentle exploratory walk of 1 to 2 miles over about 3 hours, followed by a cooking/picnic session
Route is carefully recced in advance by Mark, to ensure you get the most from the session, and that terrain is suitable for your group
Foraged treats, tipples and tasters are served throughout the walk, to bring to life the full possibilities of what we meet
A wild cook-in or pre-prepared wild food picnic afterwards in a beautiful spot, meticulously prepared by Mark from dozens of wild ingredients, prepared according you your dietary requirements. Click the link video below to see what goes into an autumn picnic box…
Learn the hidden foodscape of your own back yard, have fun explorations with family and friends in a beautiful place, and delving deep into foraged cocktails, our wild spice rack, seaweeds or fascinating fungi….
If you don't have a location in mind already, Mark has lots of great locations around Galloway or further afield in Scotland and N England, including wheelchair accessible locations, and would be happy to design sessions for people with sensory impairments.
"My family wanted to connect a bit more with what was in our our own backyard so, on discovering that Mark was offering bespoke guided foraging tours as we exit from full lockdown, we jumped at the chance. Mark helped us discover the edible treasures we had around our pond, all this while respecting the social distancing measures. After 2 hours of tailored tasty tuition, we now know the "yellow thingy" is a pineapple camomile (yum!), that spruce tips really jazz up your gin as well as dozens of other delicious treats! Mark even left us some foraged cocktails and other tasty wild treats, which really was the icing on the cake!"
– Annie, Galloway.
Cost:
From £125/hour + travel time & mileage based on a minimum of 3 hours per event. About 4 hours is normal. You can invite up to 12 people. Treat this as guidance only – I will give you a price for the whole event and optional extras once we've discussed your needs/interests/location preferences.
Further Information and Booking:
Email mark@gallowaywildfoods.com for more information, including: the sort of event you'd like (eg. coastal/fungi foray etc, in which area you would like the event to take place, for how many people, and your preferred dates. I'll then send you a detailed info sheet, and a outline a range of costed options.
If all this sounds too complicated or expensive for your needs, please check out:
Sessions or whole days can be tailored to your interests and location. Perhaps you are fascinated by fungi, or want to learn how to unearth spoot clams. Maybe you'd like a celebratory day with friends, exploring the Drunken Botany of plants, with wild cocktails to try. Often there will be a host of delicious 'weeds' up your lane that you have been ignoring for years!
If you book Mark for an afternoon or a day and let him know where you are he can design a session that will ensure that you get most out of your time. If you want to learn about things that don't grow in your area, he can advise on a good place for the foray. Or just say what sort of day (or days!) you want and let Mark suggest some options.
Gift Vouchers are also available, and can be used to book tuition at a later date –
Tuition is not restricted to Dumfries and Galloway – Mark has foraged in many areas of Scotland and N England and can help you get the most out of any area.
"…thanks for giving us the confidence to find and pick such delicious mushrooms! We are now getting enough to put chanterelles, hedgehog mushrooms and giant puffballs on our menu – but we keep the ceps for ourselves! The best thing is that after a 3 hour session with you we can now harvest our own little patches year after year!"
– Helen, Owner and Head Chef, House O'Hill Hotel, Bargrennan.
"We had a fabulous time last Sunday – I still can't believe that we were all outside in that filthy weather for nearly 4 hours – kids and all – and completely absorbed. No doubt, helped by cha-cha bomb and sloe gin!!! And delicious fruit leathers and hogweed seed cake. Feedback is only the highest praise. You are so knowledgeable, and such a good communicator, and your cooking and drink mixing legendary! We are so lucky that you came to our patch to show us what is on our doorstep. Thanks so much for dealing with weather and location without fuss. Everyone I have spoken to since Sunday thought it was the BEST DAY EVER!! And so it was! They all thought you were brilliant, and were all amazed by what we found. Those who had less of an expectation of what it was all about were totally blown away; but equally those to whom I had explained in more detail or are already keen foragers, were equally blown away by how much they learned and how engrossing it was.
My excuse for my delay in thanking you is that since our day, I have been ADDICTED to mushroom hunting by day and drying them by night! Having been on the look out for ceps for 2 years, can't believe that it was on sunday that I found my first! Then found 5 more on Tuesday… Then on Sunday dragged hubby with me – and we filled another huge trug!! So in the evenings, when the girls are asleep, I have been busy creating a mushroom drying factory next to the wood burner!"
– Alice Stilgoe, Thornhill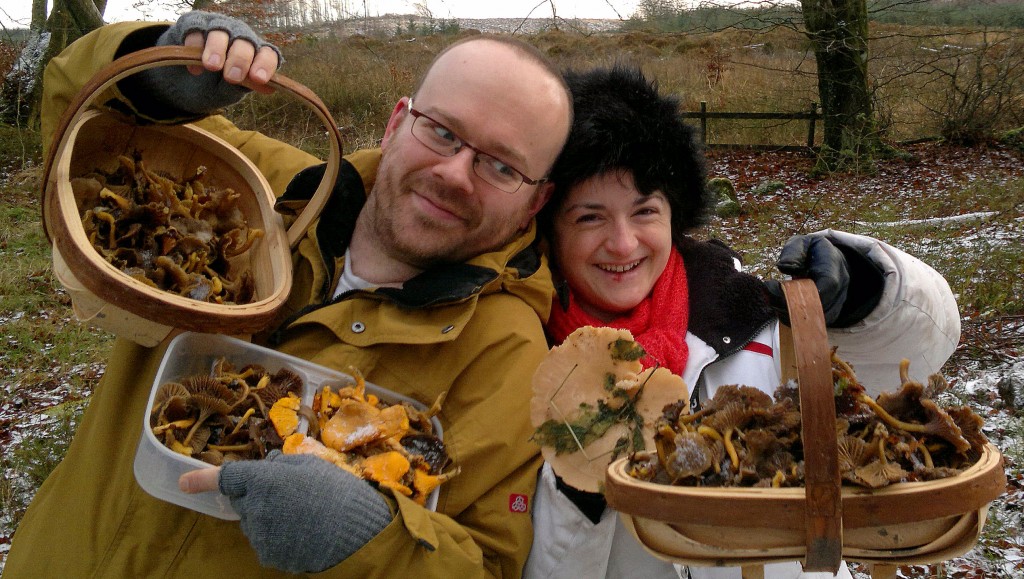 Promote Your Own Foraging Event
Mark regularly does walks for other businesses. Selling places for your own event is a good way to make bringing Mark to your area more affordable and often profitable. See here.
If you would like to arrange some tuition tailored to your interests/location/group, host a foray at your business, get some help identifying something you have found or just say hi, please contact Mark. I can answer your initial questions and send an information sheet to help you to know what is involved.
Example 1: An extended and far-flung family had got together for a short holiday in Ayrshire. They asked Mark to come up with an interesting venue for an afternoon's foraging. Read about it here.
Example 2: A retired couple who were keen cooks hired Mark to come to their rural home and help them get to know the free ingredients that lurked in their local woods. They invited a few friends round, had a fun afternoon, and learned how to use their wild larder in their everyday diet.
Example 3: A michelin starred chef hired Mark to take him and his brigade out near his restaurant. He now harvests some of his very finest (and most expensive) products for free. See more here and here