Visiting Galloway for Galloway Wild Foods Events
Ever more people are coming to South-West Scotland to learn to forage with Galloway Wild Foods, and most leave dumfounded by it beauty and rich natural heritage, wondering why they hadn't discovered it sooner! I've made this page to help people coming to the region for one of my foraging events to orientate themselves and find great places to stay and visit while they are here.
If you run a business in the Galloway and South Ayrshire Biosphere and would like to be added to this guide, please get in touch.
Although Galloway Wild Foods runs foraging events all over Scotland and Northern England, lots take place near my base in South-West Scotland. This is that large corner of Scotland that most people speed by on their way to the highlands without so much as a second thought! Silly them! It is a forager's paradise, with an intricate network of habitats from huge sandy beaches and salt marshes to vast forests and high hills.
The region is organisationally known as Dumfries and Galloway, but for the purposes of this website, I use the term Galloway to refer to the part of that SW corner between Dumfries in the east, Stranraer in the West, the Solway Firth to the south, and Ayrshire to the North, though many locals would vehemently disagree with all being lumped under one heading!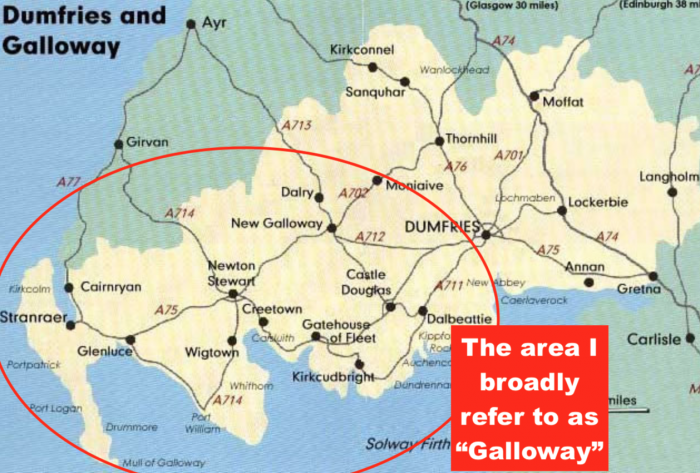 This area can be seen as one large peninsula made up of three smaller peninsulas: The Colvend/Stewartry coast (Dalbeattie, Kirkcudbright etc), The Machars (sometimes known as Wigtownshire) and The Rhinns (sometimes appended with "of Galloway"). Those who are local to these areas have strong subregional identities, and you may find yourself vehemently corrected if you say they live in Galloway!
This is a stunningly beautiful corner of Scotland, with rugged coast, sandy beaches, huge salt marshes, vast forests (including the UK's biggest forest park, and one of its most extensive ancient oak woodlands), characterful towns and villages, and some of the least trodden mountains in the whole of the UK. It was the UK's first Dark Sky Park and was named as a UNESCO Biosphere Reserve in 2012.
A 'Biosphere' is a special status awarded by the United Nations Educational, Scientific, and Cultural Organization (UNESCO) to places where communities can demonstrate a passion for living and working that benefits people and nature. Biospheres are created to fulfil three main purposes:
Conservation: promoting the preservation of wildlife, habitats, and landscape.
Learning: supporting a better understanding of nature and global issues.
Development: fostering a sustainable economy and society.
You can read more about Galloway and South Ayrshire's Biosphere designation here.
By teaching people to sustainably and considerately forage for abundant resources through nature connection, Galloway Wild Foods unites these three strands and is a Certified Biosphere Business. To achieve this certification a business must:
Operate in a way that minimises thier impact on the environment
Look after the valued characteristics of the Galloway and Southern Ayrshire Biosphere, promoting what's special about it to others
Work together with other businesses, using and promoting their products
Shows their support to the local community
Most of the images throughout this website were taken in and around Galloway, and flicking through some pages will give you a good idea of the flora, fauna, fungi, habitats and landscapes, as well as its rich abundance of delicious and culturally important wild foods.
Perhaps it is SW Scotland's lack of very high mountains that makes people overlook it in favour of the Scottish highlands, but this helps keep the region peaceful and unspoiled, with none of the grockle, tour buses, full car parks and crowds of the regular tourist circuits. Even in high summer you'd be unlikely to see another soul in most of Galloway's wild mountains, deep forests and rugged coast. Though biting midges are not unheard of in the region, they are much less of a nuisance in most of Galloway than in much of the rest of Scotland's West coast!
---
Getting to Galloway Wild Foods Events
When booking a GWF event, the event information page and confirmation email tell you the general area of your walk (eg. "On the coast between x and y", or "within 30 minutes drive of z". The reason I do this is because wild foods (and fungi in particular) can be fickle, so it allows me to select the very best location at shorter notice in order to maximise your learning opportunities. I send detailed meeting information in the week prior to the event – sometimes as little as 3 days ahead. There is no need to ask for this – I always send it!
To minimise the environmental impact of travel to Galloway Wild Foods events, wherever possible, I try to select locations that are accessible to public transport routes. Sadly Dumfries and Galloway's public transport infrastructure is quite dire. I'm happy to advise on best options, but recommend using Traveline Scotland in the first instance to plan your travel by public transport.
I also promote car-sharing where possible. This can be tricky in terms of introducing strangers versus privacy/safety, but please drop me a line if you are offering or looking for car share possibilities around an event.
---
Places To Stay near Galloway Wild Foods Events
While I encourage you to explore the whole of the Galloway and South Ayrshire Biosphere during your visit, most of my walks and courses are held in the area around Gatehouse of Fleet where I am based. For this reason my focus here is on that area – roughly bound by Castle Douglas, Kirkcudbright, Wigtown, Newton Stewart and New Galloway. Please compare the location of your event to the location of the accommodation before booking – they could be 40 minute's drive apart.
I've focussed mostly on places that are proud supporters of, or certified by the Biosphere, as they have clearly demonstrated their commitment to:
Help to conserve the natural resources of the Biosphere
Support the economy to benefit people and nature
Promote cultural heritage and local products
Contribute to the health and well-being of the community
Develop knowledge, understanding and promote research
I have also included some other excellent businesses that aren't yet part of the Biosphere project. While I am only listing places that I have heard to be of a high standard, I can't take any responsibility for the quality of your stay…please do your own further research.
_______________________________________________________________________
Useful Websites
Gatehouse of Fleet Website/Visitor Guide
Visit Scotland Accommodation Guide – Dumfries and Galloway
_______________________________________________________________________
Bed & Breakfasts
The Bobbin B&B, Gatehouse of Fleet. Small, family run B&B near many of Galloway Wild Food's courses
Woodlyn B&B, Gatehouse of Fleet. Recently renovated B&B near many of Galloway Wild Food's courses
…or search Air B&B for the Gatehouse of Fleet area.
_______________________________________________________________________
Hostels
Barholm, Creetown – Well located for coastal and fungi forays. Private and shared hostel rooms for up to 27, car and cycle hire on site
Newton Stewart Youth Hostel (Hostelling Scotland), Newton Stewart. Available only as full hostel rental.
_______________________________________________________________________
Campsites
Glen Trool Caming and Caravan Site, Glen Trool. Campsite in the heart of the Galloway hills and Cree Valley Oak Woodlands.
Solway View Campsite, Near Kirkcudbright. Camping, glamping on a lovely site with views over Kirkcudbright Bay.
Mossyard Campsite, Near Gatehouse of Fleet. Camping and caravan site on a stunning bit of coast with sandy beaches.
Newton Farm Campsite, Near Gatehouse of Fleet. Minimal facilities, maximum beauty on a gorgeous bit of coast! Cheap and basic – like wild camping, only with a water tap, a portaloo (when covid allows), and nobody will ask you to move on!
_______________________________________________________________________
Glamping
Carraig Shepherd's Hut, Glen Trool. Cabin glamping, great for the Galloway Hills 35 mins from Gatehouse of Fleet.
Creeside Escape Shepherd's Hut, Creetown. Cabin glamping, well located for coast, forest and hills.
Garroch Glen Shephers Huts, New Galloway. Cabin glamping in the forest park.
_______________________________________________________________________
Wild Camping 
Thoughtful, considerate wild camping is fine while practising your right to roam in many wild spaces around Galloway. Please heed signs and if in doubt, seek permission.  The Scottish Outdoor Access Code and Mountaineering Council for Scotland provide sound guidance on what constitutes Wild Camping and how to do it well here.
Please note that camping next to your car or parking up in a camper van do not constitute wild camping.
Sorry, but I can't recommend wild camping locations, as there is too much range within people's conceptions of what it means, and I don't want to be held responsible if you are moved on!
The closest to wild camping on the coast where you can camp by your car without fear of being moved on, is Newton Farm Campsite. Its by a lovely beach and has minimal facilities (just a tap, plus portaloo outwith C19 restrictions – you'll need to be able to tell them you have your own toilet facilities during C19). £15/tent/night.
_______________________________________________________________________
Hotels
Cally Palace Hotel, Gatehouse of Fleet. Victorian grandeur and luxury in the heart of a vast woodland.
The Ship Inn, Gatehouse of Fleet. A small hotel in the lovely village of Gatehouse.
The Selkirk Arms Hotel, Kirkcudbright.  A welcoming, cosy, well run hotel with good food in the artists town of Kirkcudbright.
The Clachan Inn, St John's Town of Dairy. Cosy country inn, 35 minutes drive from the coast near Gatehouse of Fleet.
Ken Bridge Hotel, New Galloway. Traditional country Inn on the banks of the River Ken, in the heart of the Forest Park.
The Cross Keys, New Galloway. Cosy country inn, 35 minutes drive from the coast near Gatehouse of Fleet.
_______________________________________________________________________
Self Catering/Cottage Rental
The Hidden Mill, Balmaclellan. A lovely converted mill owned and run by lovely permaculture-foragy folk, 40 minutes drive from the coast near Gatehouse.
Slogarie Estate Cottages, Mossdale. Three beautifully restored cottages deep in Galloway's hills and forests, about 30 minutes drive from Gatehouse of Fleet and the coast.
Drumwhill, Mossdale. Cottage and retreat centre secluded in the forest park. 25 minutes drive from Gatehouse of Fleet.
Glenquicken Farm Holiday Cottages, Creetown. Well located for hills, forest and coast.
Owl Cote and The Bird's Nest Cottages, Carrick, By Gatehouse of Fleet. Perfectly located for coastal foraging adventures on a stunning bit of coast.
Kirkennan Estate Holiday Cottages, Palnackie, Nr Castle Douglas. Beautiful dog friendly cottages (one of which is wheelchair accessible) on a private estate in a lovely bit of Galloway, surrounded by great woods, hills, hedgerows and coast.
Orroland Holiday Cottages, Dundrennan, Nr Kirkcudbright. Lovely cottages and a large lodge on a private estate on a beautiful bit of Galloway coast. I have run several private foraging sessions at Orroland – click the link to read about what we discovered.
Penninghame Estate, Nr Newton Stewart. Luxury apartments and cottages in a grand old estate in the beautiful Cree Valley, with lots of mature forest all around.
_______________________________________________________________________
If you run a business in the Galloway and South Ayrshire Biosphere and would like to be added to this guide, please get in touch.