Description
A guided foray exploring the fascinating world of fungi, with a wild fungi picnic in the forest afterwards. Less than 1 hours drive from Glasgow, and accessible by public transport.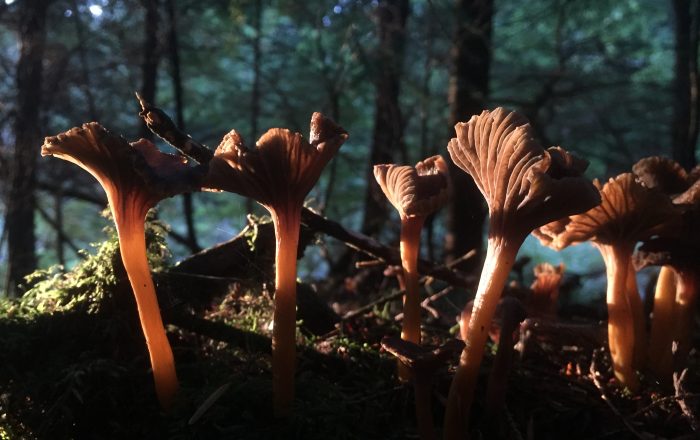 Early September is a great time for fungi in the West of Scotland, and this event is designed to make the most of it. Over the course of about 1.5 miles of easy walking over 3.5 hours we will explore the fascinating world of fungi. Our focus is on understanding, learning to identify and  appreciating the incredible diversity of queendom fungi, including, but not restricted to, edible wild mushrooms. Novices and experienced foragers looking to increase their repertoire will enjoy this event.
Please note that while this date and location are selected to maximise the potential range of fungi we encounter, it is not possible to guarantee what we will find. The emphasis is on learning about all fungi, and how to identify them, not just filling baskets with edible species!
Meet: For a 1pm start,  Near Cairndow, Argyll, PA26 8BG. Ticket holders will be notified of our exact meeting place by email in the week before the event.
Expect: Gentle walking on well made paths (occasionally steep) over 3 hours (maximum 1.5 miles easy walking), followed by a fungi-themed wild picnic in the forest. There will be wild treats, tasters and tipples to enjoy throughout.
Your host for the day will be Mark Williams of Galloway Wild Foods. Mark is a passionate mycophile, wild gastronomer and professional wild food educator, who has been teaching about fungi and wild mushroom identification for over 30 years. Mark is a font of knowledge and enthusiasm on wild fungi, specialising in making this often daunting subject fun and accessible to novices, while providing solid foundations for a lifetime of discovery, enjoyment and worry-free wild eating. Mark writes widely on this subject and works closely with leading mycologists, landowner/conservation organisations such as The National Trust, Kew Gardens, and Scottish Natural Heritage.
"You've really changed my life with the exceptional knowledge you passed on to me on the foraging day.  So ecstatic that the rest of my life is now an everlasting treasure hunt. Life changing! The skills you passed on and the enthusiasm for observance was a true gift and I now see the world through an extra dimension!" – Kit Cubitt, E. Lothian
Please note that while this date and location will be selected to maximise the potential range of fungi we encounter, it is not possible to guarantee what we will find.
Learn:
The important role fungi plays in nature
Fungal feeding strategies
Understanding mycelium
Key terminology and mushroom anatomy
Identification Skills: identifying important families and species of fungi
How to home in on the most rewarding edible species
How to recognise dangerously poisonous species
Medicinal and utilitarian uses of fungi
Ecological roles of individual species
Sustainable harvesting practices for edible species
Fungi myths, stories and folklore
Preservation and cooking techniques
Key resources for taking your personal learning forward
Other autumn woodland wild foods
When time and weather allow, we lay out and label our finds to serve as a souvenir and aide-memoire of the afternoon's discoveries.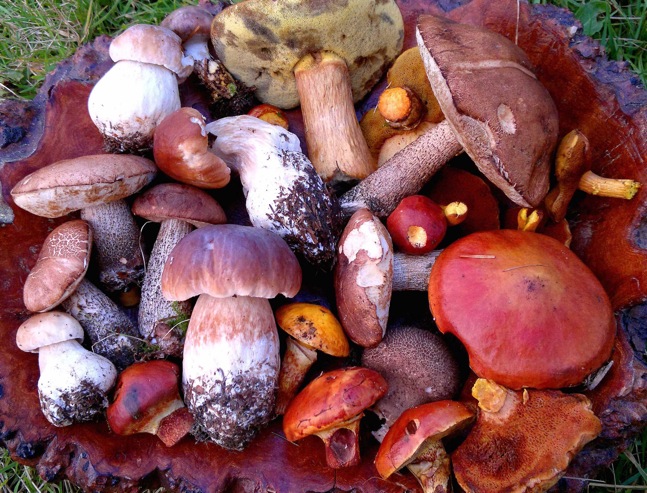 Eat/drink: Eating wild mushrooms is a wonderful entryway into a greater appreciation of the wider world of fungi, so I come with a hefty bag of lovingly prepared fungi-themed treats, tasters and tipples to share throughout the walk.  These are not only tasty, but serve to illustrate how to use to use some of the edible mushrooms we encounter. After the walk you will be served a fungi-themed wild food tasting picnic, comprising dozens of lovingly foraged and prepared treats served in your own bento box – see the film below for an idea of what to expect. All dietary requirements can be catered for, and these can be noted when booking.

Bring: Stout footwear, waterproofs, water. Your learning and enjoyment may also benefit from bringing camera, notebook, field guide (fungi), small basket/cloth bag. If you make any foraged delights you wish to share with the group, please bring them along!
Places are limited and events usually sell out fast – booking is essential.
If you already have a gift voucher it can be used to pay for this event (in whole or in part) at the checkout.