Description
CORONA VIRUS: PLEASE SEE ARISAIG SEA KAYAK CENTRE ADVICE HERE
_________________________________________________________________________
Paddle, explore, forage, taste and generally immerse (but hopefully not submerge!) yourself in the stunning edible landscape of a remote Scottish island…
Sunday 31st May – Wednesday 3rd June 2020
I'm super-excited to be teaming up with my friends at Arisaig Sea Kayak Centre again to offer this fantastic experience:
Paddling, wild camping, coastal foraging and wild gastronomy around the beautiful, remote Isle of Canna, off Scotland's wild west coast.
White sands, mountains, big tides, remarkable flora, fauna and seaweeds.
4 day trip with easy paddling (suitable for novices) and foraging sessions in multiple habitats, including rocky coast, sandy shore, salt marsh, coastal machair, deciduous woodlands and maritime hedgerows
Accommodation in wooden pods with spectacular sea views (included in price)
Identification, harvesting, medicinal/bushcraft uses and wild cookery of seaweeds, shellfish, coastal plants, woodland plants and hedgerow plants with Scotland's leading foraging instructor.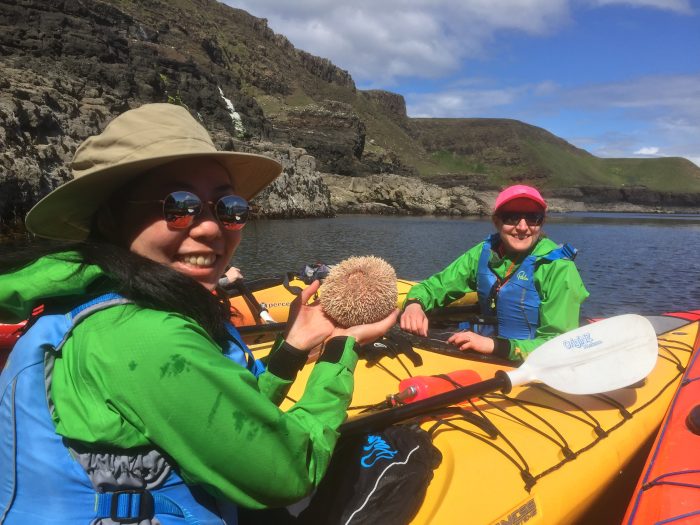 Instruction in safe sea kayaking from highly qualified instructors.
Paddling adventures – huge cliffs, sea caves and remote coastline
Foraged cocktails, campfire cookery and wild feasting – a chance to fully imbibe a stunning marine landscape. In addition to the foraged ingredients we will source wild Canna lobster, crab and rabbit, and those that wish can learn to prepare and cook them on an open fire. This is not compulsory and all dietaries can be catered for. (All meals are included in the price).
Perfectly suitable for novice paddlers as full sea kayaking kit and tuition will be given, or for more experienced kayakers wanting to learn more about foraging.
PUFFINS!
£690 per person which includes ferry travel to Canna, kayak, gear, all food, drinks, pod accommodation, paddling and foraging instruction.
Further information, booking and all enquiries via Arisaig Sea Kayak Centre website.
If you wish to apply a Galloway Wild Foods gift voucher to this event, contact Arisaig Sea Kayak Centre and quote the voucher code.
Looking for a shorter paddling and foraging trip?