Description
THIS EVENT HAS BEEN CANCELLED IN LINE WITH CORONA VIRUS PREVENTION MEASURES
If you are a ticket holder, please see advice on this page about refunds, rescheduling etc.
The reasons that this event has been cancelled and some others haven't are:
This event was part of the Sustainable Island Life Festival, which has been cancelled
Many of the ticket holders were travelling from the mainland, and the ferry is a 'pinch point'
______________________________________________________________________
A guided foray exploring the delicious, healthy and surprising array of edible plants available in early Spring in the woods, hedgerow and coast around Brodick, Isle of Arran, with a wild cookery demonstration and tasting session at the Sustainable Island Food Festival afterwards.
March is a thrilling time for foragers, with the sap rising in trees and springs shoots at their vibrant best. Highlights of the day will include low impact birch tapping, spring blossoms, early shoots and greens, coastal succulent plants, an introduction to fermenting wild greens, and a wild cookery demonstration/tasting session. This is a great time of year to tune in to abundant, local wild food resources for the year ahead, and learn how to harvest them sensitively. Both novices and experienced foragers looking to expand their wild food knowledge will enjoy this event.
Family friendly – 1.5 miles easy walking for all ages. As with all Galloway Wild Foods events, this walk is guided by Mark Williams who has been teaching about foraging for over 25 years.
Read/watch/listen to reviews/films/radio programmes featuring Mark
Mark was brought up on Arran, where his foraging journey started in the verdant woods and hedgerows around Brodick. He's delighted to have designed this event to support a 'Celebration of Arran Food' event hosted by Arran Eco Savvy, showcasing the islands abundant local produce. This is part of the Sustainable Island Life project that the charity are running to promote issues around food sustainability through workshops and events organised within their savvy food program.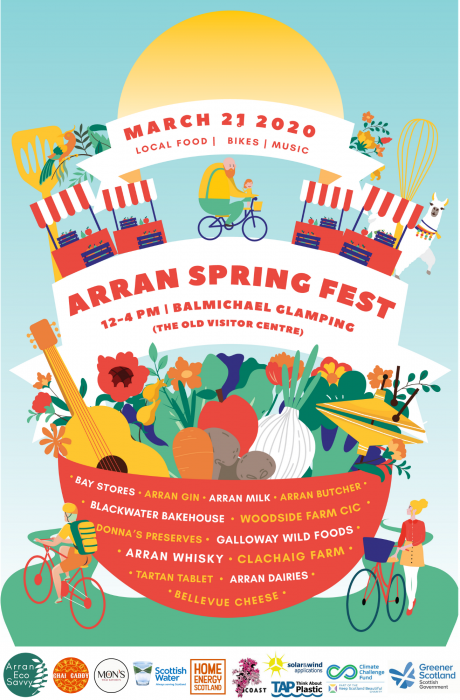 Many local producers and retailers will be displaying their wares and promoting their sustainability practices and commitments to environmental stewardship. Entry to the 'Celebration of Arran Food' event is free though there will be some paid, bookable events. Come along and taste delicious produce from local producers and find out more about what is available on the island seasonally. The walk advertised here is timed to allow you to also enjoy the Celebration of Arran Food.
Like all Galloway Wild Foods events, this walk is part of the Foragers v Plastic campaign, and we will be actively taking away rubbish as we explore sustainable local food sources. We will also discuss what practical contributions foraging and wild food can make to living more sustainably.
Time/Date: Saturday 21st March 2020, 10.30am – 1.30pm (Guided Walk), 2pm – 3pm (Wild Cookery Demo/workshop/tasting at Festival)
Meeting Place: Ormidale Park, Brodick, Isle of Arran. This is easily doable as a day trip from Glasgow – 1hr by train plus 1hr by ferry, and the walk starting point/festival is within 10 minutes walk of the ferry terminal. More travel info here. Full details of our meeting place will be emailed to ticket holders in the week before the event.
Expect: Gentle walking on well made paths over 3 hours followed by an al-fresco cook-in of our finds at the Sustainable Island Food Festival afterwards. There will be wild treats and tasters to enjoy throughout the walk that will illuminate our finds.
Learn:
Spring woodland, hedgerow and coastal plants (and some fungi if we get lucky) – finding, identification, poisonous lookalikes, mindful harvesting, expert tips, recipes and preserving techniques
How to sustainably tap a birch or sycamore tree for sap (though we may be a little late in the season for full flow)
Please note, although part of this walk is coastal with some fascinating edible maritime plants, this route is not good for seaweeds, though I will bring along some for us to taste and learn from.
Folklore/traditional uses, modern gourmet/medicinal uses, nutrition
Foraged cocktails and wild booze
Inevitably, the wider politics around foraging and food will come up too
When time and weather allow, we lay out and label our finds to serve as a souvenir and aide-memoire of the afternoon's discoveries.
Eat/drink: I think it is important to bring the wild foods we encounter to life by not just talking about them, but by eating and drinking them. To this end, in addition to the cook-in after the walk, I carry a very hefty bagful of lovingly prepared treats, tasters and tipples to share during the walk. These are both  delicious and educational, and the walk is more like guided grazing, a gentle imbibing of the landscape, than a route march! Often we will make a cocktail of the plants we encounter and drink it in a beautiful spot. The cook-in afterwards serves as both an al-fresco cookery demonstration and a social time to eat together and digest the afternoon's discoveries with new friends. While I don't bill this as a full meal, we usually share several dishes and most people leave well filled (ticket holders for the walk will get priority seating and first dibs on tasters). All dietary requirements can be catered for, provided you let me know when you book.
Bring: Stout footwear, waterproofs, water. Your learning and enjoyment may also benefit from bringing camera, notebook, field guide (plants), small basket/cloth bag. If you make any foraged delights you wish to share with the group, please bring them along!
Places are limited and events usually sell out fast – booking is essential.
Gift vouchers are available here
If you already have a gift voucher it can be used to pay for this event (in whole or in part) at the checkout.