Description
A guided forage exploring coastal spring greens, seaweeds, shellfish, succulents and herbs.
Coastal foraging in the spring offers perhaps the best range of healthy, gourmet wild foods of the year. Both novice and more experienced foragers will find this event inspiring, fun, and hugely informative.
Over the course of the walk, you will receive expert tuition on how to find, identify, mindfully harvest, preserve, cook and enjoy 30+ wild edibles. Highlights include shellfish, seaweeds, coastal succulent plants and maritime herbs. This is a fun, informative and truly memorable afternoon and evening. Wellies are essential.
Note: The late timing of this event allows us to catch a very low spring tide which allows us an excellent chance of harvesting razor clams.
As with all Galloway Wild Foods events, this walk is guided by Mark Williams who has been teaching about foraging for over 25 years.
Read – watch – listen to more about Mark's events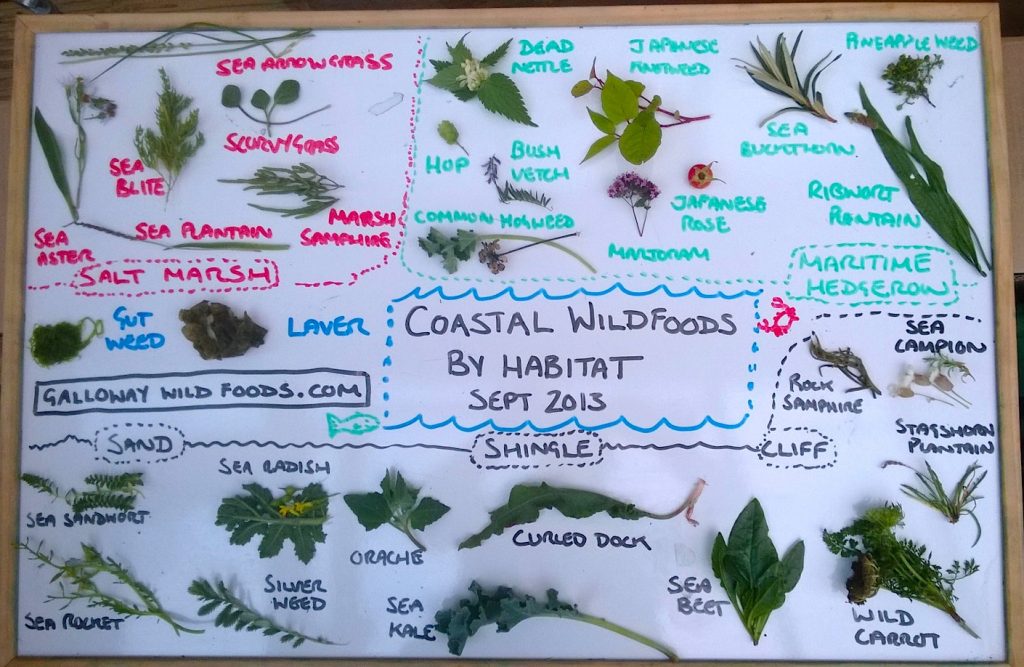 Time/Date: Tuesday 27th April 2021, 4.00pm – 8.30pm. The walk is timed for a super-low tide to maximise our encounters with seaweed and shellfish.
Meeting Place: The exact location will be emailed to ticket holders during the week before the event – but you should plan to be near Gatehouse of Fleet in the postcode area DG6 4UE. More information on visiting and staying in Galloway here.
Expect: About 1.5 miles of gentle walking over mixed coastal terrain. The route is suitable for anyone of moderate fitness who is comfortable moving over rocky foreshore, slippery rocks and muddy sand flats.
Learn: Seaweeds, shellfish and maritime plants: Finding, identification, poisonous lookalikes, mindful harvesting, expert tips, folklore/traditional uses, modern gourmet/medicinal uses, nutrition, processing, recipes, cooking tips. Inevitably, the wider politics around foraging and food will come up too.
Covid 19 Policy: Please see here for the latest GWF policy around events, social distancing and what happens in the event of cancellation due to C19 .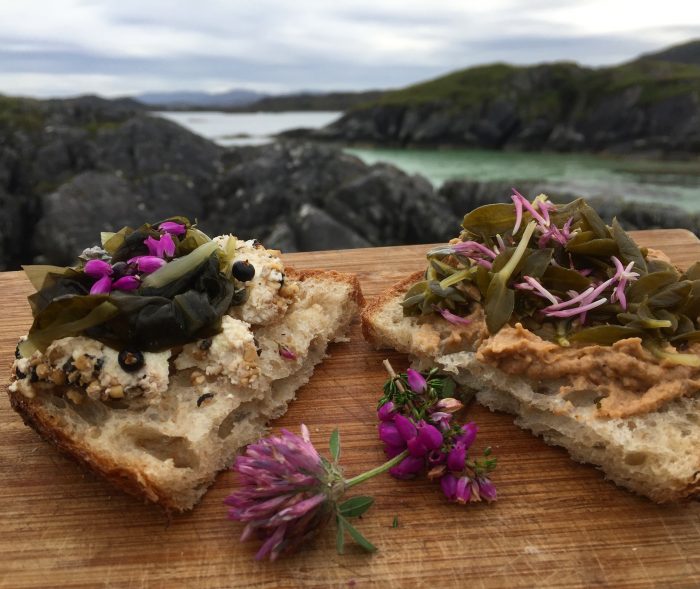 Eat/drink: I think it is important to bring the wild foods we encounter to life by not just talking about them, but by eating and drinking them as we learn about them, and usually come with a hefty bag of lovingly prepared treats and tasters to share.  This has become more difficult to do under social distancing, but I still bring some carefully considered foraged tipples, tasters and picnic items, portioned per household group. All dietary requirements can be catered for, provided you let me know when you book.
Bring: Wellies (essential – you will get wet feet if you don't have them), waterproofs, warm clothes, water. It can get pretty cold by the sea in April so bring plenty of layers. Your learning and enjoyment may also benefit from bringing camera, notebook, field guide (plants), small basket/cloth bag. If you make any foraged delights you wish to share with the group, please bring them along!
Places are limited and events usually sell out fast – booking is essential.
Gift vouchers are available here
If you already have a gift voucher it can be used to pay for this event (in whole or in part) at the checkout.