Description
CORONA VIRUS: THIS EVENT HAS BEEN POSTPONED
Why? – In Scotland we are currently at Phase 1 of the route map out of lockdown, which only allows for meetings of 2 households outdoors, within 5 miles of your place of residence. This clearly does not fit with a mixed group. Even if we reach Phase 2 by 19th June, this still does not allow for groups of more than 2 households. To remain within both the letter and spirit of C19 protocols, and to avoid uncertainty, Galloway Wild Foods and SNH have decided to postpone this event.
What Happens if I have a Ticket? – Ticket holders will be contacted directly and offered a voucher to the value of their ticket price.  Please see information on Corona Virus and Galloway Wild Foods Events
When might the event be rearranged? – Rather than try to guess timings for our Phased exit from lockdown in advance, this event will be rescheduled when we have more certainty. Those that were booked on this event will be given first option to rebook when it is rescheduled.
________________________________________________________________________
A guided foray exploring delicious and healthy wild foods of Galloway's merse (tidal salt marsh), summer hedgerows and forest,  with a wild cook-in of our finds afterwards. This event is run in association with (and subsidised by) Scottish Natural Heritage's Caerlaverock National Nature Reserve, just south of Dumfries.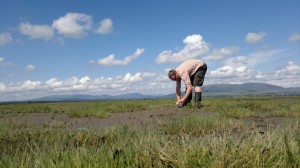 Summer is high season for the delicious, succulent plants that thrive in salt marshes and muddy estuaries,  and this event is designed to make the most of them, as well as the tasty and aromatic greens and blossoms of maritime woods and hedgerow. Over the course of about 1.5 miles of  walking over 3 hours we will explore a wide range of summer wild foods.  Novices and experienced foragers looking to increase their repertoire will enjoy this event.
Family friendly – 1.5 miles easy walking for all ages, but you will definitely need wellies for the salt marsh part of the walk. As with all Galloway Wild Foods events, this walk is guided by Mark Williams who has been teaching about foraging for over 25 years. We will be accompanied on the walk by Caerlaverock National Nature Reserve Rangers, who will tell us about the interesting ecology of the area and their conservation work, and we will discuss the importance of foraging as a means of restoring the vital connection between humans and nature .
Meeting place:  Caerlaverock National Nature Reserve, DG1 4RU. About 8 miles south of Dumfries. Ticket holders will be emailed our exact meeting place in the week before the event.
Date: Saturday 19th June 2020
Start: Arrive in time for a 1pm start
Finish: Around 5.30pm
Expect: Up to 1.5 miles gentle walking on muddy salt marsh and well made paths over 3 hours, followed by and informal al-fresco cook-in of our finds (not a full meal). There will be wild treats and tasters to enjoy throughout.
Learn: Coastal succulent plants of the salt marsh/merse, and blossoms/herbs of summer woods and hedgerows.  Finding, identification, poisonous lookalikes, mindful harvesting, expert tips, folklore/traditional uses, modern gourmet/medicinal uses, nutrition, processing, recipes, cooking tips.
Note: Although this walk is partially coastal, we will not encounter any seaweeds on the salt marsh.
When time and weather allow, we lay out and label our finds to serve as a souvenir and aide-memoire of the afternoon's discoveries.
Eat/drink: It is important to bring the wild foods we encounter to life by not just talking about them, but by eating and drinking them. To this end, in addition to the cook-in at the end, I carry a very hefty bagful of lovingly prepared treats, tasters and tipples to share during the walk. These are both  delicious and educational, and the walk is more like guided grazing, a gentle imbibing of the landscape, than a route march! Often we will make a cocktail of the plants we encounter and drink it in a beautiful spot. The cook-in afterwards serves as both an al-fresco cookery demonstration and a social time to eat together and digest the afternoon's discoveries with new friends. While I don't bill this as a full meal,  most people leave well filled! All dietary requirements can be catered for, provided you add this information when you book.
Bring: 
Essential: Wellies or walking boots – the salt marsh has a lot of tidal mud, weather-appropriate clothing, drinking water
Optional: A small basket or cloth bag, notebook, camera, fungi field guide if you have one
Please read the IMPORTANT INFORMATION tab on this page before booking and again before setting off for the event.
Please note: This event is not recommend this event for children under 8 years old. Sorry, no dogs, unless by prior arrangement.