Description
This webinar explores many of the most important UK fungi for mushroom foragers and enthusiasts to know.
The webinar was recorded live and is presented by Mark Williams of Galloway Wild Foods who has been exploring and teaching about fungi for 30 years, and specialises in making this often daunting subject fun and approachable.
"Amazing, inspiring and will get us outside to explore more fungi – thank you!"

– D.H. (Comment on live webinar)
The webinar covers:
13 of the UKs most common wild mushrooms (which often make up over half of all the mushrooms you encounter); how to identify them; and information on edibility, medicinal properties or toxicity
A discussion of the factors that make some mushrooms abundant
A general discussion about mushroom toxicity, its prevalence, and putting to bed a few common myths and misconceptions
The UK's 5 most poisonous fungi species, how to identify them, and some grizzly details about their toxicity
A discussion of the myths and often unfounded paranoia regarding toxic mushrooms
5 of the UK's most abundant, tasty late season (October/November) edible wild mushrooms, and how to find, identify, considerately harvest, propogate and use them
"Thank you.  This was so very erudite, engaging, informative and interesting. I feel a lot happier and more adventurous about tasting and identifying future mushroom finds!"
This webinar stands alone but is also intended as the third in a three part webinar series on fungi:
This Webinar: 20 Common,  Poisonous and Delicious Wild Mushrooms You Should Learn Before You Die
Click here to buy gift vouchers that can be used to purchase this and other Galloway Wild Foods webinars, guided walks, private tuition and online mentoring.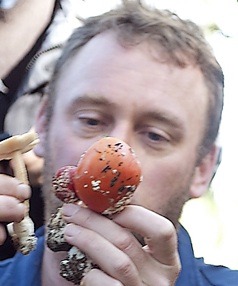 This webinar is aimed at beginners, and more experienced fungi enthusiasts who wish to connect more deeply with the subject.
The full webinar lasts for around 1 hour 30 minutes, comprising a 70 minute webinar recorded with Mark Williams including detailed photographs and diagrams, followed by a 20 minute question and answer session at the end.
How it Works:
On completion of purchase you will be emailed a link and password to view the webinar on this website, with links to associated articles
The link is valid for a minimum of 3 months from the date of purchase
The webinar can be viewed as many times as you like while your link is valid