Horse Mushrooms stuffed with Sweet Cicely Recipe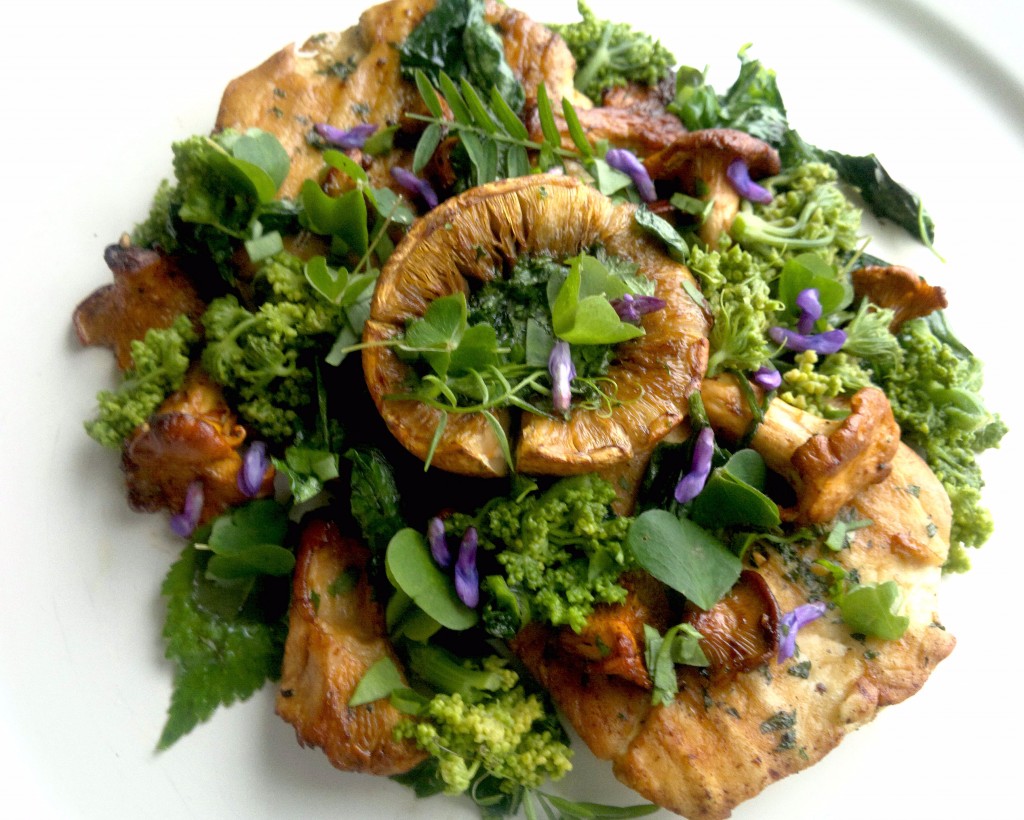 I love it when seasons – and their flavours – overlap. During July sweet cicely leaves are still about and beautifully echo the aniseed notes of horse mushrooms. This gorgeous wee plate takes 15 minutes to knock up. You can use tame mushrooms and tarragon if your forage is unproductive.
Ingredients – serves 2 as a starter:
2 large horse mushrooms, still rounded with pale gills and firm caps
2 shallots – finely diced
A handful of sweet cicely leaves
2 tablespoons of cream cheese
Wild or garden herbs and flowers – I used wood sorrel, bush vetch and young ground elder (regrowing after being mowed)
2 slices of sourdough
Optional – any other fungi you might come home with – I was lucky enough to have a giant puffball and some chanterelles. Often you will find large, dinner plate sized horse mushrooms along with the younger specimens.
Carefully remove the stipes from the horse mushrooms without damaging the caps and chop them finely. Fry gently with the shallots in a little butter for 4 minutes. Finely shred the sweet cicely (reserving a few fronds for garnishing) then mix with the stems/shallots and cream cheese. Season the mix. Stuff the resulting mix into the horse mushroom caps. Place on a baking tray, sprinkle with salt and pepper, drizzle with a little olive oil and bake in a medium oven for 10 minutes. Toast your sourdough and sautée any other fungi while it cooks. Place the toast on a plate, then any large mushroom (slice of puffball or large cap) and top with the stuffed cap. Dress with smaller fungi and the herbs and flowers.