Flowering Currant – Identification, Distribution, Edibility, Recipes
Flowering Currant – Ribes sanguineum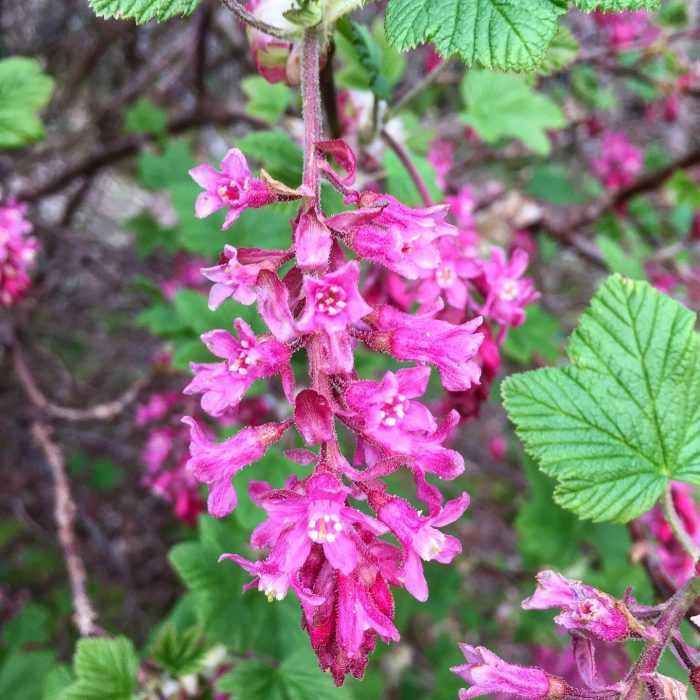 Identification – 4/5 – Quite straightforward, especially because it is the first shrub to burst into pink flowers in early spring in the UK. Look for the dangling flower racemes 3–7 cm long, consisting of 5–30 flowers; each individual flower is 5–10 mm  in diameter, with five red or pink petals. This is such a popular garden plant (for its early display), so lots of variants have been developed with slightly different shades of pink/crimson/purple flowers. All are fine to eat, though they may vary in intensity of flavour. The leaves are 2–7 cm long and broad, palmately lobed with five lobes – like closely related blackcurrant leaves. Fruits in summer/autumn are  a dark purple oval berry about 1 cm.
Edibility – Flowers 4/5 – Young leaves 4/5 – Fruits 2/5 Delicious, floral, fruity and herbal flavoured flowers and young leaves are the star of the show. Fruits are disappointing and you'd be better off looking for more rewarding fruits.
Distribution – 4 – Common
Habitat – In parks and gardens, but also hedgerows and waste ground – usually where it has escaped from cultivation.
Season – Flowers March – April, into May if you are further North maybe.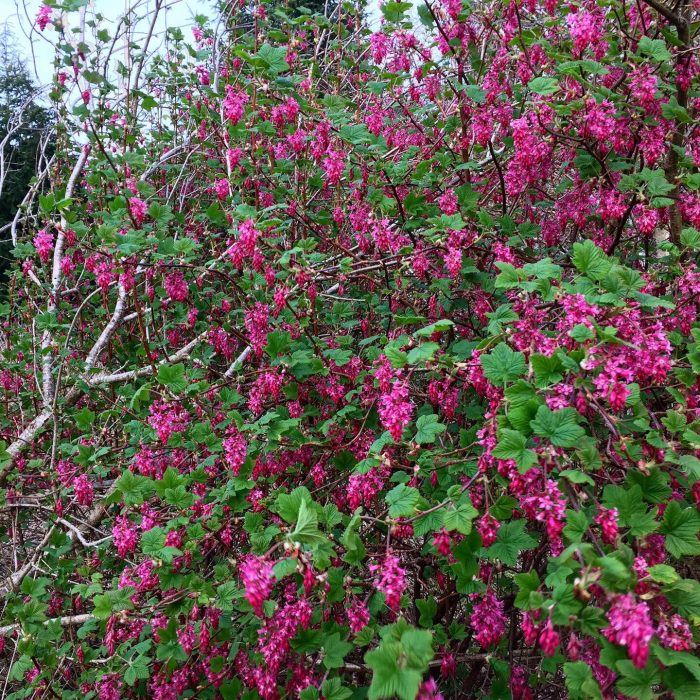 The blossoms and young leaves of flowering currant come right near the top of my early spring not-to-be-missed delicious list. They manage to combine fruity, floral and herbaceous flavours, and work in lots of  sweet and savoury ways in both the kitchen and drinks cabinet. They are also easily accessible, being common in gardens, hedgerows and waste ground. What's not to love!?
Both the flowers and young leaves are packed with fruity flavours that we would expect to find in late summer and autumn – quite similar to the closely related blackcurrant (the leaves of which, incidentally, are also packed with flavour in spring). As with blackcurrant, some people detect a cat pee smell from this shrub. This is due to the presence of a number of thiol containing compounds, some of which are also present in cat pee. Tough luck if you can't get past this, but most people love blackcurrants, so no reason not to give these a go.
If you are in the "mmmm…delicious" camp, enjoy getting sticky nectar fingers as you pick them. You'll doubtless be in the company of some early bees, seeking their share too, but these are prolific flowerers and there is plenty to grow around, including loads you won't be able to reach in fully grown shrubs.
No need to remove them from their stems unless you are looking for work/a michelin star. The whole raceme will do fine.
You can also use their small berries in summer and autumn, these are rather a poor prize – as if the plant has used up all of its deliciousness in spring!
Here are a few ideas on simple things to do with the flowers and young leaves. These will mostly turn out a delightful pink colour if you use only the flowers.
Raw – Scatter in salads or on puddings (OK, maybe pull the individual flowers off the racemes for this).
Syrup – infuse into a 1:1 sugar:water syrup by gently heating. Don't boil. Cool in sterilised jars. Keeps in fridge for a couple of weeks. Pour on puddings. Add to gin!
Cordial – add lemon juice, crab apple juice, citric acid or the vinegar described below, to your syrup, to taste. Improves keeping qualities. Drink as diluting cordial. Add to gin!
Jelly – Once you've made a syrup or cordial, this can be used to make flavoured jelly.
Vinegar – Infuse straight into cold white wine or apple cider vinegar. Leave a week. Strain. Use in salad dressings, or as a base for a pickling liquor for other early spring flowers such as magnolia petals or wild garlic buds (both of which make magnificent pickles by the way!). That other treasure of early spring, Japanese Knotweed also pickles very nicely in this vinegar.
Shrub – Mix your flowering currant vinegar with your flowering currant syrup/cordial, to make a shrub. Or mix it with honey to make an oxymel. Add this to gin cocktails for fruity sourness!
Liqueur – Infuse into vodka for no more than 1 week. Strain. Blend with cordial/syrup/shrub to taste, to make a liqueur. Add to gin!
Champagne – you just need water, sugar and a bit of vinegar. See my recipe for elderflower champagne  here, and just sub in flowering currant flowers. The champagne is a great mixer for flowering currant liqueur…and, you guessed it, gin!
You can dry the flowers and leaves for future use, though they do lose a fair bit of their fruitiness.
Related Posts: