Foraged Cocktail Recipe – The Noble
Noble fir trees (Abies procera) have a stunning flavour of grapefruit that pairs wonderfully with gin, reflecting and enhancing the flavours of juniper. This is due to the presence in both of certain terpenes – a fascinating family of compounds that are also present in citrus fruits. Douglas fir works almost as well for this recipe, as do many other needled conifers, including spruce and larch. See my Forager's Guide to Conifers for full details and some flavour analysis of the compounds involved.
There's a good chance your christmas tree is a noble fir. If it isn't its proably something almost as delicious that will fit this recipe just as well.
If you are using a christmas tree, be sure to check that it hasn't been sprayed with "needle glue" or fire-retardant, and trim off enough needles for the recipe as soon as you get it home – not after its been drying out in a centrally heated room for 2 weeks!
You can make a delicious Fir-tini with just the first 3 ingredients here, but the sweet and sour of rose syrup and crab apple verjus takes it to the next level. Play around if you don't have the exact ingredients.
I've included the option of adding a tiny bit of conifer resin. Conifer resin is best harvested by either picking the dried resin from wounds on the mature trees, or (ideally), squeezing the blisters on the bark of young firs into  beech or sorrel leaves and stirring them into the mix. You don't need much. Lots more detail and illustrations of how to do this on my Forager's Guide to Conifers.
Rose compliments conifers beautifully (those terpenes again), so a spray of tinctured rose petals on the finished drink brings it gloriously together.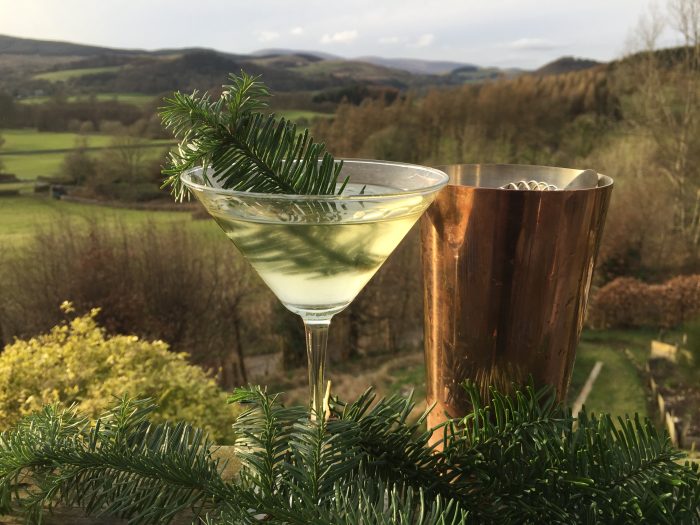 Ingredients:
25ml Juniper-led  Gin
25ml Noble Fir needle infused gin (fill a jar with needles and steep for 4 – 6 days before straining)
25ml Dry vermouth – I strongly favour Cocchi Americano for this recipe
Optional:
A drop of conifer resin
10ml Rose petal syrup (Infuse japanese rose petals (rosa rugosa) into a 1:1 sugar syrup)
5ml Crab Apple Verjus (juice crab apples then double strain – or use citrus juice)
Rose petal tincture (steep japanese rose (rosa rugosa) petals in vodka for 1 hour before straining)
Method:
Stir the first 3 or 6 ingredients with ice then double strain into a chilled coupe or martini glass.
Garnish with a rubbed frond of fresh needles and spray some rose petal tincture on top.
---
You Might Also Be Interested in: