Foraging Perspectives – Wild Creeping Time
This year's Corona Virus lockdowns brought many challenges but also lots of opportunities. Many of us slowed down, shrank our personal universes, and become more intimate with our local environment and foodscapes. Such was the upsurge of interest in foraging, coupled with a hunger for new knowledge – and the time to process and act on it – I developed my pay-as-you-feel (including free-and-swapsies) Online Foraging Mentoring Service. (You can read more about it in its evolving form here).
So many nice connections emerged from this, not least when Sarah Thomas got in touch. Sarah is a writer interested in the complexity of human relationships with the living world. Author Robert Macfarlane selected Sarah in 2013 as Penguin Books 'Summer Wayfarer' – a mobile writer-in-residence, walking and wild camping across Britain. Having recently moved to Galloway, Sarah was keen to extend her foraging horizons, meet new plants and taste new flavours. So a trade was born – some regular guidance and mentoring sessions from me, in exchange for Sarah's writing on her foraging journey during that strange time.
Here are her words for you to enjoy.
Mark Williams
Notes:
All photos  ©Sarah Thomas 2020.  Words ©Sarah Thomas 2020
I am interested in sharing more perspectives from different foragers and foraging cultures on this website. If you have a foraging/wild food related story, experience, reminiscence or recipe that has an interesting perspective and is written in your distinct voice  that you are interested in sharing, please drop me an email – mark@gallowaywildfoods.com . 
---
Wild Creeping Time
Sarah Thomas
In March 2020, the UK COVID-19 lockdown coincided precisely with the time of year that the ground here in Dumfries and Galloway comes alive with a surge of new green growth: dock, cow parsley, cleavers, fiddlehead ferns…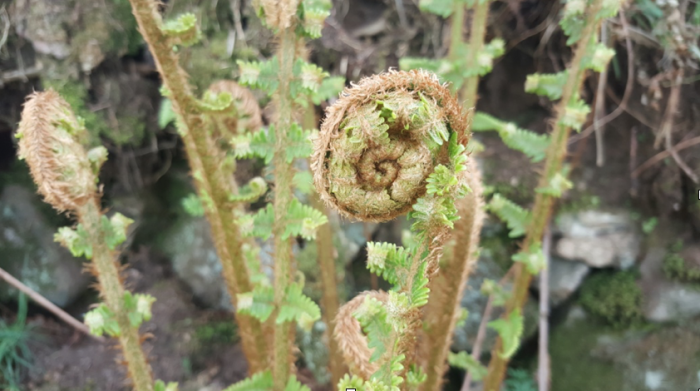 I moved to the region in November and had been waiting all the wet winter to see what I might gather come spring. Having moved from Cumbria, just across the Solway Firth, I knew there would be much species continuity. But for me, foraging is less about what I find than the act of gently seeking. Walking about, getting to know edible plants and where they live is how I learn to feel at home in a place: a process of slow and repeated witnessing, the landscape and its relationships coming into ever sharper resolution. And it got me thinking that in a world of upheaval and displacement, foraging could be a way into a kind of belonging – potentially available to anyone from anywhere.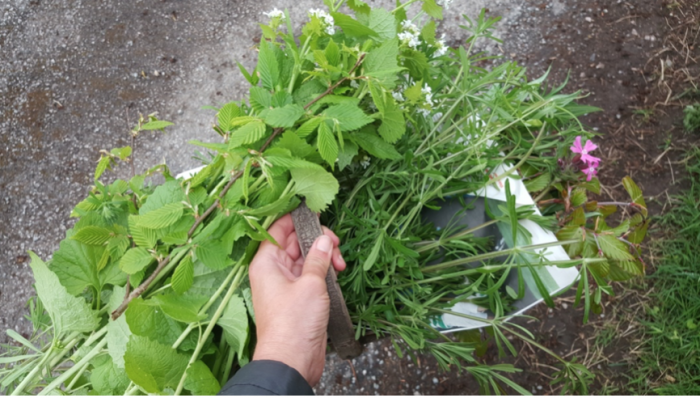 I've been a casual forager for years: not quite a beginner, certainly no expert, but happy to learn and taste adventurously. My own initiation into edible wild species happened when I lived in Iceland – an ice age landscape constrained by a short growing season, where its pioneer species are few and evident, and nearly all mushrooms with pores are safe to eat: a good place to begin. The UK in comparison appears to me as a year-round writhing mass of green. My knowledge of winter edibles was, and remains, negligible. Before spring and lockdown arrived I had only gathered jelly ear fungus growing on an elder tree, with which I made 'jaffa cakes': the fungus steeped in fresh orange juice, dipped into melted dark chocolate and, well…there was no need to go any further…straight in the mouth and well received, even by fungophobes. February hailed the ubiquitous flush of ramsons to wake the gut and the spirit from winter hibernation, and several weeks of picante pesto and salads followed.
Then came March – the month our lives shrunk and expanded all at once. My 'household' during lockdown was a group of artists at The Old Mill in Palnackie, where I was artist-in-residence. Bringing home foraged foods was something I could offer to the collective to add colour to our days. With an eye to such a harvest, time took on a different quality. Within the suspended reality of lockdown, there was rapid movement – each week revealing a new shelf in the library of plants. It is a polyrhythmic kind of time in which, as Mark Williams puts it, "there are 52 seasons in a year". In many ways, lockdown was a helpful parameter for this kind of learning and bedding in. Walking the same few loops over and over across those weeks, I was able to really notice the unfurling of leaves, the flushes of fronds, the frothing umbels of white blossoms on the same patch. Slowly I made a mental map, as one would when getting to know new neighbours or picnic spots.
A novelty in this new place of mine on the Solway coast is a vast cockle bed within walking distance. Cockle picking is safely done in the winter months – or those months with an 'r' in them, as the adage goes. In April, the last such month, as soon as the weather invited barefoot explorations, my daily walk ranged outwards onto the sand flats of the inleted coastline. Accordingly, the peninsulas got much closer, meaning I could explore a diversity of habitats in the same amount of time – though frankly who was counting? As one commits to this world of walking and looking, gathering and tasting, colours, places and times start to constellate into knowledge. Down by the cockle shell beach at bluebell time in late April, boiling water for tea on a fire, I realised I hadn't brought any. I reached for gorse flower and blackberry leaf and it was delicious. A lived memory is a mnemonic story. I cannot forget now where or when they are and how they belong together: bluebell, gorse flower, blackberry leaf, safe cockles.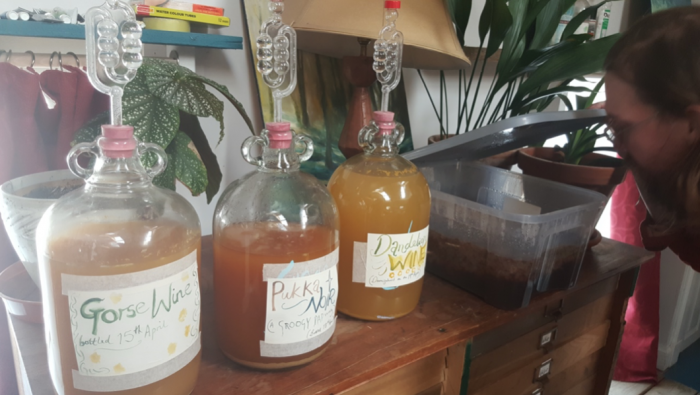 In the midst of a global health crisis my thoughts turned to plants' medicinal properties while others' in the household turned to booze. But with both, we were keenly aware of how little it is part of our vernacular knowledge; how recently it might have been. With councils working at bare minimum and strimmers locked away, the verges and hedgerows flourished more than I have ever seen. The pollinating insects loved it, and the birds loved the pollinating insects. I gathered blossoms of dandelion, hawthorn, wild apple and red clover (in that order) to make tinctures, and spruce tips to make syrup (with sugar and lemon) and muscle rub (with olive oil and beeswax). Others in the household became curious and dedicated wild beer and wine makers: gathering blossoms of gorse, dandelion and broom and spruce shoots. By Beltane (the Gaelic May Day festival about halfway between Spring Equinox and Summer Solstice), we had a full foraged potluck feast: dock leaf and wild garlic rice dolmades, cleavers curry, nettle and hogweed pakoras, spruce and ginger beer, and the sweet music of wine bubbling away in demijohns. These foraging walks became endlessly abundant: producing a harvest and a acting as a kind of medicine in themselves.
The constantly shifting patterns of the intertidal zone turned out to be an apt landscape with which to pass that strange time, watching life thrive in flux. After several weeks of walking out on the saltmarsh, marsh samphire began to push through the mud.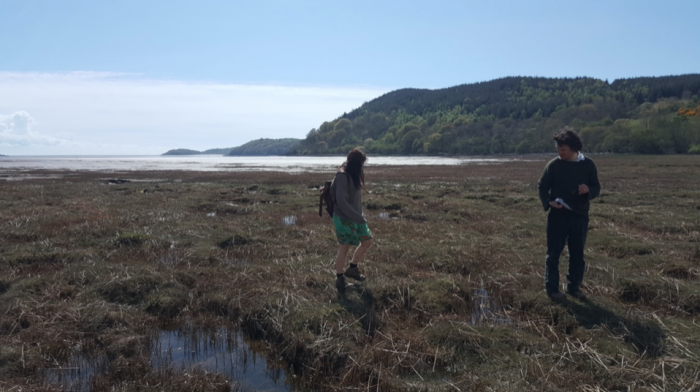 On sandflats
Samphire sundials through the day
reaching up
through the end of May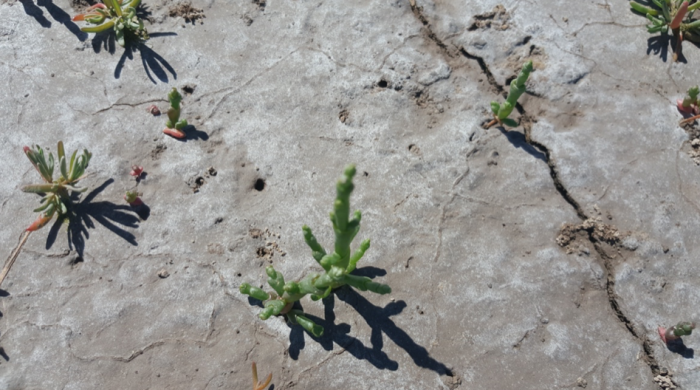 I began online mentoring with Mark in early July, just as the intertidal zone was the place to be, verdant with its own salty greens, and the marsh samphire grown to a couple of inches tall. Having walked about through lockdown, seeing what I could see, finding routes and places, building a familiarity to call home, mentorship now sharpened my attention. Being back in a familiar place on all fours, with 'homework' of new edibles to find in the merse, took me a layer deeper. Mark encourages going always beyond the familiar. He is there at the end of a WhatsApp picture message for IDing help and bounty sharing, as is the community of mentees across the country. Sea aster, sea plantain and sea arrowgrass soon joined marsh samphire in my mind and in the gathering bag.
The salty plants of the merse keep well, and so in late July they made it out into new territory. Though travel restrictions had lifted, I wished to hold on to some of the gifts of lockdown when life slowed to a more natural pace. I decided to walk through the hills to visit a friend near Glentrool, taking a bundle of merse plants in my pack. I thought it would be special to carry some coastal flavours inland. Before departing, Mark and I had had a session where talk had turned to mushrooms. "Be curious" he had said. "Don't stop at ceps and chanterelles. But stay safe." As I arrived in the wooded glen around Loch Trool, and followed the Water of Trool to where it meets the Minnoch, rain had followed sun and the mushrooms had come. And so it was that in a cottage deep in Galloway Forest Park my friend and I sat down to barbecued Wigtown Bay sea bass, with samphire, sea arrowgrass and successfully-identified charcoal burner mushrooms: coast, forest, time, distance and reunion distilled into one meal.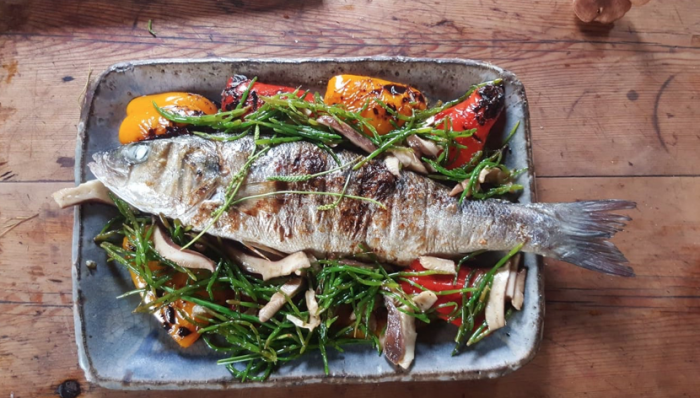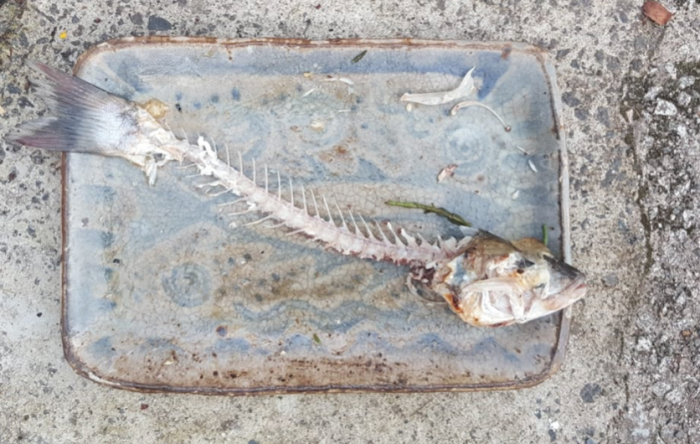 ---
Other Perspectives on Foraging you may enjoy:
---