Gutweed – Identification, Edibility, Distribution
Ulva intestinalis (and ulva linza)
Related pages:
Habitat: Very common on rock high up the shore, even managing to survive in the splash zone, outwith the regular tidal range. Be careful as gutweed often thrives where enriched water reaches the shore – and by enriched, I mean with agricultural run-off or sewage!
Identification: A bright green mass of tubes (evolved for water-retention) forming mats, sometimes in stagnant brackish pools. Ulva linza is very similar only with flattened tubes and can be used in the same ways.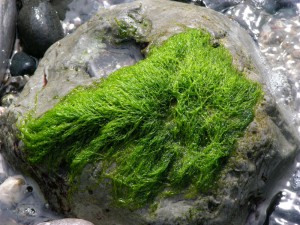 Edible Uses: Gutweed is not so good to eat raw, but has great flavour once dried or deep fried, whereby it tastes like dry sea lettuce or the crispy seaweed often used in Japanese cuisine. Sprinkle it on salads, sushi or finished dishes like seasoning. The main challenge is in removing sand and grit from its tubes – wash thoroughly, then squeeze out excess moisture – especially if you plan to deep fry it. Some strains of gut weed thrive in river mouths.
Harvest: Spring is best, I tend not to trust it in summer when tides are lower and it spends long intervals unsubmerged. My favourite harvesting spot is in a shallow river mouth, where at low tide it is steadily rinsed by clean flowing water.
Generally avoid patches where it is starting to look white around the edges, except in hot spells between spring tides, when you can find it fully sun-dried – white and crisp. This makes an excellent vegetal salt substitute. I'm grateful to the bold culinary imaginations of my friends and fellow foraging teachers Lucia Stuart and Fergus Drennan for getting me over my reticence about using white sea lettuce on a hot summer day on Islay.
Related pages: