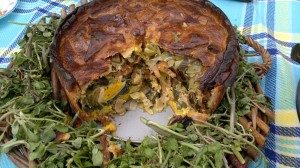 I love mile high wild pie. Its as much fun to make and eat as it is to say – a wonderful jumble of delightful wild foods that can make a spectacular vegy centrepiece for any occasion, easily as grand, satisfying and delicious as big roast, and certainly better for you. Vegetarian friends have served this for christmas dinner to great acclaim. I got the idea from Nadine Abensur's excellent Crank's Bible of vegetarian cookery which is full of excellent tame inspiration for wild recipes.
As with so many wild food dishes, there really is no call for a prescriptive "recipe" here – the joy of this pie is that you can make it at any time of year with what's is in season, whatever you stumble on and fancy. Having said that, meaty late autumn mushrooms, juicy big sea beet leaves and peppery watercress take it to another level.
To further add to the joy, it is made with a hot water crust – the antithesis of "keep it cool" shortcrust pastry with all its fuss and palaver.
Please don't be daunted by the length of the recipe. Its all really wonderfully simple and not much can go wrong.
You'll need a spring form tin, 9 inch diameter by 3 inch high for the quantities I give here. You'll have to use your own intuition with the quantities and what to sub in and out, but don't get stressed, its a very forgiving pie! Nothing is set in stone – only the proportions in the pastry are in any way important. You can even use bought ingredients…!
Serves 8 to the point where they cant walk, 10 generously or 12 amply. Like all good pies, it is also delicious cold the next day, or can be happily reheated.
For the contents:
650g floury potatoes
100g butter
A little (Rapeseed) oil
17 (yes- seventeen) or so large organic eggs
1.5 cups of cooked laver 
Half a carrier bag of roughly chopped sea beet and/or other spinach-like wild coastal green such as orache, sea aster etc
500g of fresh wild fungi. Any of the core edibles work, eg: chanterelles, ceps, hedgehog fungi, meadow waxcaps, blewits, parasols, trooping funnels, puffballs, chicken of the woods, horse mushrooms – see my fungi guide. Roughly chop larger specimens, but its nice to leave smaller caps intact. Non wild alternative: standard shop bought agaricus bisporus, with perhaps some reconstituted porcini.
Half a carrier bag of woodland/hedgerow greens. Watercress is great, but you can also use/mix in chickweed, dead nettle, nettle, wild garlic etc – see my edible wild plant guide. Non-wild alternative: Leeks, watercress.
Herbs, flavourings and wild larder staples such as Pepper dulse and/or laver – dried and powdered, a piece of sugar kelp, mushroom ketchup, powdered dried cep, sorrel, yarrow, truffle (oil will do), fermented wild greens, bladderwrack capers, pickled ramson seeds…
A cup of vegetable or laver stock
Salt and pepper
For the pastry:
500 g plain organic flour
200 ml water
190 g butter (non veggies may use 1/2 lard here)
1 level teaspoon salt
The general principle here is to cook all the components separately then build them into a mighty pie. As you cook the various components, its important to wring out excess moisture before beating in an egg or two to help binding. Not doing this means your lovely pie is likely to spill its contents and be hard to slice. Not in any way the end of the world.
Make the fillings:
Wash and slice the potatoes into discs about the width of 2 £1 coins. Lay in a thick based pan, add seasoning, 30g butter, a generous scatter of pepper dulse, the cup of veg/laver stock (this won't cover the potatoes) and the sugar kelp. Bring to a simmer then turn to a very low heat and cover. Leave for 20 minutes or so until the potatoes are soft, but not falling apart. Strain off as much liquid as possible and leave to to cool before carefully mixing in 2 beaten eggs.
Melt some butter in a pan and sautée the coastal greens with a sprinkle of powdered seaweed, and seasoning. When lightly cooked, drain, wring out, beat in 2 eggs and set aside.
Repeat this process with the inland greens, adding sorrel and herbs to taste.
Heat 3tbsp oil and roughly the same of butter until it starts to foam. Toss in the fungi (add them in stages if some are smaller than others) and sear, tossing regularly. They will release liquid, at which point add a generous handful of cep powder and some dried seaweed powder. Keep on a high heat until all the liquid is driven off. Season well and set aside in a colander, squeezing out any excess liquid. Mix in 2 eggs.
Soft boil 7 eggs (I place them in cold water, turn on the heat and time 3 minutes from when they come to the boil). Cool them immediately then peel.
Make the pastry:
Place the flour into a large bowl and set aside. Place the water, butter and salt into a saucepan and heat over a medium heat. Once it comes to the boil and the butter has all melted, take the pan off the heat and pour it into the bowl with the flour. Stir the mixture with a wooden spoon until all the ingredients are combined. Cover the bowl with a clean tea towel and leave to rest and cool for 30mins.
Next, turn the dough out onto a lightly floured surface and flatten into a rectangle.
Fold the dough into thirds by taking one side of the dough into the centre and pressing down with your fingers.
Then lift up the other side of the dough and bring it over the top. Cover and leave to cool some more until about room temperature.
Assemble the pie:
This is the fun bit!
Cut off 2/3rds of the dough and form into a ball. Roll out evenly until you have disk-like piece big enough to fill the bottom and sides of your spring-form pie tin. Work it into the tin, easing it to an even thickness and allowing a 1 inch overhang over the side of the tin.
Arrange the potato disks evenly on the bottom.
Beat 1 egg into the cooked laver, season and spread evenly over the potato layer.
Arrange the 7 peeled soft boiled eggs on the laver in a wheel pattern. Sprinkle each generously with pepper dulse powder.
Work the sea greens into the gaps between the eggs until another layer is formed.
Spread the mushrooms on top (you should lose sight of your eggs about now!). Drizzle with a little truffle oil, or grate on some fresh truffle.
Spread the inland greens on the top.
You should be near, but not over, the top of you pie tin.
Turn on your oven to 160º centigrade.
Make the pie lid:
Form the remaining 1/3rd of the pastry, form it into a ball on a well floured surface and roll it out to 3 to 4 inches wider diameter than the the tin. Beat an egg and brush the overhanging sides of the pastry. Roll your lid carefully onto your (well floured) rolling pin, then carefully release it onto the pie. Work it into any undulations on the pie surface, then pinch together the overhanging sides and the edge of the lid. It should stick together. Trim the now sealed edge with a knife so you have a 1 inch "lip". Work around this, pinching with your thumb and index finger until you have a pleasingly "scalloped" raised rim.
Gather together the offcuts, form back into a ball then roll out. Now have some fun cutting out exciting pastry decorations to take your already magnificent pie to stellar heights. (I enjoy sculpting mycologically accurate mushrooms that people have to identify before they get a slice – a sort of geek test).
Brush the entire visible surface and exposed edges of your pie with the remains of the beaten egg. Arrange your decorations artistically (or scientifically!), then brush them with egg too.
Finally, make a small hole in the centre with a pointy knife. Enlarge this hole with your finger, poking deep into the very innards of the pie. Then pour in the remaining beaten egg until it nearly comes to the surface. A wee ceramic fly agaric to vent the centre is the perfect finishing touch. Alas, I don't have one, but leaving the the hole as it is works fine.
Job done.
Pop the mighty thing in the oven for about 1h hour, or until the pastry looks richly golden. When you take it out, leave to stand for 10 minutes then place on an upturned saucepan, pop the spring and very carefully release from its straightjacket. Have faith…I promise it won't collapse under its own enormous gravity.
Enjoy the oohs and aahs…
Don't plan anything strenuous for after lunch…
Related pages: