Orache – Identification, Edibility, Distribution
Atriplex spp. – Most often Spear(or Halberd)-leaved orache (A.prostrata or A.hastata), Frosted orache (A.laciniata), Babbingtons orache (A.glabriuscula), Common orache (inland) (A. patula)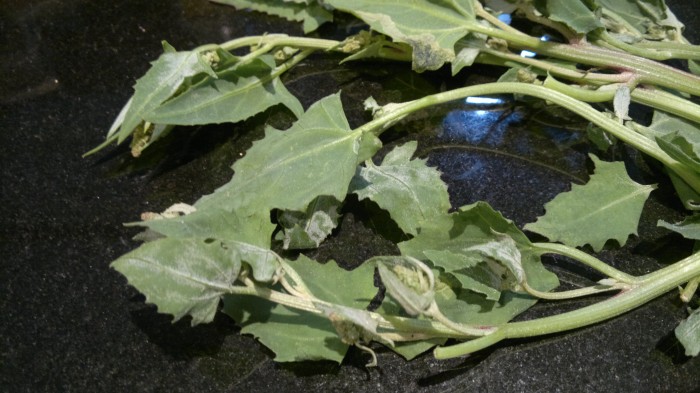 Edibility – 2/5 to 4/5, depending on variety, stage of growth, location etc
Distribution – 4/5 – Coastally abundant April – October in one of variety or another. Some rare varieties
Identification – 4/5 – Easy to ID to genus, hard to ID to species, no dangerous look-alikes. Spear head/goose-foot shaped fleshy green (occasionally reddening) leaves, often mealy or textured, racemes of tiny drab flowers and seeds
Habitat – On and above the high-tide line, usually growing from decomposing seaweed bands. Some varieties in land.
First let me save any beginners reading this some grief. Its pronounced ORAK as in IRAQ except with an O instead of an I. Or if you prefer, ORACH with a soft CH, as in loch. I spent several years of tentatively saying "orash", "oratchee" and various hybrids of the two, always half hoping, half dreading, to be corrected. Especially if I was teaching at the time. Don't ask me why I never looked it up in a phonetic dictionary. Perhaps a part of me liked not knowing…
Having saved you that torment/ruined that pleasure, its time for a scandalous confession. You know all those warnings saying "Never eat a wild plant or mushroom unless you are 100% sure of its identity"? Well I, and i'm sure many other more proficient foragers, regularly disregard that rule. Especially with the 8 or so species of orache that are common around the UK.
What foraging guidebooks, guides and enthusiasts often daren't tell novices is that identification need often only be to genus, PROVIDED that you are 100% sure you have ID'd the genus correctly AND are 100% sure that the genus contains no nasties. I guess this is one of many differences between flighty foragers and botanists. So I regularly eat cardamines,  pinaceae and even russulaceae (a dauntingly vast family of very similar looking fungi) without knowing exactly which species they are. In fact, rather counter-intuitively, tasting is regularly cited as an aid to identification in more advanced fungi guidebooks – PROVIDED you have the competence to know which genus you are tasting.
But to the task in hand: orache. Or rather, the oraches. They don't always get good reviews in foraging guidebooks, but I rate the ones I encounter very highly – both as a superb salad leaf when young, and as a spinach substitute when mature. I suspect some wildfooders dismiss orache fairly quickly if they encounter mature specimens, possibly of an inferior strain, early in their foraging education. But the tender young leaves, to my palate, are wonderfully sweet with nutty overtones and a hint of salt. The texture manages to crisp and delicate without being insubstantial – tolerating their salty habitat demands a degree of succulence.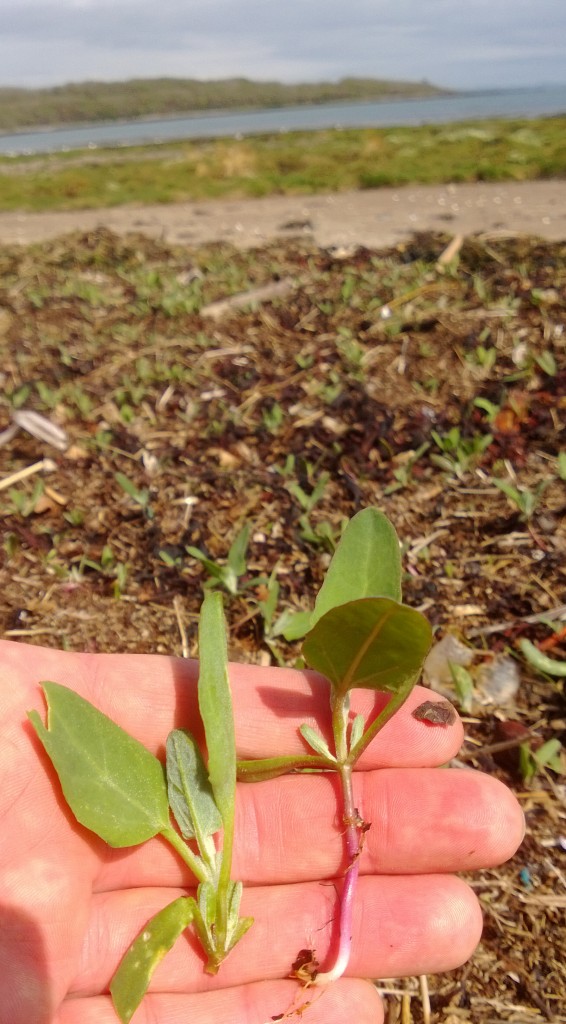 This picture shows the young tender leaves emerging from the fecund layer of friable seaweed on the high tide line. At this stage the leaves are still to develop the halberd/goosefoot shape that makes them hard to mistake, and I am pleasantly surprised every April as a tentative nibble on an innocuous-looking oval leaf reveals an old friend has been reborn.
Some varieties and situations can result in prostrate, straggly growth making for laborious picking by coastal foraging standards. But I know many locations around Galloway where orache grows thick and high, and by midsummer looks like a coastal hedgerow. By maturity, the leaves have lost much of the sweet succulence of youth and begun to develop a bitter back-note (a universal truth), but cooked, and with the judicious application of butter, still taste superior to any spinach I have ever encountered from a shop.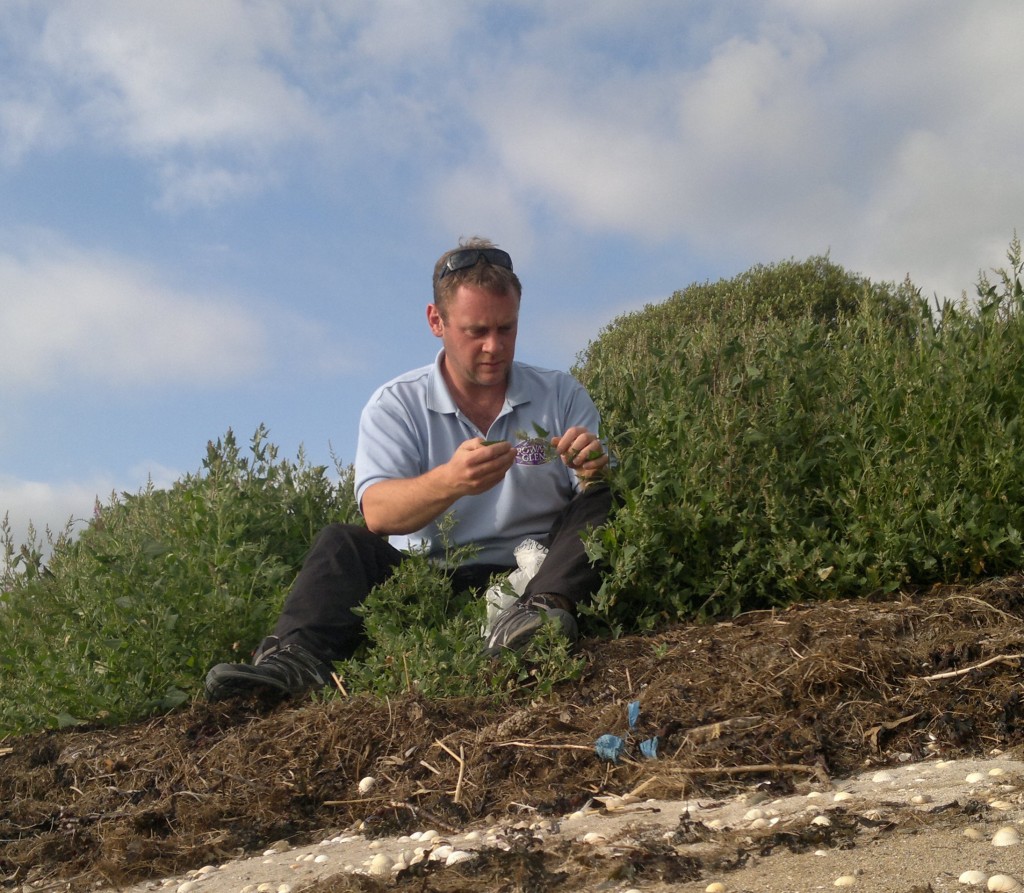 I regularly stop off on my way home from work in the summer at a little cockly bay, clear myself an "armchair" of dry seaweed and orache, and fill a bag with mealy green leaves as the sun wanes. This requires just enough concentration to not think about anything for 15 minutes as I strip the leaves from the tougher stems. I generally arrive home in a much more sociable mood, and with the goods to make something tasty and healthy for tea.