Review of General Foraging Guidebooks
 – covering plants, fungi, seaweeds and possibly shellfish
Below are brief  reviews of some of the general foraging books in my collection with guidance on relative strengths and weaknesses. I'm afraid my collection isn't exhaustive while my time is, so apologies for what is left out – I would  be happy to add to the list if review copies are provided and please feel free to add your recommendations to the comments list below.
Related pages: 
Further reading – coming soon
………………………………………………………………………………………………………………………..
The Forager's Kitchen by Fiona Bird (£16.99 glossy hardback)
A beautiful book with great pictures of finished wild food dishes and an emphasis on simple but exciting wild recipes (over 100). Fiona Bird is passionate about foraging and it shines through in the text, which covers a handful of "star" species in each chapter (Flowers &Blossoms, Woodland &Hedgerow, Fruits & Berries, Herbs, Sea & Shore).
Strengths
Broad coverage, focussing on the most rewarding species across lots of habitats
Lots of excellent innovative, easy recipes
Beautiful pictures of finished dishes
Lots of general tips on sustainable harvesting, preserving and folklore
Includes plants, shellfish, seaweeds and some fungi
Inspirational and fun
Weaknesses
Not a stand-alone identification guide – pictures/descriptions are not sufficient for confident identification
Mushroom section very limited
Limited coverage of poisonous look-alikes
A lovely book covering a focussed range of "star" wild foods. As the title suggests, this is fundamentally a forager's recipe book with great information on harvesting and some ID guidance, but not an ID guide.
………………………………………………………………………………………………………………………..
Food for free by Richard Mabey (£5 – £30 various formats)
This is the book that kick-started the resurgence of foraging in the 70's and we all owe a debt of gratitude to Richard Mabey for his beautiful writing and insight. It has been reprinted and updated many times and in many formats – from a tiny Collins Gem version to a huge coffe table tome.
 Strengths:
Broad coverage of core plants, fungi and seaweed
Traditional recipes, plant lore, harvesting tips and inspiration
Beautifully written
Excellent colour photographs (larger editions)
Some coverage of poisonous look-alikes
The Collins Gem version is very compact/portable and includes a useful wild food calendar
Weaknesses:
Not a stand-alone identification guide – pictures/illustrations in each format are not sufficient for confident identification
Does not cover shellfish
Weak on national distribution of species (focus on Southern England?)
Little guidance on responsible/sustainable harvesting
Highly recommended as an introduction to wild food and a great resource to have at home – but NOT an ID guide in any of its formats.
………………………………………………………………………………………………………………………..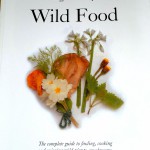 Wild Food by Roger Phillips (£18.99 glossy paperback)
A work of art on many levels, picking up the baton from Food for Free in the early 80's. Stunning pictures of a wide range of wild foods growing and being cooked in the wild.
Strengths:
Stunning, inspirational colour photography
Lots of traditional recipes, plant lore, foraging tips and general inspiration
Broad coverage of plants
Weaknesses:
NOT an ID guide – pictures are more artistic than technical
Hardly any coverage of poisonous look-alikes
Limited coverage of fungi and seaweeds
Does not cover shellfish
Little guidance on responsible/sustainable harvesting
A great book to browse at home –  constantly inspires to find, cook and photograph new species, but NOT an ID guide.
………………………………………………………………………………………………………………………..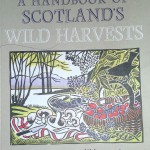 A Handbook of Scotland's Wild Harvests edited by Fi Martynoga (£12.99)
Just published in 2012, this paperback represents the collective knowledge of the Scottish Wild Harvest Association and Reforesting Scotland .
Strengths:
Wide-ranging coverage of plants, fungi and seaweeds
Excellent wild food calendars and harvesting tips
Plant lore, traditional recipes and inspiration
Extra information on medicinal and craft uses of wild resources
Focus on responsible, sustainable harvesting
Clear chapter structure
Cheap and portable
Weaknesses
NOT an ID guide – no photographs or colour illustrations
Scotland-focussed (this is a strength if you are lucky enough to live in Scotland!)
Does not cover shellfish
Limited coverage of poisonous look-alikes
A great introduction to responsible foraging and medicinal/craft uses of plants – still well worth having if you live south of the border. NOT an ID guide.
………………………………………………………………………………………………………………………..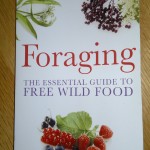 Foraging – The Essential Guide to Free Wild Food by John Lewis-Stempel (£6.99)
John Lewis-Stempel spent a year eating only wild food which resulted in his book "The Wild Life" (I haven't read it yet). It also led to this  small, compact, less discursive paperback guide to foraging.
Strengths:
Efficient descriptive style
Very broad ranging, including plants, fungi, seaweed, shellfish and roadkill
Includes a chapter on urban foraging
Clear structure, broken down by habitats (coast, hedgerow etc)
Simple, practical recipes
Wild food calendar and extensive lists of synonyms
Portable and very cheap
Weaknesses:
NOT an ID guide – there are no photographs or illustrations
Limited information on distribution
Informative without being inspirational
A wide-ranging but paired down, no frills general guide. NOT an ID guide.
………………………………………………………………………………………………………………………..
Self Sufficiency – Foraging  by David Squire (£7.99)
This book is part of a series of books published with the prefix "Self sufficiency" that includes books on bee keeping, soap making etc.
Strengths
Full colour illustrations – this is the only general foraging guide I have come across that has sufficiently detailed descriptions and colour illustrations to be used as an identification guide in the field.
Wide ranging – covers core plants, fungi, seaweed and shellfish
Clear colourful layout
Includes some plant lore, recipes, harvesting and processing tips
Portable and cheap
Weaknesses
Doesn't cover geographical distribution of species – only the habitats they grow in. This could result in some wild goose chases for beginners!
Limited coverage of poisonous lookalikes – some toxic fungi are mentioned but very little on dangers of carrot family
Lists comfrey (which is now generally considered unsafe to eat) as edible with no health warnings
A really excellent introduction to foraging – the perfect beginner's book providing enough ID, background and general foraging information to get anyone started.
………………………………………………………………………………………………………………………..
Edible Wild Plants and Herbs by Pamela Michael (£20)
A hefty hardback covering mostly plants, but also some fungi and seaweeds.
Strengths
Excellent large full-colour illustrations of each species which will be of help in identification
In depth coverage in text of traditional medicinal and food uses and plant lore
Lots of traditional recipes, herbal remedies and craft uses
Clearly laid out
Includes alternative/local names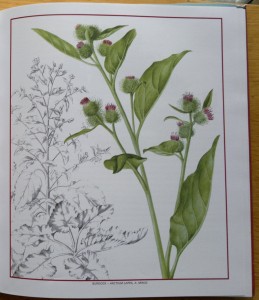 Weaknesses
Covers very few fungi and seaweeds
No index
Little coverage of poisonous lookalikes
Little coverage of "general" foraging advice – legalities, conservation etc
Harvesting calendar not very clear
A beautiful book and great recipe/background resource to have at home that will provide insight, inspiration and help with identification.
………………………………………………………………………………………………………………………..