Read a full guide to sea buckthorn on my wild food guide.
Blogged in 2011:
I had all but given up on finding sea buckthorn in Galloway. Though it is fairly common around the UK, I had never seen a hint of it along our coast or around Arran where I grew up. Wild foods never fail to reward perseverance though and I finally stumbled on a small patch of it this weekend.
Of course it was both leafless and berryless, a skeleton of a shrub at this time of year, but hugely satisfying to finally locate nevertheless. My partner is a Monroe-bagger and finding it in Galloway at last felt to me like conquering a long aspired to summit . My eye was in after spotting another small patch of it up in the rough bounds of Knoydart a few weekends ago that was still clinging grimly onto its last few withered orange berries. These confirmed my tentative identification and I took these rather uninspiring snaps.
.
.
.
.
.
.
.
.
.
So when we emerged from some woods (where we had already found pleasing amounts of velvet shank mushrooms and located crab apple trees for future harvesting) and looked out over an exposed, windswept peninsula, a small band of shrubs on the foreshore immediately raised my hopes. Buckthorn seems to positively demand barren weather-beaten coast where little else will grow and sure enough, that's what they were.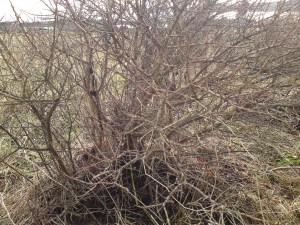 Its only a small patch, so I won't be harvesting too much from it come autumn, but its great to know its here and I will be casting my eyes about with more optimism on my next coastal outing.
***********ADDED 8th JUNE**************
I just spotted another substantial patch of sea buckthorn that I have been driving past once a week for nearly 3 years! It is right in the middle of a coastal village and its branches virtually poke in my window as I drive past…how I missed it when thick with berries for the last 3 autumns is beyond me! Just goes to show that foraging isn't just about hunting things down – sometimes you just need to notice them!