I often get asked what my favourite wild foods are. I never find it an easy question to answer. Some, such as morels, truffles and wild asparagus taste amazing, but are so rare it seems wrong to include them. Others, such as giant puffballs, spoot clams and sea beet may not reach the same culinary heights, but are such a joy to find, the overall experience can be just as good. I find myself developing affection for some species that far exceeds their culinary merits because of how it felt when I first found them, or if they grow somewhere special.

So here is a selection of top 10's – some very personal, some intended to help budding foragers and some just for the fun of it! Feel free to disagree and register your own lists in the comments box at the bottom.
Most of the species are described in greater detail elsewhere on the site – click the links to find out more.
---
TOP 10 GOURMET WILD FOODS
Availability no object, but must be harvestable in UK without specialist equipment (ie. I'm not allowed alba truffles or scallops).
1. Cep – I'm talking prime bouchon cep here, that can be thinly sliced and served with parmesan shavings and fine oil, not the mushy, maggoty ones that need to be dried (though they would still be in my top 10!)
2. Morels – rare in Scotland, and I am yet to find any in Galloway.
3. Summer truffle – as for morels, only tougher as they are underground.
4. Native oyster – not their poor atlantic cousins – available in Galloway if you know your spot and tides. Sadly, I don't…but I'm working on it…
5. Sea Kale – young shoots, bud heads and flowers.
6. Elderflowers – delicious, versatile and easy to find. The taste of early summer.
7. Japanese Knotweed – you really should try it you know!
8. Crayfish – OK, you may need a net or a hand line, and its a bit controversial, but they are lovely barbequed. It is illegal to deliberately catch crayfish in Scotland – please read the link.
9. Parasol Mushrooms – stunning.
10. Chanterelles – elegant, a delight to all the senses and not too hard to find.
…………………………………………………………………………………………………………..
10 TASTIEST DESPISED WEEDS
3. Sorrel
4. Ground elder
5. Nettles
6. Fat hen
7. Chickweed
8. Dandelion
10. Mares tail
…………………………………………………………………………………………………………..
10 BEST URBAN WILD FOODS
All of these are easily found in urban environments – in fact I was inspired to make this list after seeing everything on it but the fungi (which were out of season) during a short walk through housing and industrial estates in Dumfries. Plants and fungi growing beside roads and on polluted sites can absorb heavy metals and should be eaten in moderation, if at all.
6. Sorrel
7. Brambles
8. Ground elder
9. Jelly ear fungus – if you can find elder, chances are you will find this growing on it.
10. Rosehips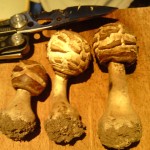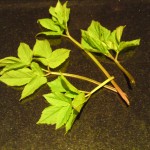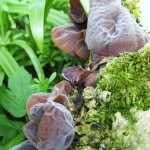 …………………………………………………………………………………………………………..
10 MOST FUN WILD FOODS TO FIND/HARVEST
1. Spoot clams – the most fun you can have with your clothes on…or you could do it naked!
2. Chanterelles – golden gourmet treasure hiding in the forest. Magical.
3. Giant puffballs – exhileratingly enormous, and always happed upon randomly
4. Himalayan balsam seeds – they explode on contact!
5. Sea kale – always beautiful
6. Pig nuts – digging for treasure, though the novelty can wear off.
7. Chicken of the woods – often requiring a ladder, or at least a good head for heights.
8. Birch sap – sweet, natural refreshment, and in gushing quantities if you time your tapping right.
9. Cauliflower fungus – so large, weird and rare that it is always a thrill to stumble upon.
10. Blaeberries – a delicious wayside snack that can be grazed in large quantities, even on high mountains.
…………………………………………………………………………………………………………..
TOP 10   WILD FOODS FOR BEGINNERS
Based on tastiness and being easy to find and confidently identify.
1. Wild garlic
2. Brambles
4. Pignuts
5. Wood sorrel
6. Blaeberries
7. Chanterelles
9. Sorrel
…………………………………………………………………………………………………………..
10 MOST DEADLY PLANTS AND FUNGI
Based on how little can kill you and how likely you are to encounter them.
YOU REALLY SHOULD LEARN TO RECOGNISE THESE SPECIES! – check out the POISONOUS SPECIES PAGE to learn more.
1. HEMLOCK WATER-DROPWORT – very common, very poisonous and very like some edible members of the carrot family.
2. DEADLY WEBCAP (Cortinarius speciossimus) – has been fatally mistaken for both chanterelles and suillus spec. when veil intact. Neither are particularly similar.
3. FOXGLOVE – most people know it is poisonous and can easily recognise its striking flower spikes, but if you plan to pick early spring greens you should be able to recognise it by its basal leaves alone.
4. DEATH CAP (Amanita phaloides) – Though I have never found it in Galloway, its virulence and innocuous appearance earn its high placing. If you can't identify it confidently, don't pick any white gilled fungi. In fact don't pick anything – stay home and do some swotting.
5. HEMLOCK – as per hemlock water-dropwort, only rarer this far north.
6. CLITOCYBE DEALBATA – similar to the edible miller mushroom, though lacking its floury scent and growing in fields rather than woodland. Though quite different, I have heard of over-eager kids tossing them into baskets alongside field mushrooms. Shudder…
7. INOCYBE SPEC. (Fibrecaps) – there are several species of this innocuous looking little mushrooms family that can all too easily find their way into the baskets of careless/doomed foragers.
8. FUNERAL BELLS – anyone picking honey fungus or velvet shank should be able to recognise this mushroom.
9. FOOLS PARSLEY – the least toxic on the list (you may survive small quantities, albeit in great agony), but too similar to cow parsley and other carrot species to ignore. Very rare in Galloway.
10. YEW – despite being common and very poisonous, it is hard to imagine anyone accidentally consuming yew. If they do, at least the graveyard is likely to be handy…