Ultimate wild mushroom risotto
Risotto has to be one of the nicest ways to use  the mixed bag of fungi that so often comes back from a foray. The warm, earthy flavours of most wild mushrooms lend themselves really well to the generous unctiousness of a well made sofritto. The process of massaging the starches from the rice is at the heart of any good risotto and I find it a very meditative wee work-out. This is food that needs a little love invested, but returns it many times over. I have tried dozens of mushroom mixtures down the years and enjoyed nearly every one of them (jelly ear and beefsteak fungus being the least successful), but my ultimate combination is puffball, dried cep, chanterelle and truffle. Here's why:
Puffballs (giant or common) don't have much intrinsic flavour, but absorb those around them. Added to a sofritto they swell with wine, starch, stock and other mushroom juices to leave gooey, savoury marshmallows of taste that are entirely at one with the rice. Sounds weird, but give it a go – most forays turn up some variety of puffball.
Ceps – preferably dried, but I never shun fresh articles. These are the flavour-engine, contributing a big-hitting rich stock from their soaking liquer as well as their own deep, earthy flavour.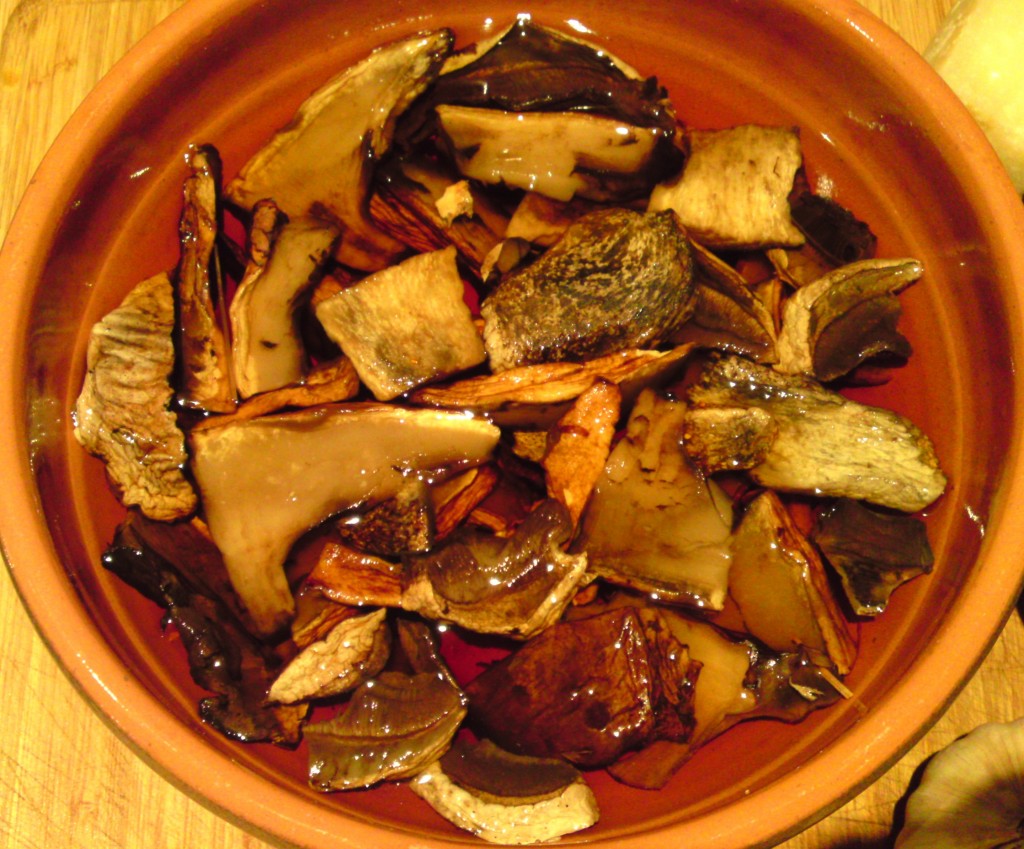 Chanterelles add a touch of colour glamour and chewy texture along with their fantastic taste.
Truffle if you have fresh, great, but a high quality truffle oil is fine here, be it alba, perigord or our own humble summer variety. Although it can be expensive, I think it is one of the best value things to have in the kitchen – provided you can lay your hands on the real article – most "truffle" oils are entirely synthetic, and have a few crumbs of low grade truffle to lend an air of respectability. You only need tiny amounts the real thing to add sublime aromatic bass notes to any dish. Put it in your letter to Santa.
At the risk of sounding anal/preaching to the converted, here are my many other risotto preferences (who would have thought that so simple a dish could have so many nuances?):
Yes to garlic – I have met Italians who say this is wrong, but I refuse to accept that garlic can ever be a bad thing in consort with mushrooms, even if their mama didn't use it.
Carnaroli rice over arborio if I can get it.
I like to add a few extra innocuous vegetables to my sofritto over the usual onions.
Good stock is essential – chicken stock for preference, though for vegetarians, the soaking liquor from reconstituting dried ceps works, or strain off the liquor exuded when you cook other mushrooms and stockpile it.
A deep, narrowish pan makes for more effective stirring.
I see many recipes that simply scatter the cooked mushrooms over the sofritto at the end, but I prefer to meld them into the body of the dish.
The finished product should be larval in consistency, slowly settling to a flat surface. If it stands up in thick lumps, it isn't proper risotto.
Risotto should be cooked and served to order – reheating turns it to gloop.
Good risotto is primarily about texture, which is all about the rice, and how you massage and nurture it – make sure you have time to spend with it as it is cooking.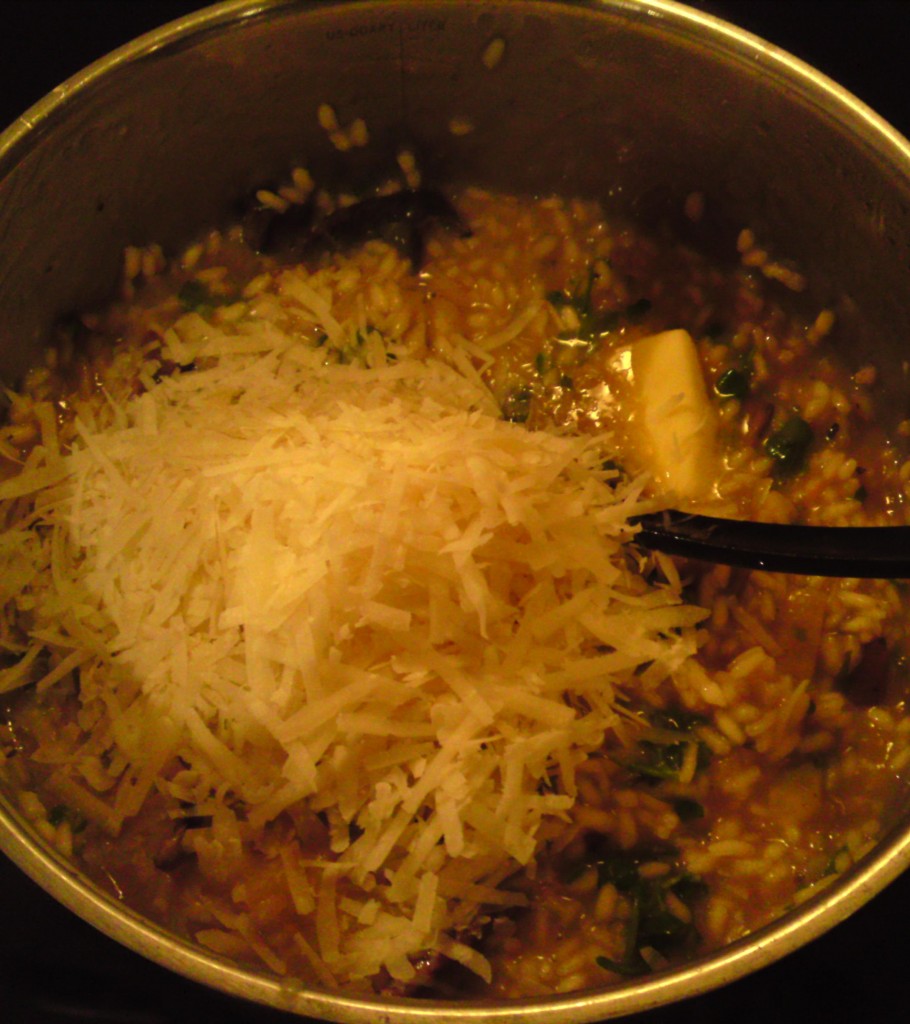 Ingredients – serves 4
100g butter
1 large onion – finely diced
1 courgette and 1 small leek – finely diced
3 bay leaves
3 cloves of garlic
A few sprigs of thyme, more if you are using wild thyme
300g carnaroli or arborio rice – unwashed
300ml dry white wine
150g puff ball – peeled and diced into 1cm cubes
30g dried cep (or other dried bolete).
2 litres good chicken stock, or veg stock. The only decent dried stock I have found is reduced salt organic Marigold. Heat the stock in a separate pan and add the dried cep to this to reconstitute and enrich it
150g chanterelles – cleaned (but never washed), small ones (2-3cm cap) left whole, larger ones cut into bite-sized pieces. Sweat them before hand in a frying pan until they give up their juices – strain the juices into the stock=pot.
300g parmesan – finely grated
A handful of (cow) parseley and sweet cicely (or tarragon), finely chopped.
75ml double cream
Juice of 1 lemon
Perhaps some fronds of hairy bittercress and wood sorrel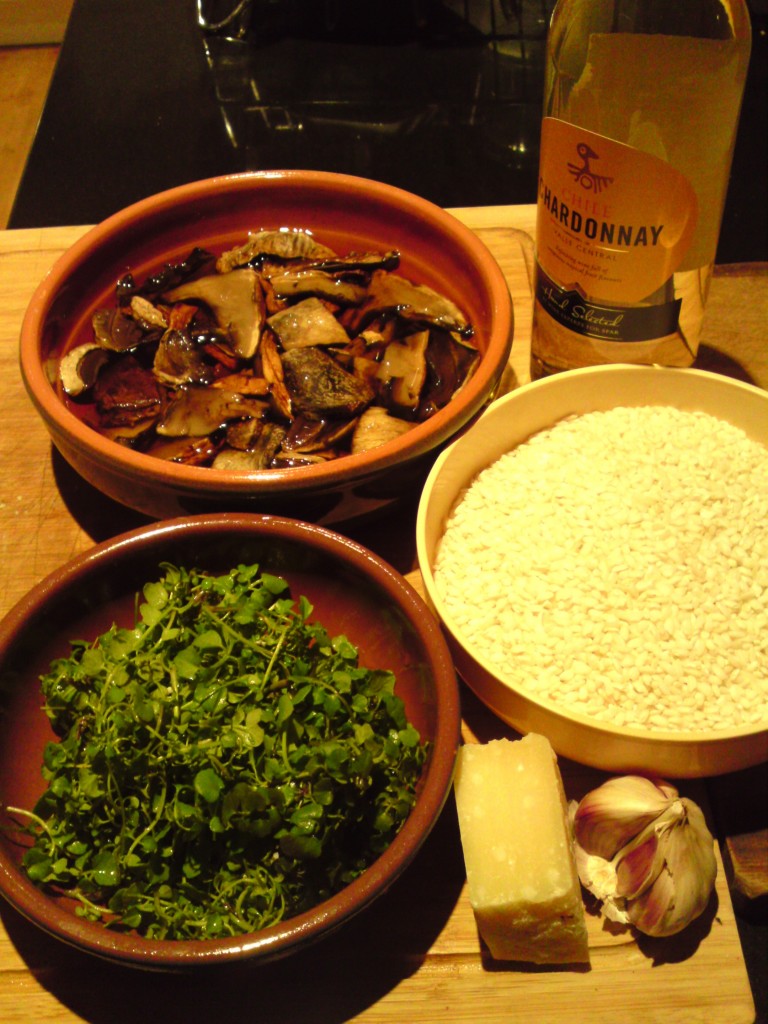 Gently sweat the onion, garlic , bay leaves and vegetables in half of the butter until soft and translucent. Add the thyme and rice and stir over a medium heat for a couple of minutes. Add the wine and continue to massage as it is absorbed into the rice. Add the puffball and soaked cep, and a little of the hot soaking liquor enriched stock. Continue to stir briskly as you gradually add the hot stock.When about half is in, add the chanterelles. Season to taste and continue to add the stock, a ladleful at a time still stirring and massaging the starch from the rice. The crucial judgement comes in knowing when to stop (you may well not use all the stock). This is a matter of personal preference, but I try to leave a hint of bite (but definitely no hard, chalkiness) in the rice, and leave the overall consistency like a very thick soup. When you are content that all is sublime, remove from the heat, stir in half the cheese , the remaining butter, the cream and the chopped herbs. Pop the lid on and leave to relax for a few minutes. Stir in the lemon juice, check the seasoning and add a little more stock if you think its required. Serve into shallow bowls and add a few drops of truffle oil to each (or shavings if you have whole truffles). I like to serve the remaining cheese in a bowl and let people add to taste. Sometimes I like a sprinkle of bittercress and wood sorrel on top to add an extra sharp note, but this wont suit everyone.
Related Pages: