Weird and Wonderful Fungi
There are some strange things growing out in the woods – check these out…
The elegant and ephemeral hare's foot inkcap. Learn more about inkcaps here
Learn more about oyster mushrooms here
I have never seen a bracket fungus growing directly from rock before, and possibly never will…
Learn more about cauliflower fungus here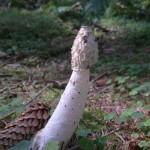 The rather rude stinkhorn (phallus impudicus), witches egg stage and in its full foetid glory. Click here to learn more.
And if you think that's odd, check out this one…
This is a rare tooth fungi, found in old Scottish pine forests. Read more about it and its relations here  and a blog about where I found it here
 Other cordyceps species parasitise truffles and even live insects. Ants are stupefied by the fungal spores, driven to climb to the top of the nearest plant and die, whereafter the fungi devours it from the inside out before dropping more spores. If these fungi ever set their sights on humans, we are all dooooomed! Everyone should watch this amazing, and somewhat chilling, short video.