Braised pheasant with winter chanterelles and root veg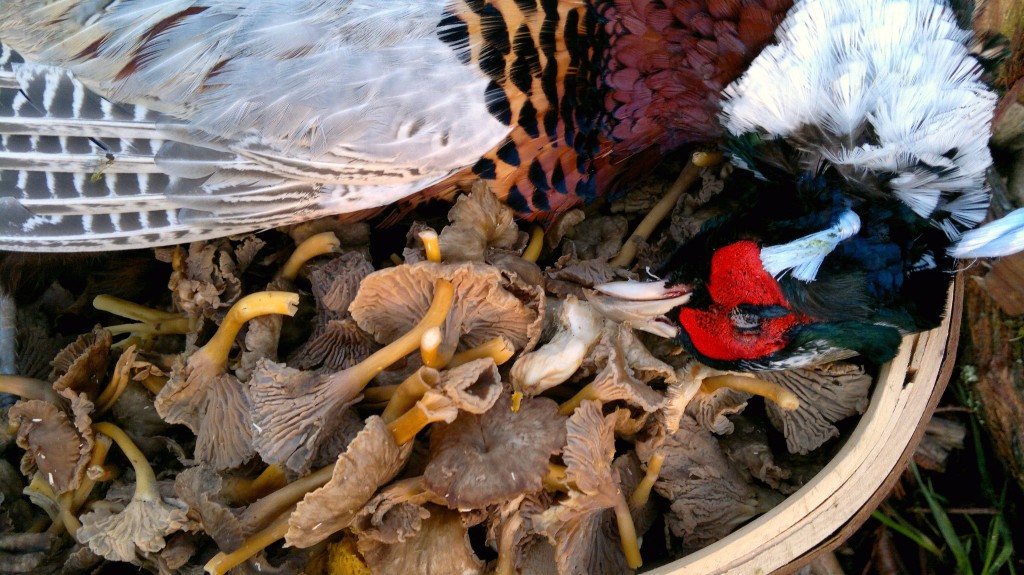 The season for winter chanterelles and pheasants overlap and they compliment one another very well. Here is a hearty slow-braised stew that is perfect for late autumn and winter evenings.
Related posts:
Ingredients
Serves 4

30g Butter
6 Thick rashers of fatty bacon, cut into squares
Salt and pepper
2 Pheasants, jointed into 4 breasts and 4 legs
10 Cloves of garlic, peeled
2 Medium onions
Root vegetables cut into 1cm squares. Use whatever you like, roughly equivalent to 1 parsnip, 2 carrots, 1 small piece of neep (turnip)
2 Tablespoons of mushroom ketchup – hard core foragers will have made this from ink-cap mushrooms early in the autumn, but Watkins does the job just fine.
2 Tablespoons of anchovy essence – from Mr Watkins again.
100ml White wine
250ml Game stock, ideally from the pheasant carcasses but chicken or mushroom stock will do fine
8 Sprigs of thyme – or 20 if you are using wild thyme
250g Winter chanterelles, cleaned (leave them whole if you can, though you may have to split them to clean out the funnel section OR use 50g dried cep (often sold as porcini in any decent deli) or other bolete, reconstituted in boiling water for 20 mins (add the soaking liquor to your stock). Any mixture of wild mushroom will work.
A good handful of wood sorrel for garnishing (optional)
…………………………………………………………………………………………………………..
Preheat oven to 140 C/275 F/Gas mark 4.
Heat the butter over a moderately high heat in a large cast-iron pot (le Creuset type is ideal) and add the bacon pieces. When they have sizzled a while and exuded plenty of tasty fat, remove with a slotted spoon and set aside. Generously season the pheasant pieces with salt and pepper then pop them in the fatty pan a couple at a time until browned and starting to crust up. Set aside. Next put the garlic in the pan and scrape it around until it starts to pick up some colour. Add the onions and when they start to colour turn the heat down a little and pop in the diced vegetables. Put the lid on and leave them to sweat and soften for 10 minutes or so, stirring occasionaly. Add the mushroom ketchup, anchovy essence and red wine and give the pan a good stir for minute or two, scraping up all the goodies from the base.  Put the pheasant and bacon back in the pan along with the thyme and mushrooms and enough of the stock to just about cover the contents. A disc of greasproof paper (cartouche) trimmed to fit snugly over the pheasant as well as a lid will help keep things ultra-moist. Put in the oven to braise for 1 – 11/4 hours. Season to taste then serve strewn with wood sorrel – its citric sharpness will cut across the sweet unctiousness of the stew.