Hogweed Seed Parkin Cake Recipe
I'd been playing around with the seed casings (technically schizocarps) of common hogweed (Heracleum sphondyllium)  for several years before an Iranian lady on one of my courses tasted one and, developed a wistful look in her eye, and shouted "Golpar!"
It turned out that the near relations of common hogweed have long been used in middle eastern cookery, where they are esteemed as a spice called golpar. If you want to be pedantic, golpar usually refers to common hogweed's close relation Heracleum persicum, but I have it on good authority from Iranians I have met that the difference is botanical, not culinary.
If you are wondering when, where and how to harvest this delicious spice, you should definitely read this page first, which includes important detailed identification and safety information, and more uses for the seeds.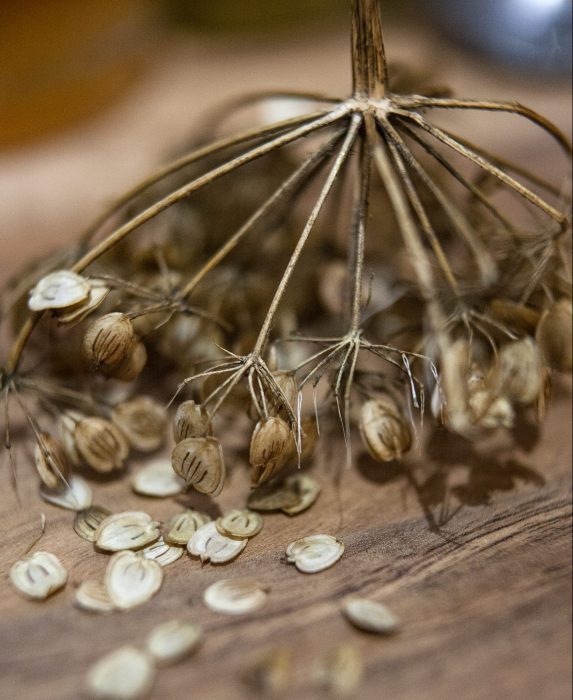 Common hogweed is native to the UK and abundant, so its a bit of mystery why this spice hasn't, until very recently, been used here. But I guess we could say the same for the dozens of other spices that are around us all the time, which we choose to ignore in favour of imported flavours…
Read more and listen to a Radio 4 programme I recorded on Our Native Spice Rack here
In Iran, golpar is mostly used in savoury dishes with the dry, ground schizocarps sprinkled over broad beans, lentils and other legumes (apparently they help reduce flatulence as well as adding flavour!), and potatoes. Golpar is also used in soups and stews and seems to often be paired with pomegranate.
My friend Rokshana is half Iranian and brought a delicious tomato and ground hogweed seed salad to one of my courses after checking with her granny what she used them for. Apparently granny was shocked to hear that I use most of mine to make a sweet cake!
The ground, dry seed casings are great for baking, where their toasted  bitter-floral aromatics of cardamon, orange peel and ginger really shine. Like many spices, their flavour is enhanced by lightly toasting them in a dry frying pan or baking tray before use.
Try adding them to shortbread or flapjack.
Long before i'd heard of anyone in the UK even thinking about baking with hogweed seeds, my friends Kather Marland (then of Kather's Kitchen) and Liz Knight of Forage Fine Foods (the finest wild alchemist you could hope to meet!) came up with the original idea of using the gingery profile of hogweed seeds in parkin, alongside traditional powdered ginger root. The original recipe used to be on Kather's cookery blog, but that's no longer online, so I seem to have become the default source of this idea by serving it on all my courses for the last 10 years! As a result (and despite my protestations!), I've received an undue amount of credit for it down the years.
My friend Rupert Waites of Buck and Birch so liked it that he decided to infuse the cake into rum to make "Rum & Cake" – an exquisitely decadent sipping rum. I'm a little embarrassed that, despite being clearly told not to, Rupert credits me with the idea, rather than Liz and Kather, but hey-ho, the main thing is that its delicious!
Parkin is traditionally made and eaten around Bonfire Night (5th November) in the UK, and this cake brings back extremely fond memories of bonfire nights, sparklers and treacle toffee for me! Its also perfect because late September is the best time for harvesting hogweed seeds, naturally dried on their umbels.
I serve this cake on all my walks as not only is it wildly delicious, but its also great for keeping energy levels up. … Which is another way of saying its not for if you are on a diet!
Kather and Liz's original recipe uses only a tiny proportion of hogweed seeds and you may want to downsize the hogweed seed portion if you feel uncertain. But i've been serving this cake to great delight on my walks for many years now, and have tweaked it and upped the wild spice to the point where the ginger is but a hint and the golpar gets to shine!
HOGSEED PARKIN – Makes one large baking tray or two smaller baking trays
Ingredients:
400g butter, plus extra for greasing
2 large eggs
8 tbsp milk
6 tablespoons dry hogweed seed shells – These are the flat disks as you see in the photos. Divest them of as many twiggy bits as you can be bothered to, but a few don't really matter as they will be ground to a fine powder. Use more if you want to up the spiciness of the cake.
400g golden syrup
170g treacle (Or the same of heavily reduced birch syrup, if you are feeling decadent!)
170g light soft brown sugar
200g medium oatmeal
500g self-raising flour
Optional: 3 tablespoons of dried, ground magnolia petals (which have a lovely floral-ginger flavour)
1/2 tablespoon ground ginger (Or more, or less, depending on your taste…or none if you want to go fully wild-spiced!)
2 teaspoon sea salt
Method:
Heat oven to 160C / 140C fan / Gas 3
Grease two deep 22cm/9in square cake tins, or one large equivalent, and line with baking parchment or those silicone mats that stop things from sticking
Beat the eggs and milk together with a fork and set aside
Scatter the hogweed seeds on a clean flat baking tray and pop in the oven to toast for 5 minutes
Gently melt the syrup, treacle, sugar and butter together in a large pan until the sugar has dissolved then remove from the heat
Put the toasted hogseeds into a spice grinder and whizz them to a fine powder. You'll find it very tricky to grind them with a pestle and mortar, as they are flat and papery
Mix together the oatmeal, flour, salt, ground hogweed seeds, ground magnolia petals (if using) and ginger and stir into the syrup mixture, followed by the egg and milk, stirring well until thoroughly combined
Pour the mixture into the tin and bake for 40-45 minutes until the cake feels firm and a little crusty on top
Cool in the tins then run a knife around the edges before flopping it carefully out onto a chopping board.
Well wrapped in foil, cling film or baking parchment, it will keep well for a week, and actually improves after about 2 or 3 days, becoming softer and stickier the longer you leave it as the oatmeal swells up (up to a few days).
Hogseed parkin freezes extremely well.
Eat it as is, slice and add an inch of butter. Or gently warm it in the oven or microwave and eat with a spoon, drizzled with birch sap syrup or wood avens root syrup.