Common Hogweed – Identification, Edibility, Distribution
 Heracleum sphondylium, aka Cow Parsnip, Eltrot.
Heracleum persicum in the middle east, and heracleum maximum in N. America are closely related, and the seeds of these can be used in similar ways to those described below. I'd recommend conducting your own research around uses/safe handling of those particular  species.
Common hogweed's big brother Giant hogweed  (Heracleum mantegazzianum, also occasionally known as Giant cow parsley, Giant cow parsnip and Hogsbane), which should not be handled or eaten, is also discussed at length below.
Common hogweed is a startlingly delicious vegetable and an amazingly versatile wild spice – my favourite of all edible wild plants in fact. But getting to know and safely eat it is not as straightforward as many other plants on this website. However, if you work your way though all the important considerations below and invest a little time getting to know this plant, I guarantee it will reward you many times over.
Edibility – Be sure to read information on safe handling below. I do not recommend eating any part of common hogweed raw.

Young shoots, green flower buds florets – cooked – 5/5 –  the finest tasting vegetable (wild or cultivated) in the UK in my opinion!
Seeds – 4/5 – pickled when green or used as a spice, especially when dried. More on these here.
Mature leaves – 1/5 – Generally best avoided, but there is a history of fermenting them in E. European countries.
Roots – 2/5  – great flavour, but very woody.

Identification – 3/5 – one of the easier of the potentially deadly carrot family to ID, but  caution still necessary as the tasty young shoots are not fully formed. Learn more about the carrot family and how to develop your ID skills in my Introduction to the Carrot Family for Foragers.  And remember – we are talking about common hogweed (Heracleum sphondylium) here – not giant hogweed  (Heracleum mantegazzianum), which should not be eaten or even handled – please read to the end of this post for detailed pictures of giant hogweed. Care should also be taken when handling common hogweed – see below.
Distribution – 5/5 – Very common
Season – March – September, seeds can persist on old umbels well into the following year, especially in sheltered locations.
Habitat – Verges, hedgerows, field/wood edges, waste ground, rough fields and unkempt gardens. – particularly abundant around the coast, though not specifically a maritime plant
Hogweed is one of the most common of the carrot family, becoming the dominant white flowered roadside umbellifer of summer and early autumn in most of the UK, after the cow parsley has dwindled and before wild angelica takes its place in the succession. As always, caution is recommended when picking members of the carrot family and you should base your identification on at least three distinguishable features. Look for:
Leaves: Large, 3-5 lobes, hairy, serrated – though this will only be clear on fully grown leaves. New young shoots can often be found emerging at the base of mature leaves up until July.
Stem: Hairy (but not spiny/spiky), grooved, hollow, striated, starting purple (not blotchy), becoming green, new joints and flower buds emerge from papery 'parcels'. 1.5 to 2 metres (4.5 – 6 feet) tall fully grown.
Flowers: White, often (but not always) with a pinkish hue, 5 petalled, 15-30 rays arranged in umbels of up to 30cm, but more usually 15 – 20cm. Petals on the outside of the umbel are usually larger. From a distance, I recognise common hogweed by the flattened tops of the umbels (relative to other umbellifers) – though this is insufficient for full identification. The flowers smell unpleasantly "farmyardy" – which may be where the name hogweed comes from, though it may also be because pigs would eat the foliage and roots.
Please see my notes and photographs at the end of this post for how to distinguish common hogweed from giant hogweed.
As the best edible part comes generally before the other features, it can be challenging for common hogweed novices to feel comfortable with their identification during spring. This is a plant that demands, and rewards, some long term investment of your time: it is biennial (2 year growth cycle) or perennial, so if you spend a year observing it, the following year you will know where the shoots will emerge (near the base of the previous year's skeletal stems), and feel much more comfortable harvesting and using them.
Care should be taken when picking common hogweed as chemicals in the sap can cause phytophotodermititus – especially in strong sunlight. This can result in unpleasant and painful burns. I recommend wearing gloves if you are handling it on any but the most overcast of days.
Children and people with sensitive skin or who are susceptible to sunburn should be extra careful. The sap is less of a problem when picking the young shoots and flower bud "parcels" (which are what you're after) on overcast days in early spring, but you should remain aware and vigilant as the sap can persist on the skin. Washing it off before exposure to bright sunlight removes the threat – that is to say the burns result from the combination of the sap and direct sunlight.
During summer, as the plant matures, the sap becomes more phytopohototoxic, and sunlight more intense,  and I restrict my handling to just snipping off seed umbels. Unfortunately instances of children getting burned after playing with common hogweed are not uncommon (the hollow stems make appealing pea shooters) – please educate them on potential dangers (see in the comments section below for further discussion of this, and read this excellent deep-dive into the chemistry of hogweed by my friend Monica Wilde if you want to know more.)
So now you've read all of these warnings, you are probably wondering why you might bother?
Young hogweed shoots are one of my favourite wild vegetables, reminiscent of asparagus and parsley yet so much better – with a flavour all of their own. The roots will produce more shoots after harvesting  and can provide a steady crop throughout spring and early summer. Rummage among the older leaves to find the "self-forced" shoots with long, fat, juicy stems. Fried in butter until the leaves start to crisp and brown, they are unsurpassed and best eaten as a stand alone vegetable. Stir through some sorrel leaves at the last minute to add some acidity to cut through the butter. They require little or no seasoning, having a rich and balanced flavour without help.
The unopened flower buds are also delicious and come in their own wee packages which means you can steam them without losing any of their sensational flavour – a glamourous steamed accompaniment to fish. Add them peeled to stir-fries, deep fry in tempura batter or to pickles. Older leaves are not so appealing, but  make an excellent addition to a stock pot.
As if their sheer deliciousness isn't enough, common hogweed is extremely good for you, being packed with  minerals, and comparing favourably in lots of departments with other "super foods" – both wild and cultivated.

When the plant starts to die back for the year, you will still be able to harvest the disk-like seed pods  (correctly known botanically as schizocarps) which have an extraordinary taste. I have heard them variously described as tasting of orange peel, cardamon, coriander, ginger, liquorice and  burned cedar – probably a combination of all of those is a fair reflection.
There are two distinct stages to the seed pods: green and juicy when first formed, then quickly drying to papery disks
They aren't for everyone – a bit love-hate – polarising opinion about 70 (love) to 30 (hate) when people taste them on my walks, some people finding them unpleasantly "soapy". If you do taste the green seeds raw, I recommend you take just a tiny nibble first time round. Some people experience a tingling sensation on the tongue. I have heard of one case of someone suffering an allergic reaction, but of the  thousands of people who have tried them on my walks, nobody has had any problem.
Read more about the wild food, allergies, and the spectrum of edibility here
When still green the seed casings are pungently bitter so a little goes a long way. I add the whole green casings as "flavour bombs" in curry mixes, or pickle them and toss through salads with smoked eggs or pickled fish. Add them to pickling solutions for (eg) marsh samphire, rock samphire, sea aster, or reedmace hearts, perhaps with some other wild spices such as coriander grass. Try infusing them in hot butter then discard and use the butter like ghee in curries or for cooking fish or sautéing sea beet or other veg.
Green seed casings will dry out naturally on the plant, becoming papery disks which can be harvested from sheltered locations well into the winter. I harvest whole umbels then leave them to fully dry in a warm, airy room, before storing in bags. The seed casings drop off the umbels naturally in the bag.  The flavour of dried seed casings (use the whole thing) is mellower, becoming more gingery and floral. The dry seeds of a very close relation to common hogweed, heracleum persicum, is widely used in Iranian cuisine, where the spice is known as golpar, and used in savoury dishes.  As with many spices, dry toasting the seeds before use lifts the aromatics.
The dry seed casings can be ground and used in baking – try adding them to flapjack or they make a sublime parkin.
You can read more about hogweed spice and my fully adapted Hogweed Seed Parkin recipe here
The dry seeds also work extremely well in drinks and cocktails. Try infusing them into vermouths and gin, or adding them as a mulling spice to winter warmers.
I like the seeds best of all as a wayside nibble – just one really gets the taste buds partying – especially with a single sea buckthorn berry! Kapow! I add hogweed seed bitters to my wild whisky sour cocktails.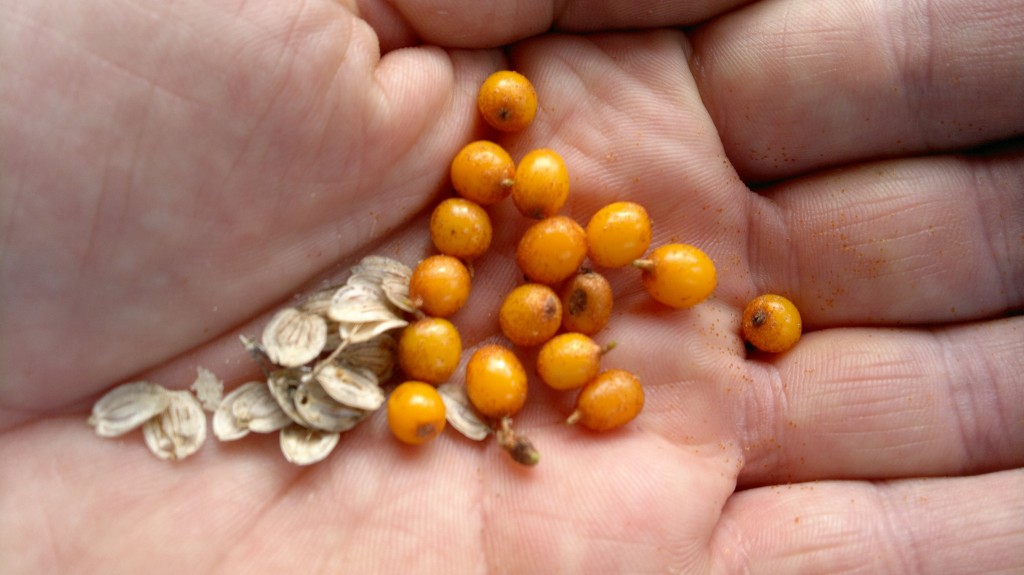 The roots of common hogweed have an intense aromatic quality, somewhere between angelica root and parsnips (both near relations) , with both deep earthy bass notes and bright herbaceous aromatics. They are generally too tough to use as a vegetable but are fantastic infused into aromatised wines and bitters and makes a great stand-alone schnapps. I've been trying for years to convince some of the distillers i've consulted for to use it instead of angelica root, to no avail!
Plants For A Future reports that you can obtain a natural sweetener from common hogweed  by tying leaf stems together and he leaf stems and leaving them to dry in the sun until they turn yellow. A sweet substance resembling sugar forms on the dried stems.
How to distinguish Common Hogweed from Giant Hogweed
I am often asked how to tell common hogweed from its notorious big brother, giant hogweed (Heracleum mantegazzianum). Even when young, its eventual size is apparent by its huge sharply serrated leaves, spikey haired purple tinged leaf stems, giant flower umbel and stem "skeletons" (which usually persist from previous years), and its tendency to dominate all other ground cover.
Common hogweed by comparison, is quite a dainty wee thing, never more than 6 feet tall and rather less aggressive looking all round. As noted above, both should be handled with care – especially in bright sunlight, as their sap can photosensitive the skin, with potentially painful and alarming consequences.
But don't let that put you off learning about them – your knowledge will, at worst, help keep you safe, and at best add a delicious, nutritious and abundant wild plant to your diet.
The photographs below are all of giant hogweed, showing some of its key features.