Pink Purslane – Identification, Distribution, Edibility
Claytonia Sibirica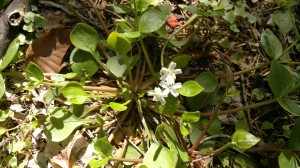 Edibility – 4/5 – A delicious, mild, succulent green leaf with an earthy beetroot flavour. Leaves, stems and flowers.
Identification – 3/5 – The short (up to 20cm), glossy, veined, rounded, single-stalked leaves are quite distinctive, often forming extensive mats made of many rosettes. Between April and July the 5 pale pink to white split petalled flowers will help confirm identification, nodding above flower stalks with oppositely paired leaves. The most likely confusion for beginners is with red campion basal leaves when neither plant is in flower. Red campion leaves lack the distinctly rounded lobes and is inedible. It tastes awful, so you will soon know if you have mixed them up!
Distribution – 3/5 – Quite common in damp shady wood edges, riverbanks and hedgerows with a preference for acid soils.
Season – Perrenial – All-year-round, slightly inferior flavour in summer.
This is a delightful, easy-to-come-by plant that can be cooked like spinach, added to stir-fries etc, but is at its best raw. I love to employ its earthy flavour in winter salads with pickled fish, beetroot and elderberry vinegar, though it works well as a mild "bulker" with sharper-tasting leaves in spring. When you find a good patch, harvesting is quick and efficient – simply hold the tops of the rosettes and cut off below. It grows back within a few weeks. It is a mild diuretic and has been used as a poultice for cuts and sores, its juice as a treatment for sore eyes, and even as a cold infusion for discouraging dandruff!