Review of Plant Foraging Guidebooks
 – covering edible plants, fruits, nuts, seeds and possibly seaweeds
Related pages: 
………………………………………………………………………………………………………………………..
The Forager's Handbook by Miles Irving (£30)
A weighty hardback by one of the UK's foremost commercial foragers and supplier of wild food to top restaurants.
Strengths
Comprehensive, in-depth coverage of UK's edible plants, trees, grasses and seaweeds
Introduces many species not covered in other foraging literature
Sensitive expert advice on sustainable harvesting
Discusses the spiritual, economic, ethnobotanical and environmental aspects of foraging
Detailed notes on UK distribution
Inspirational contemporary wild food recipes from top chefs
Good information on poisonous lookalikes
Pictures of plants at their edible stage of growth
Broken down by plant families, fostering a greater understanding of plant morphology
Species lists by habitat and season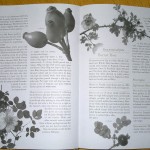 Weaknesses
Black and white photographs only – not a field ID guide, though pictures cleverly emphasise plant structure and descriptions are precise
Would benefit from including habitat and seasonal lists in table format
Not much historical/plant lore info
Comprehensive and inspirational – this is the must-have book for any plant foragers who wish to extend their wild food knowledge. Not a stand-alone ID guide.
………………………………………………………………………………………………………………………..
The Thrifty Forager by Alys Fowler (£16.99)
A roundup of edible plants with a slight urban slant from well known gardening writer and TV presenter Alys Fowler.
Strengths
Pleasant chatty writing style covering legalities, ethics, background etc
Excellent wild food calendar
Cross-over chapters between foraging/gardening on permaculture and community gardening
Well laid out with large colour photographs of most species in situ
Nice (mostly) modern recipes with good general information on how to use wild ingredients
Weaknesses
Urban/suburban focus – little or no coverage of coastal/forest/upland plants and ignores large groups of plants (eg.carrot family)
Little information on national distribution (Southern focus?)
Does not cover plant lore or traditional/herbal uses
Little coverage of poisonous species
A nice book if you are foraging around towns, cities, parks etc – but even there not an ID guide.
………………………………………………………………………………………………………………………..
Edible Seashore – River Cottage Handbook No 5 (£14.99) – covering edible coastal plants,seaweeds and shellfish.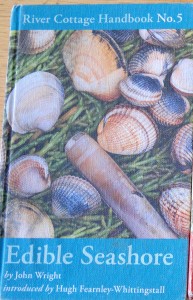 Hedgerow – River Cottage Handbook No 7 (£14.99) – covering edible hedgerow and woodland plants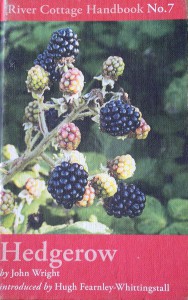 both by JohnWright
Portable hardback guides by River Cottage's foraging expert. In combination, these two books cover the best and most common edible wild plants, with the bonus of some excellent coverage of shellfish and seaweed in Edible Seashore. See also Mushrooms – RC Handbook No1 in Fungi guidebook reviews.
Strengths
Very entertainingly and engagingly written
In-depth coverage of legal, ethical and practical aspects of foraging and plenty of snippets of plant lore
Good foraging calendar (in Hedgerow only)
Good full-colour pictures of species in situ
Critical evaluation of quality and flavour of species – so often absent in guidebooks
Notes on conservation and distribution
Good coverage of poisonous lookalikes
Excellent selection of simple and delicious recipes
Portable
Weaknesses
Rather subjective and often negative assessment of culinary merits of some species
While species descriptions are good in Hedgerow, they are often poor in Edible Seashore
Would benefit from more pictures of each species to aid identification
Excellent introductions to foraging with good identification guidance, conveyed with lots of fun and humour.
………………………………………………………………………………………………………………………..
The Boreal Herbal – Wild Food and Medicine Plants of the North (around £35) by Beverley Gray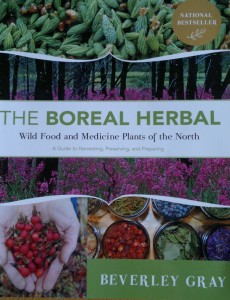 A hefty glossy guide to useful plants of the North.
Strengths
Packed with in-depth information on wild plants as food and medicine
Excellent colour photographs and line drawings to help identification and understanding
Extensive background information on foraging and processing
Lots of delicious, easy recipes
Great tables detailing the different medicinal applications of plants
Lots of plant-lore and the authors personal spiritual connection with plants
Strong coverage of berries
Weaknesses
Focussed on Northern Boreal plants (most of which can be found in the UK) – but many UK species absent
Expensive
A beautiful book, full of love and inspiration and a great resource to have at home.