Sea Arrowgrass – Identification, Distribution, Edibility
Triglochin maritima AKA Coriander grass
Edibility – 3/5 – Principally eat the pale base of the leaf stalks and the seeds (ground). The green parts of the leaves can contain toxic cyanogenic glycosides, but I  happily eat them in small quantities with no ill effects. Green parts should definitely be avoided if dried out – which is unlikely considering the UK climate and where it grows! Young flower stems are a real, tender delicacy if you catch them young – i'd score them 5/5.
Identification – 3/5 – Only likely to be confused with sea plantain (also edible). Inland you may also encounter Marsh Arrowgrass (triglochin palustre) which can be used in similar ways.
Distribution – 4/5 – Common on salt marsh and grassy foreshores
Season – March – November
One of the great pleasures of foraging is discovering exciting flavours in the common and innocuous-looking plants around us. Sea arrowgrass never fails to raise squeals of surprise and delight when we encounter it on my guided coastal walks. It tastes quite distinctively of coriander, which is most welcome up here in Scotland where actual wild coriander (coriandrum sativum) is  restricted to just the occasional garden escapee.
I find it around all of Galloway's tidal estuaries where it is abundant on salt marshes alongside other great succulent coastal plants  like sea aster, annual sea blite, marsh samphire and sea plantain.These are the plants that help make salt marsh lamb so delicious.
I have yet to find sea arrowgrass listed in any books on foraging. I stumbled on it while foraging with a chef on the shores of Loch Etive in the highlands of Scotland. I thought I was showing him sea plantain and he said "Wow! Tastes like coriander!" There then followed an exciting half hour as we learned to distinguish the two by their subtly different flower stalks. I then researched the plant to ascertain its safety, and it has been a firm favourite (in moderation) ever since. As shown below, arrowgrass flower stalks are much more substantial than those of sea plantain, with distinct compound flowers/seeds spread along the top 6-8 inches of stem.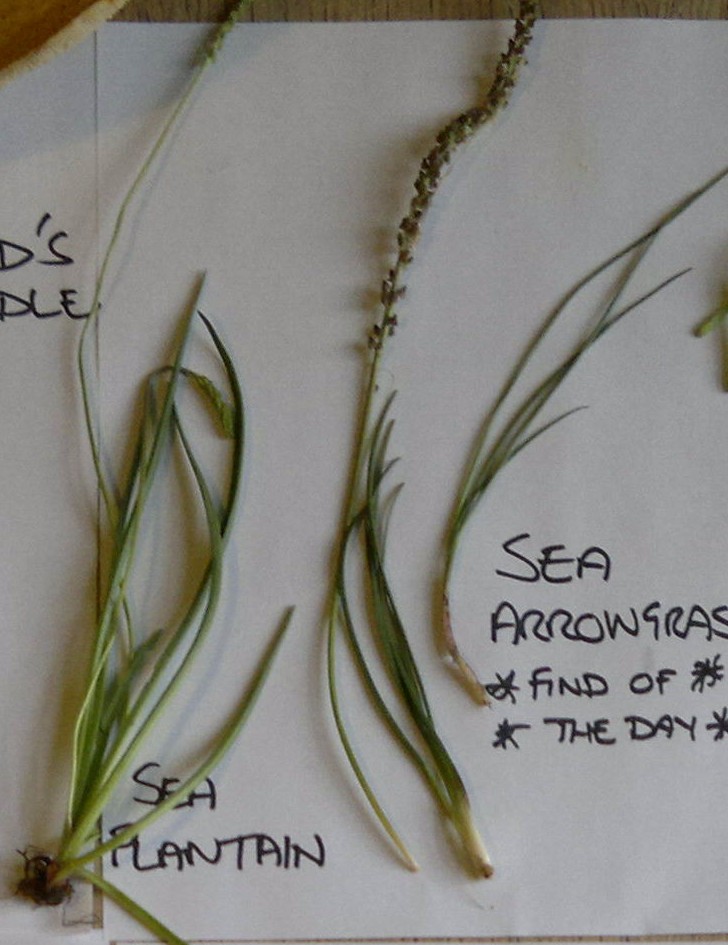 I recommend ducking down low to spot the flower stalks then following them down to locate the thick, grass-like stems that are pale with hints of purple at the base, becoming green after a few inches.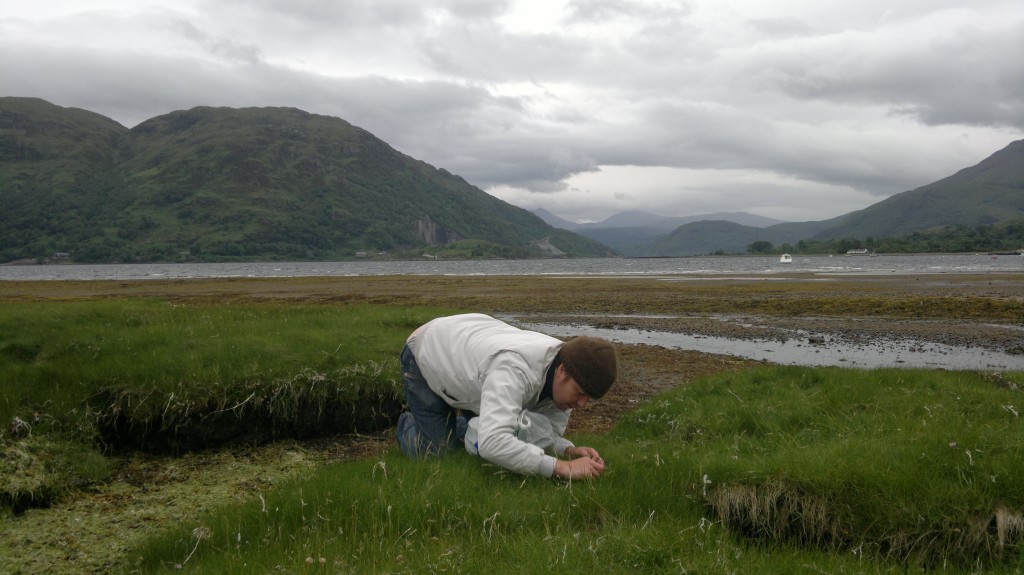 Sea arrowgrass can be eaten raw – chopped like chives over salads or fish dishes, or added to cooked dishes and sauces. Ensure that it is kept moist after picking and eat only small amounts of the green stems. The pale stem bases, where they sheathe together, have most flavour and succulence, and less cyanogenic glycosides. The seeds can be stripped from the mature flower stalks and used as a spice – but only use them when fresh and green. If you catch the flower spikes young, when they are still in their green "flowering" stage, they are succulent and tender and can be eaten like (very) baby asparagus.
It can also be used as a substitute for coriander in stir-fries and curry dishes.
My favourite use for sea arrowgrass is in wild sushi alongside coastal succulents, flowers and dried seaweeds. Keep an eye out for my "Sushi on the Shore" guided forays where you can learn to find, identify, harvest and process superb coastal plants before rolling your own sushi on a (hopefully) sunny beach.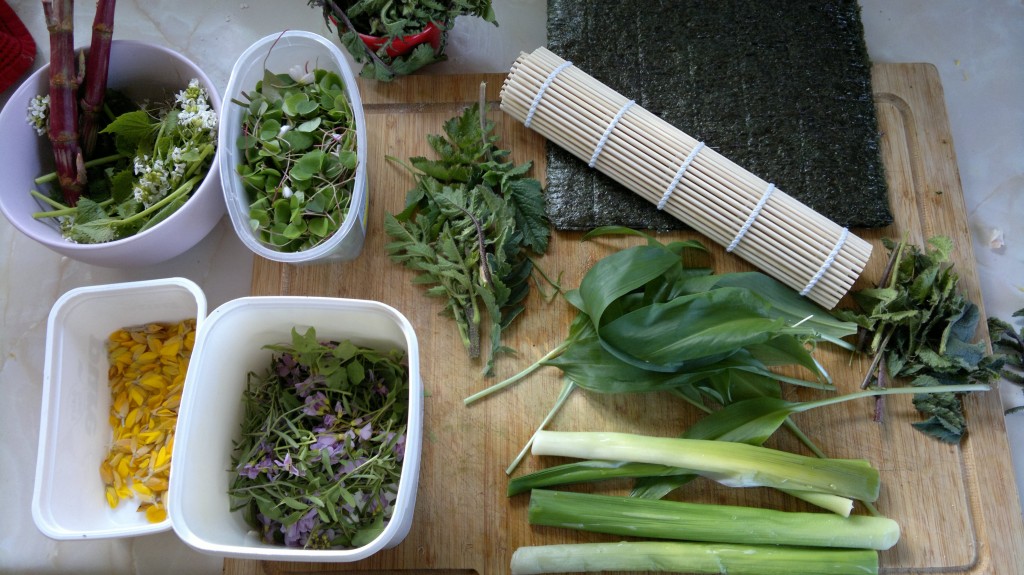 Related Posts: