Clouded agaric – identification, distribution, edibility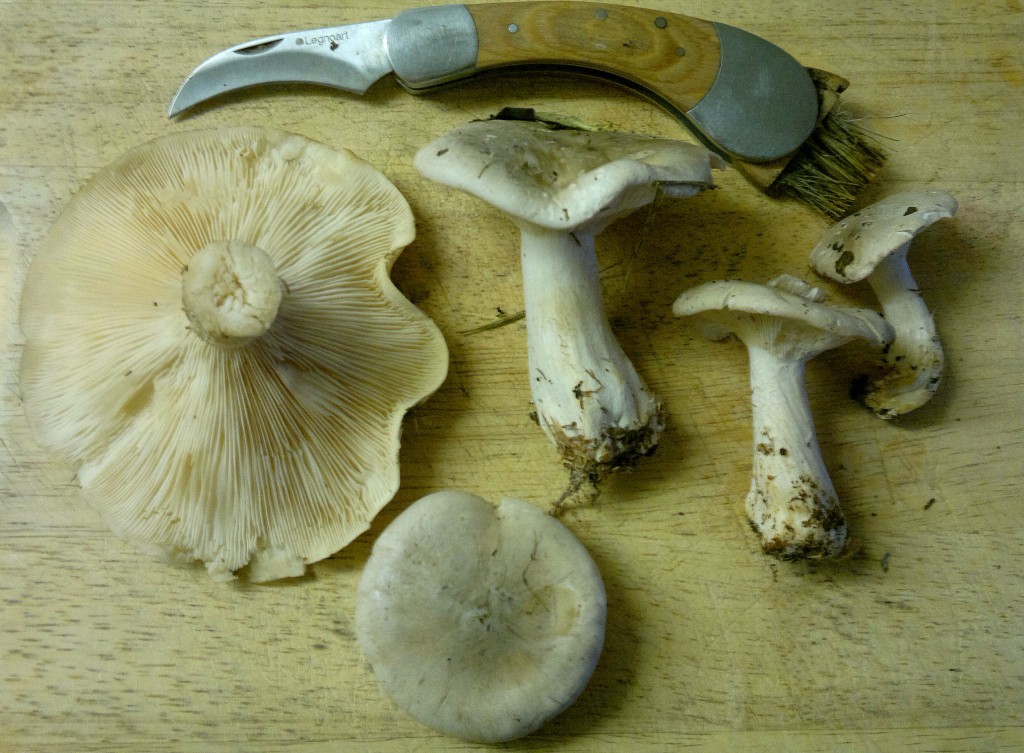 Clouded agaric, clouded funnel – Clitocybe nebularis (I have also seen it listed as Lepista nebularis)
Edibility  2/5 – While some people eat and enjoy this mushroom (well cooked), it can cause gastric upsets in some people. Please read the linked articles and comments below.
Identification 3/5 – See below. Possible confusion with livid pinkgill (entoloma sinuatum) which is highly poisonous
Distribution    4/5 – common and highly gregarious, often forming huge rings
Season October-December
Habitat: Under almost any tree type, growing on fallen leaf/needle litter or rich soil. I have also found it growing in grass well removed from the nearest tree.
Key features: Cap pale to ash grey, fleshy, dry, inrolled at the margin on young specimens which tend to be dome shaped. Older caps flat and broad up to 15cm. Gills white to cream, decurrent (descending down the stem), easily detatchable, spores white-cream. Stipe solid, broader at the base. The general jizz (as bird watchers call it) of this mushroom is grey, solid, robust, and gregarious – especially in large, well-formed rings.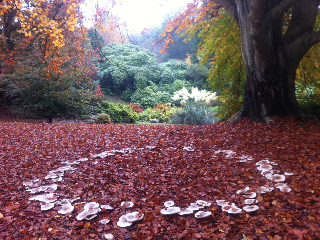 This is one of those awkward mushrooms that doesn't agree with everyone. Roger Phillips reports that  it is "Said to be edible, but known to cause gastric upsets in many people". As is so often the case with saprophytic fungi, the clouded agaric may have markedly different composition depending on which substrate it is growing on. This may further complicate uncertainties around personal tolerances.
As I discuss in more detail in this post on The Spectrum of Edibility, "edibility" is a much more complicated concept than we tend to appreciate. This paper on clouded agaric lists its potentially beneficial properties (albeit based only on testing on mice), while this paper goes into some detail on its potentially harmful properties. I suggest you read both before deciding whether this is a mushroom you might wish to eat.
I have personally eaten this mushroom on several occasions and enjoyed, after thorough cooking, its sweet yet sharp flavour which works particularly well with fish and pickles well too. Having only recently come across the second paper linked above, I am now more circumspect about eating clouded agaric. If you choose to eat it, i'd now recommend boiling in water then discarding the water before cooking
Discussions of toxicity aside, this also appears to be one of those foods that actually tastes different to different people – some find it rank, despite not getting any adverse symptoms.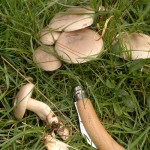 Don't be too scared of the superficially similar but much rarer livid pinkgill which has pink spores, ascending gills and a floury odour.
If you do choose to eat clouded agaric, please leave a comment below to let me know how you got on with it.