Elderberry Vinegar Recipe
Related pages:
No matter how hard I try when serving my wild food tasting menus, this elderberry vinegar always steals the show when served as a simple wild salad dressing. It is fruity, thick and very sweet, with a depth of flavour that puts it on a par with, if not beyond, the very finest balsamic vinegars. It actually got a "wow" from the team at Andrew Fairlie's restaurant at Gleneagles when we had a cook-in in the Perthshire hills, and I've passed the recipe on to countless others since.
Even better than that,  elderberry has long been thought to have immune-modulating and antioxidant effects and is traditionally used in the treatment of viral infections. There are no "miracle cures" out there, but the sort of biodiverse eating of a wide range of plants, fruit, seaweed and fungi certainly gives you the best chance of staying well. I've listed and provided links to more "everyday weeds" that can help support a healthy immune system here.
How does this relate to your delicious elderberry vinegar? Well I make a point of imbibing some at least every other day through the winter, whether by the spoonful, diluted with hot water as a drink, as a salad dressing, to enrich a tomato sauce, or as the fruity base for a sweet and sour style stir-fry – any way you like should help you to stay well as part of a biodiverse diet.
I haven't had a cold or virus for over 5 years, and I attribute this predominantly to regular use of elderberries and medicinal mushrooms, as part of a biodiverse diet.
This preparation is technically a "shrub",  in this context meaning a liquid mixture of sweet and tart or a "drinking vinegar". The name comes from the Arabic shurb, meaning drink, and sharbat, a Hindi word for an aromatic syrup made from fruit or herb and flower extracts. Shrubs are all the rage in cocktail circles, and I often use them to balance sweet and sour elements in wild cocktails. Read more about this here.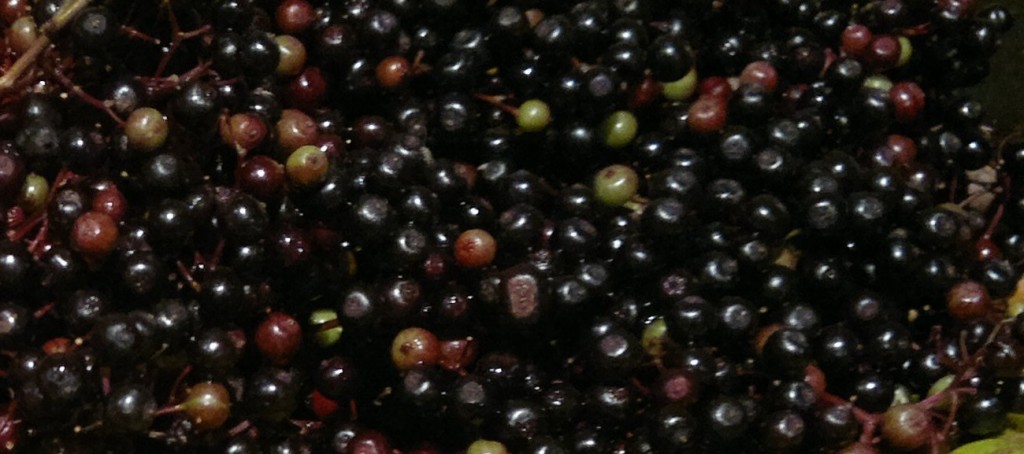 Not that i'm taking any credit at all for the recipe. I've adapted it from Miles Irving's excellent "Forager's Handbook" (if you haven't bought it yet, you should) and Miles attributes it to forager-herbalist Mandy Oliver. The recipe is essentially a sweeter, simplified version of the traditional old English elderberry/vinegar sauce called pontack. Allspice, nutmeg and black pepper are traditionally used to add an aromatic twist to pontack, but i've also had great success using wild spices like wood avens, magnolia petals  and the seeds of several members of the carrot family .
But the simplicity of this unspiced recipe appeals to me and it is a modern classic. By all means explore spiced variations, but I recommend you start simple if making it for the first time.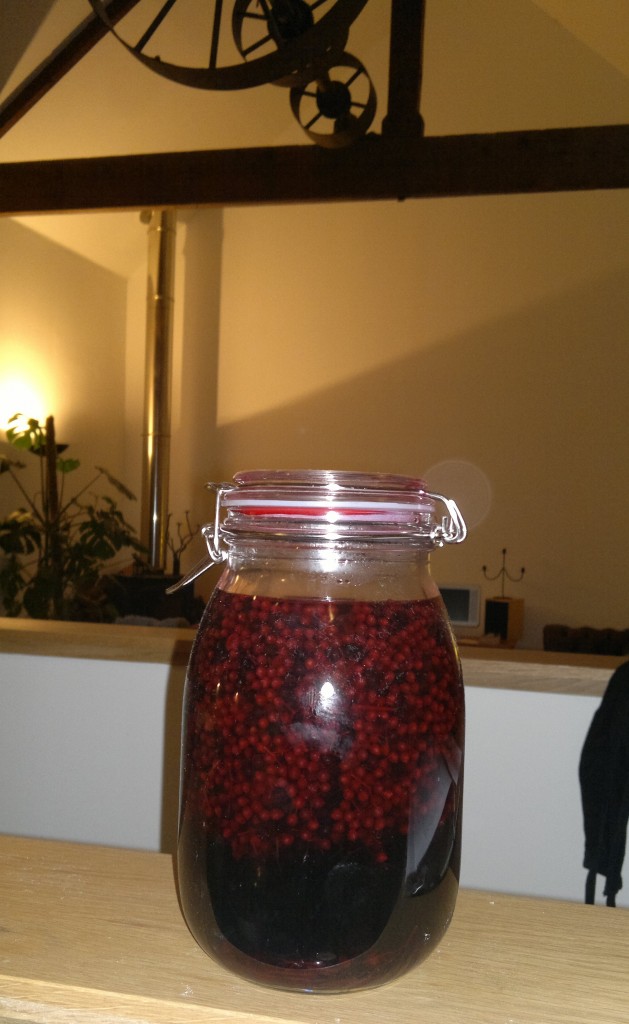 This elderberry vinegar is the essential stock item in my larder – and I get quite twitchy around the end of September about having gathered sufficient berries to see me through the following year. Bear in mind that if you gorge on the elder buds and flowers during the summer, you will have less berries come autumn – careful resource management required! Read more about the all-round wonder-wild food resource that is the elder tree by clicking here.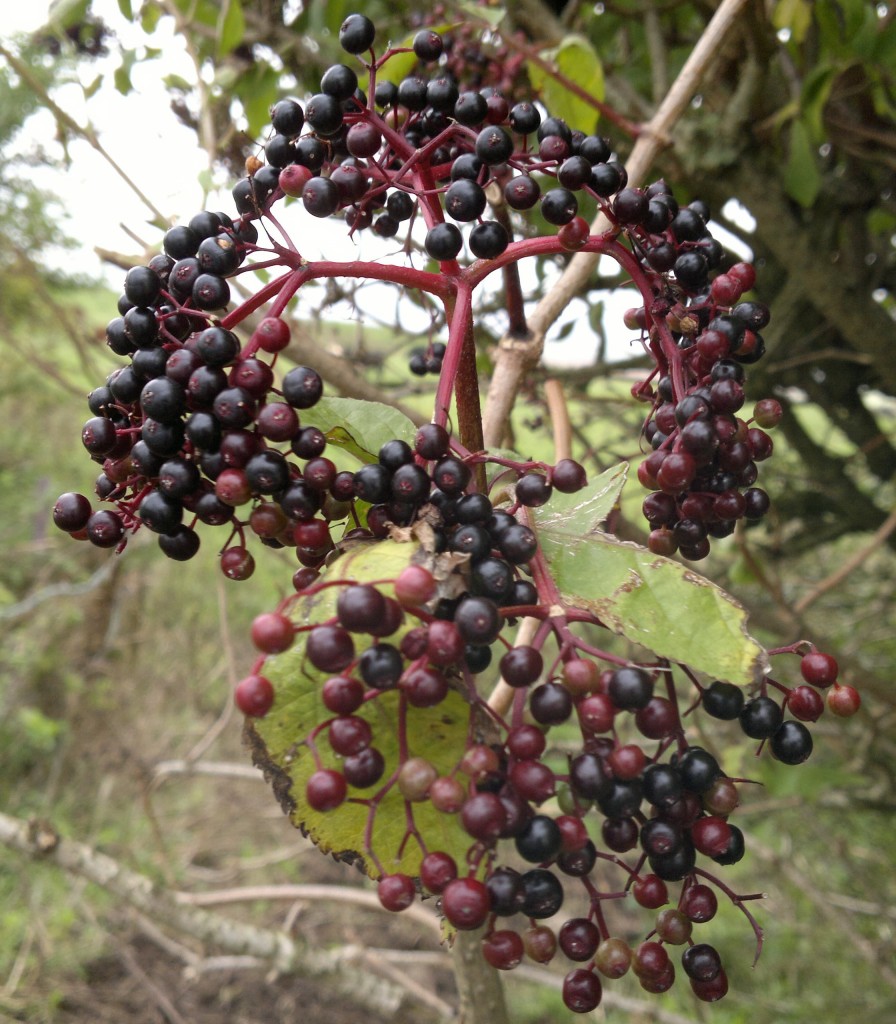 I use this sweet elderberry vinegar as salad dressing, sauce enricher, marinade, to give depth to stews, like ketchup (my friend love it on roast potatoes), and even diluted with boiling water in my flask when in the mountains. It is so sweet, fruity and warming that its easy to forget that it is a vinegar – though I have had funny looks from Mountain Rescue colleagues when offering them a cup! Apart from the sugar, it is really good for you: high in flavanoids, anthocyanins and vitamins A and C.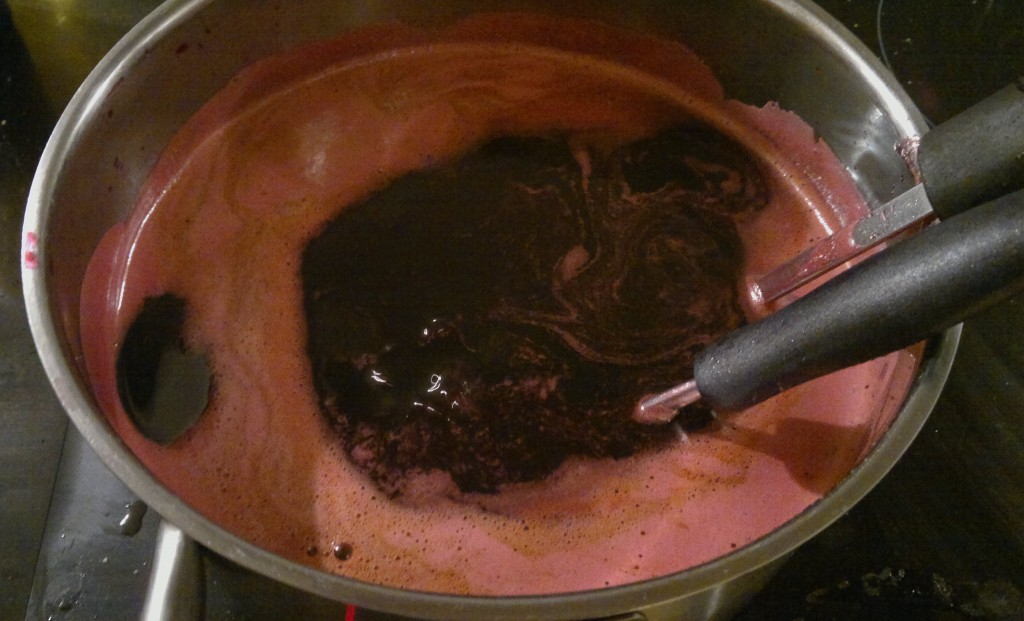 This recipe also works well for other fruits such as blaeberries, blackcurrants and raspberries.
Remove the elderberries from their umbels using a fork or place them in the freezer and remove the berries easily while they are still frozen. See my safety note below on how meticulous to be about removing the twiggy bits. I accumulate berries in my freezer in dribs and drabs throughout autumn then make a big batch. Frozen  elder berries detach from their umbels more easily and cleanly.
Weigh the berries before placing them in a suitable kilner or tub then
Add 500ml of apple cider vinegar for every 350g of fruit. You can also use white wine vinegar, but I prefer to use apple cider vinegar that can be sourced more locally, and apples marry with elderberries really nicely.
Leave covered for 5 days, stirring occasionally.
Strain off the liquid, pressing the berries with the back of a label as you do, before discarding the spent berries.
Add 350g of white(ish) sugar per 260ml of liquid. I use organic golden granulated sugar. You could certainly play about with darker, less refined sugars. I get asked a lot about reducing the sugar content to make a less sweet version. This is definitely an option and will work fine, but to me rather misses the point of this gloriously gooey concoction
Simmer for 10 minutes then bottle.
Safety Notes:
 The final cooking stage is important: elder berries should not be consumed uncooked as they contain a cyanogenic glycoside called sambunigrin which can be harmful in high dosage. Cyanogenic glycosides are found in the seeds of numerous other fruits too, including apples and peaches, so we are at the "safe in appropriate dosage and with proper preparation" end of the spectrum of edibility here (most things we eat fall into that category!). Sambunigrin consist of a cyanide group bonded to a sugar; when the compound is digested, the cyanide group is freed from the sugar, and can exert toxic effects. Its hard to say what a safe dosage is, as it depends on the individual plant you are harvesting from (stage of growth, specific phytochemistry from its specific location etc) and the person consuming (age, personal biochemistry etc). Suffice to say that friend of mine who made raw elderberry smoothies for his whole family had spectacular purple vomit to clean up from 3 out of 4 of them! I have another friend who (against my advice) allows her kids to nibble a few raw elderberries here and there, with no ill effects. Fortunately sambunigrin is volatile, evaporating at around 27˚C, so boiling renders them perfectly safe.
The leaves, stems and berries of elder can also contain other alkaloid compounds (notably sambucine) which are also poisonous. Twigs and foliage should be removed as far as practicable, but it would take a patient person to remove every last bit of super-fine twig that holds individual fruits to umbels. For all but the most OCD, a bit of twiggage is inevitable and not a big issue, as you will be both filtering them out, and then cooking the final infusion. Only you can decide what you are comfortable with, and how much time and effort you want to spend removing every tiny bit of twig!
The resulting sweet, unctuous vinegar will keep very well. I can't say for how long because no matter how much I make, I always end up having to eek out the last little bit until the next year's elderberries appear!
Here are some of the ways I have used elderberry vinegar in my Daily Wilds: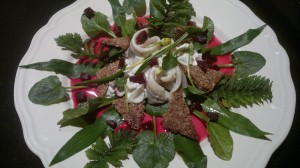 Sweet pickled herring on rye bread, wild garlic, lesser celandine, sea radish, elder vinegar. I love pickled herring and have eaten countless variations on this theme throughout the spring. It looks quite elaborate but takes less than 5 minutes to throw together – so long as your herring is already pickled! The elderberry vinegar tempers some of the more pungent leaves and unifies the whole dish.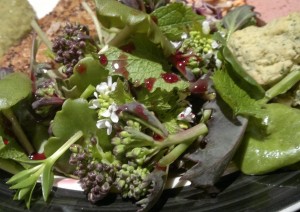 I have't found a salad yet that isn't improved by elderberry vinegar. Here with pennywort, sea sandwort, garlic mustard and sea kale shoots, buds and flowers.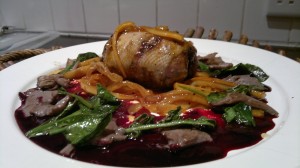 Roast teal with wood blewits, caramelized reedmace, elderberry sauce, sea beet and scurvy grass.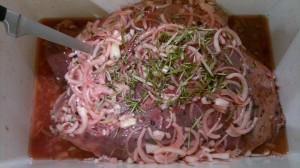 Elderberries go very well with game. I used the vinegar with wild juniper and thyme to marinade a haunch of venison for our christmas dinner.
Related pages: