Foraging during the Corona Virus Pandemic
Now that we are in full lockdown, you should only leave the house to procure food or medicine, or for exercise.
This does not appear to rule out foraging, which is both food procurement and exercise, but you should be very careful to do this responsibly and without unnecessary travel. I'm not for a second suggesting that you should be stravaiging about the countryside during the lockdown, but there are thousands of tiny victories we can win over this virus every day, without being unsafe or irresponsible.
Remember that it is possible to transmit the virus via the plants you harvest, so foraging is best done within your social isolation group. If you intend to offer harvests to people out with your social isolation group you should employ rigourous hand washing, and wash your harvest thoroughly – or cook it – before passing it on.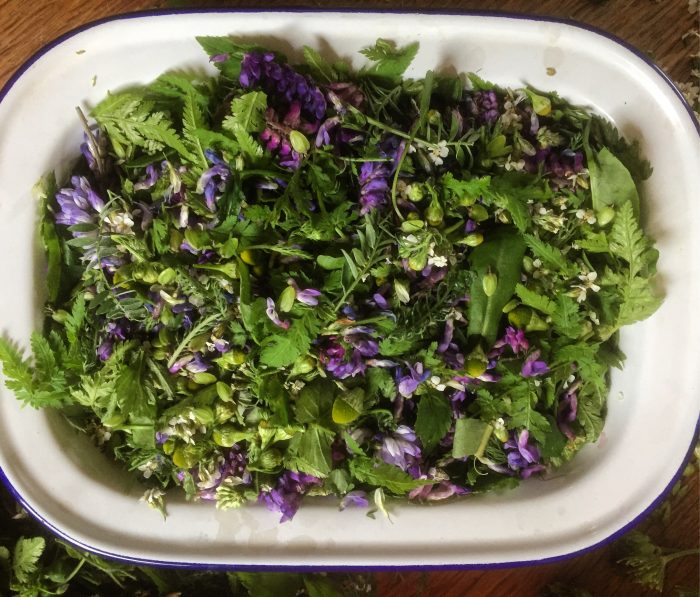 Fortunately, foraging starts at home, and if you have safe access to even the smallest area of green space,  foraging, or just getting to know plants a bit better, can be very helpful in keeping us mentally and physically active, and for relieving stress or anxiety.
Nature is trying to help us and if we can use this time of difficulty to improve our ID skills and explore creative uses for everyday weeds, it will help us in the moment, and  be a better ally during the challenges ahead.
There is lots of free information on my Wild Food Guide and other free resources to help get you going.
There has never been a more apt time to connect with wild foods. Why?
Panic buying means supply chains are overstretched. The wild food supermarket is very well stocked, especially in spring, even in waste ground and gardens.
Busy shops are potential transmission hubs for the virus. I hardly ever see another soul when i'm harvesting wild foods.
Equipping yourself with the skills and knowledge to eat eat locally abundant wild foods will support resilience in individuals and communities as the global economic crisis arising from the outbreak develops
Time spent in nature helps to relieve information overload and anxiety.
Eating a biodiverse diet helps to support a healthy immune system.
Some wild foods are specifically good at boosting your immune system – see below.
Some wild plants and fungi to help keep you healthy.
There are currently no cures for Covid 19 out there.
There are no miracle cures for anything out there.
But there are lots of ways to help you stay physically and mentally stronger at this challenging time.
I offer these in no way as an alternative to following professional medical advice, but as possible useful things to explore alongside that advice during these difficult times, if you can include it safely in your lockdown regime. If nothing else, the time spent connecting with plants can have a calming effect.
Good health and a strong immune system are best supported by the sort of biodiverse eating that foraging naturally promotes. Here are some things that most green spaces, including waste ground and all but the neatest gardens, are quite likely to have. It might be a fun project to see how many of these you can find. Click on the names for more information…
Below are a few more wild things that I think are particularly timely just now, or generally useful for helping us to stay healthy. You should not be travelling unnecessarily to find these during the lockdown, but none are rare and you might get lucky near home. Some are available through mail order. Follow the links for more information, insight and recipes:
Good Information About Herbal Antiviral Treatments:
The best advice I can personally offer is to get outside in the fresh air, connect with plants, fungi and seaweed, and give thanks for this beautiful world that sustains us….and breath!
Stay well.