Elderberry Vinegar Recipe
Related pages:
No matter how hard I try when serving my wild food tasting menus, this elderberry vinegar always steals the show when served as a simple wild salad dressing. It is fruity, thick and very sweet, with a depth of flavour that puts it on a par with, if not beyond, the very finest balsamic vinegars. It actually got a "wow" from the team at Andrew Fairlie's restaurant at Gleneagles when we had a cook-in in the Perthshire hills, and I've promised to pass the recipe on to countless other people since.
Even better than that,  elderberry has long been thought to have immune-modulating and antioxidant effects and is traditionally used in the treatment of viral infections.
How does this relate to your delicious elderberry vinegar? Well I make a point of imbibing some at least every other day through the winter, whether by the spoonful, diluted with hot water as a drink, as a salad dressing, to enrich a tomato sauce, or as the fruity base for a sweet and sour style meal – any way you like should help you to stay well as part of a biodiverse diet.
This preparation is technically a "shrub",  in this context meaning a liquid mixture of sweet and tart or a "drinking vinegar". The name comes from the Arabic shurb, meaning drink, and sharbat, a Hindi word for an aromatic syrup made from fruit or herb and flower extracts. They appear to be all the rage in cocktail circles at the moment and I often use it to balance sweet and sour elements in wild cocktails. Read more about this here.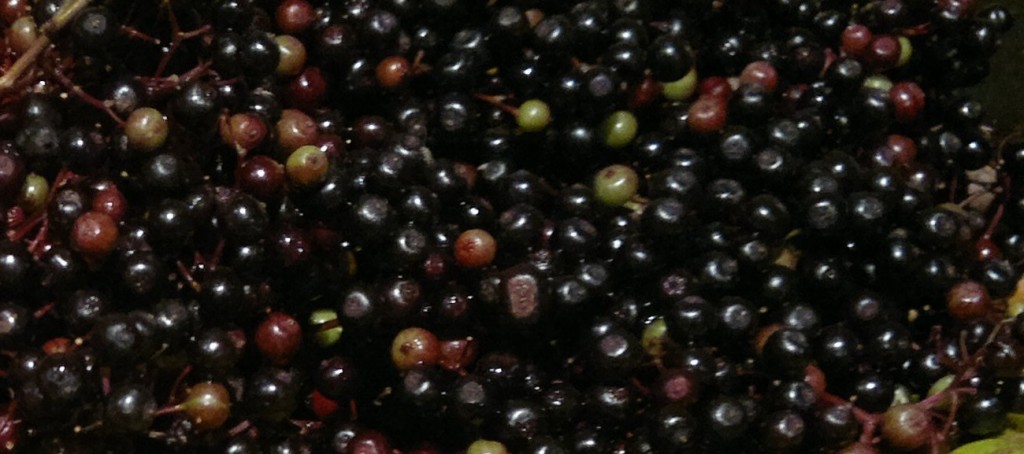 Not that i'm taking any credit at all for the recipe. It is in Miles Irving's excellent "Forager's Handbook" (if you haven't bought it yet, you should) and he attributes it to forager-herbalist Mandy Oliver. The recipe could easily be adapted by using cider vinegar and adding onion and some aromatic spices to make it more like a traditional pontack sauce, but its simplicity appeals to me and I see no need to interfere with a classic.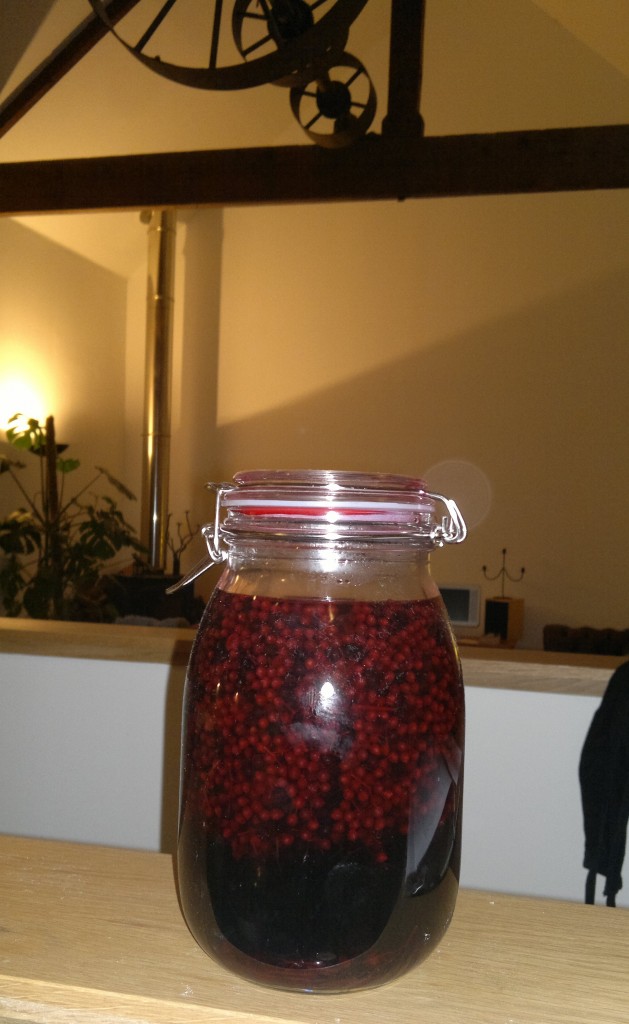 This elderberry vinegar is the essential stock item in my larder – and I get quite twitchy around the end of September about having gathered sufficient berries to see me through the following year. Bear in mind that if you gorge on the elder buds and flowers during the summer, you will have less berries come autumn – careful resource management required! Read more about the all-round wonder-wild food resource that is the elder tree by clicking here.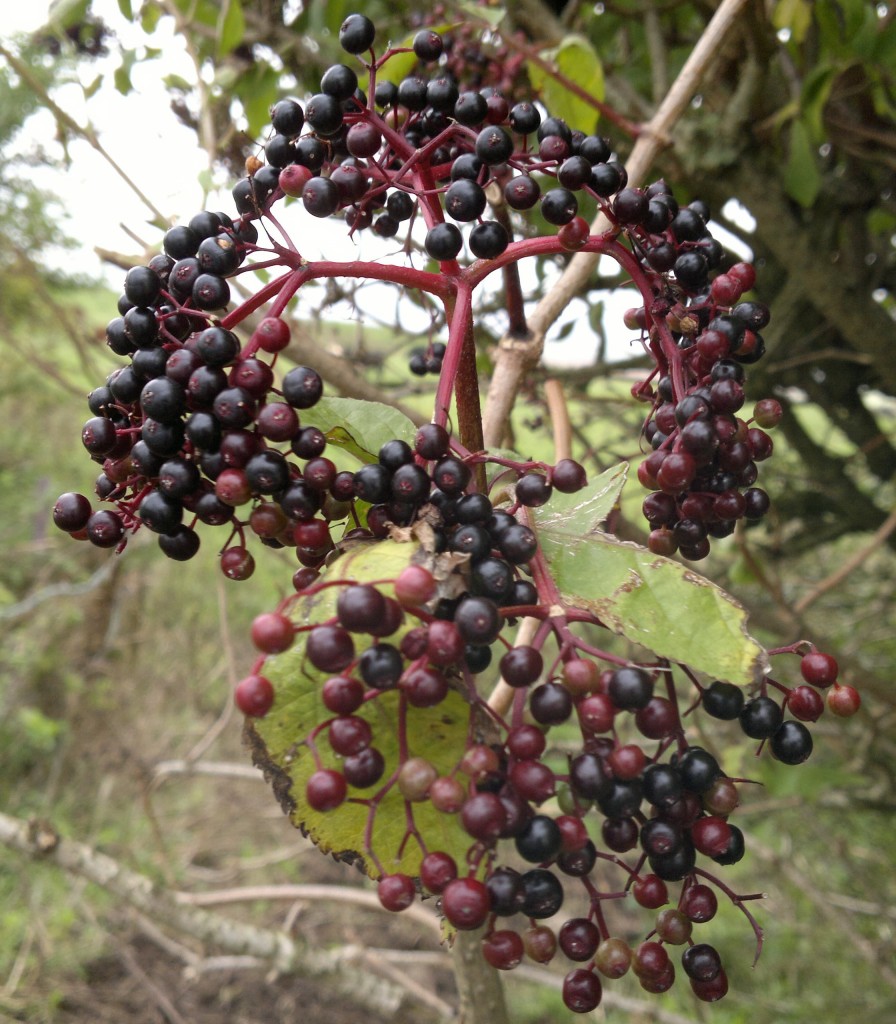 I use it as salad dressing, sauce enricher, marinade, to give depth to stews and even diluted with boiling water in my flask when in the mountains. It is so sweet, fruity and warming that its easy to forget that it is a vinegar – though I have had funny looks from Mountain Rescue colleagues when offering them a cup! Apart from the sugar, it is really good for you: high in flavanoids, anthocyanins and vitamins A and C.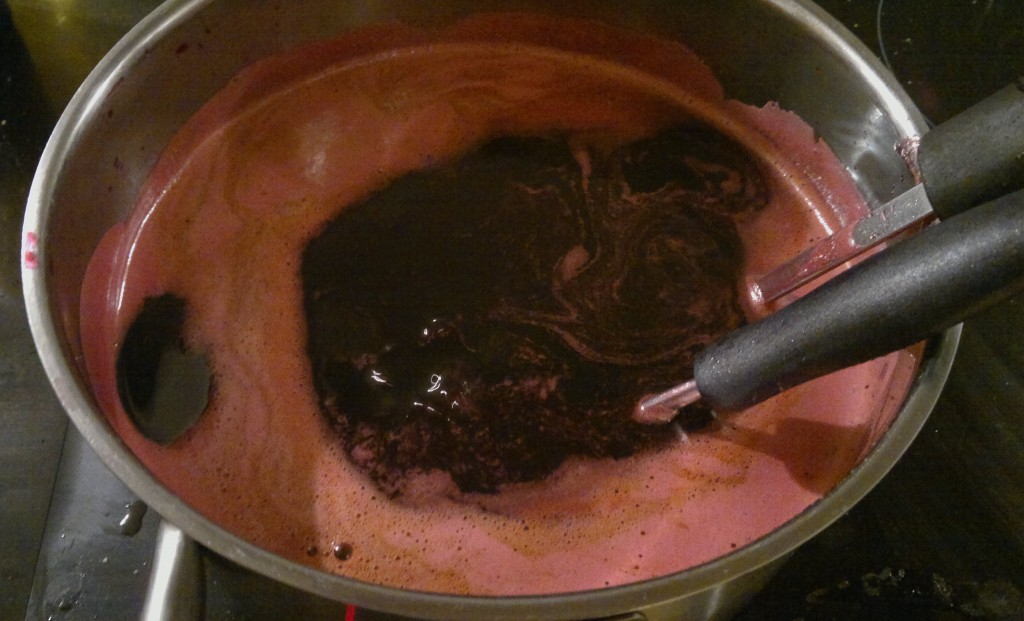 This recipe also works well for other fruits such as blaeberries, blackcurrants and raspberries.
Remove the elderberries from their umbels using a fork or place them in the freezer and remove the berries easily while they are still frozen. I accumulate berries in my freezer in dribs and drabs throughout autumn then make a big batch.
Weigh the berries before placing them in a suitable kilner or tub then add 500ml of white wine vinegar for every 350g of fruit.
Leave covered for 3-5 days, stirring occasionally.
Strain off the liquid (discard the berries) and add 350g of sugar per 260ml of liquid.
Simmer for 10 minutes then bottle.
The resulting sweet, unctuous vinegar will keep very well. I can't say for how long because no matter how much I make, I always end up having to eek out the last little bit until the next year's elderberries appear!
Here are some of the ways I have used elderberry vinegar in my Daily Wilds: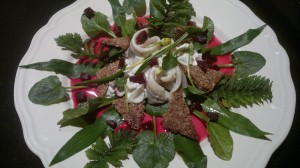 Sweet pickled herring on rye bread, wild garlic, lesser celandine, sea radish, elder vinegar. I love pickled herring and have eaten countless variations on this theme throughout the spring. It looks quite elaborate but takes less than 5 minutes to throw together – so long as your herring is already pickled! The elderberry vinegar tempers some of the more pungent leaves and unifies the whole dish.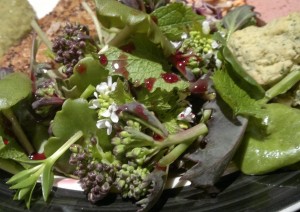 I have't found a salad yet that isn't improved by elderberry vinegar. Here with pennywort, sea sandwort, garlic mustard and sea kale shoots, buds and flowers.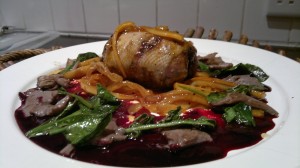 Roast teal with wood blewits, caramelized reedmace, elderberry sauce, sea beet and scurvy grass.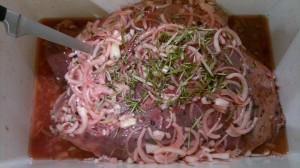 Elderberries go very well with game. I used the vinegar with wild juniper and thyme to marinade a haunch of venison for our christmas dinner.
Related pages: