Fly agaric – Edibility, Identification, Detoxification, Medicinal Use
Amanita muscaria
Edibility   3/5 – Toxic and hallucinogenic if consumed raw, but if correctly prepared, perfectly edible as food, with no ill or hallucinatory effects. When properly prepared, fly agaric is a decent edible mushroom – not in the top tier of delicious wild mushrooms, but perfectly a pleasant abundant and easily identified wild food. Please see my detailed notes and links on this below. Fly agaric tincture is also used by some herbalists in the topical treatment of sciatica.
Identification 4/5 – Can be confused with red russula species (esp. the sickener, russula emetica) if scales are washed off. Free white gills, a substantial ring on the stipe and a bulbous volva. When very young and still covered by its universal veil, fly agaric can be hard to distinguish from other amanitas (including deadly poisonous amanitas) and resembles puffballs, and young agaricus species such as field mushrooms and horse mushrooms to untrained eyes. See my photos below for illustration. For taxonomy geeks only, recent advances in taxonomy and DNA sequencing mean that many mycologists now recognise 3 distinct morphological forms of the species: Eurasian, Eurasian "subalpine", and North American (Amanita muscaria var, formosa which has a yellow or orange-yellow cap with yellowish warts, and a yellowish stem). Within these forms several distinct genetic variants are recognised: var. alba, var. flavivolvata, var. formosa (including var. guessowii), var. regalis and an albino variant var. alba). Those with a non-scientific interest needn't worry about these distinctions.
Distribution    5/5 – Very common in its habitats across the UK, N Europe, N Asia and much of N America
Season: July-November
Habitat: Mostly growing with birch and (sitka) spruce in the UK, but also occasionally recorded with other conifers and oak.
Ecological Role: Fly agaric is a mycorrhizal fungi, living in close symbiosis with its partner trees. Its mycelium mines water and minerals, which are traded with tree partners for simple sugars.
Harvesting Notes: Fly agaric is generally abundant, and, if it could express a preference, would probably thank you for carrying a few of its spore-bearing caps, gills-down, in a basket, through the forest. Thanks to its iconic beauty, it is one of few mushrooms that is admired by the non fungi-literate, as they might admire a pretty flower, so its nice to leave plenty in public spots for people to enjoy. Hopefully they will capture their imagination and be a stepping stone into a wider appreciation of fungi!
Legality:  The legal status of fly agaric varies across the world. In the UK it is not illegal to possess it as it does not contain psilocin or psilocybin which are the controlled substances that make liberty caps (Psilocybe semilanceata) and other Psilocybe species illegal.
Relationship with other Fungi:  Fly agarics are a good "signalling species" – tending to grow in the same locations as penny buns (aka cep, porcini, Boletus edulis). I sometimes abbreviate them as "FL.AGS" for this reason. Their relationship with penny buns seems to be complex and requires further research. What's clear from my experience is a complex interdependency between Fly agaric, the miller (Clitopilus prunulus) and peppery boletes (Chalciporus piperatus) and their tree partners. It has been known for some years that peppery boletes are parasitic on fly agaric mycelia, but I suspect there is more at play here: I almost alway find peppery boletes and the miller near penny buns, suggesting that they have a myco-myco relationship (inter-fungal trading? …or parasitism? …and if so, who is parasitising who!?). Although certainly a good sign, fly agaric are less reliably present near penny buns, perhaps suggesting that they have a more omnivorous appetite…? Who knows what complex battles, alliances and trades are going on beneath our feet!? I enjoy musing on these relationships when I'm out foraging.
The edibility of fly agaric is a somewhat controversial but really very fascinating subject, touching on cultural sensibilities, chemistry, legalities and our wider understanding of what constitutes an "edible" mushroom.
There is a fair bit of reading to do to give yourself a balanced view and you should give consideration to both the following articles before you decide if eating fly agaric is for you.
On the one hand:
Contrary to nearly all guide books, this mushroom is edible and tasty with no ill effects – BUT ONLY IF IT IS PROPERLY PREPARED. There is an ongoing cultural prejudice against eating it, as documented in this article which also includes directions for safe preparation.
While on the other hand:
A.muscaria is a potentially VERY POISONOUS (occasionally deadly), only made safe to eat by meticulous preparation and generally not recommended as an edible mushroom. Please read this article which refutes many of the claims made in the article above.
You may then also wish to read my further thoughts in response to the second article in the comments section below, in which I discuss the issues with the author of the second paper.
My personal take is that eating any wild food (or indeed, any food) should be a matter of taking personal responsibility for what you choose to eat. This means doing enough research to feel comfortable in identification and consumption (ie. not just one paper or guidebook – and certainly not just one website!). There is no pleasure in eating anything new without feeling 100% comfortable about what it is, what it contains (naturally or artificially), and how they it interacts with personal tastes and tolerances.
Edibility is not black and white, but culturally and personally defined. "Poisonous" and "Delicious" are not polar opposites, but lie on what I call "The Spectrum of Edibility" – read more about this here: Blog – "The Day I Ate A Deadly Plant: The Spectrum of Edibility".
So in summary, I am entirely happy to pick, carefully prepare and eat fly agaric as a food – but that doesn't mean you should feel the same!
Anyway, back to the mushroom itself…Eaten raw (or if you drink the post-cooking broth), your body will have to deal with a cocktail of active compounds. Upon ingestion, muscimol and ibotenic acid can cause nausea and  stupification (which can be seriously unpleasant, though seldom life-threatening). Usually after that (maybe an hour or so) come hallucinations, vivid visual disturbances and occasionally feelings of hugely exaggerated movements whereby the intoxicated person may take a huge leap to step over a small twig (and feel like they have jumped over a hill). It seems that muscimol is the principal psychoactive constituent of Amanita muscaria, causing sedation and delirium, while  ibotenic acid acts as a prodrug to the muscimol – ie. helping to increase its bio-availability. Drying reduces As with all drugs, dosage and personal tolerance is all important to the physiological response, and mindset and setting can strongly influence the psychedelic outcomes. This is not a drug to take lightly.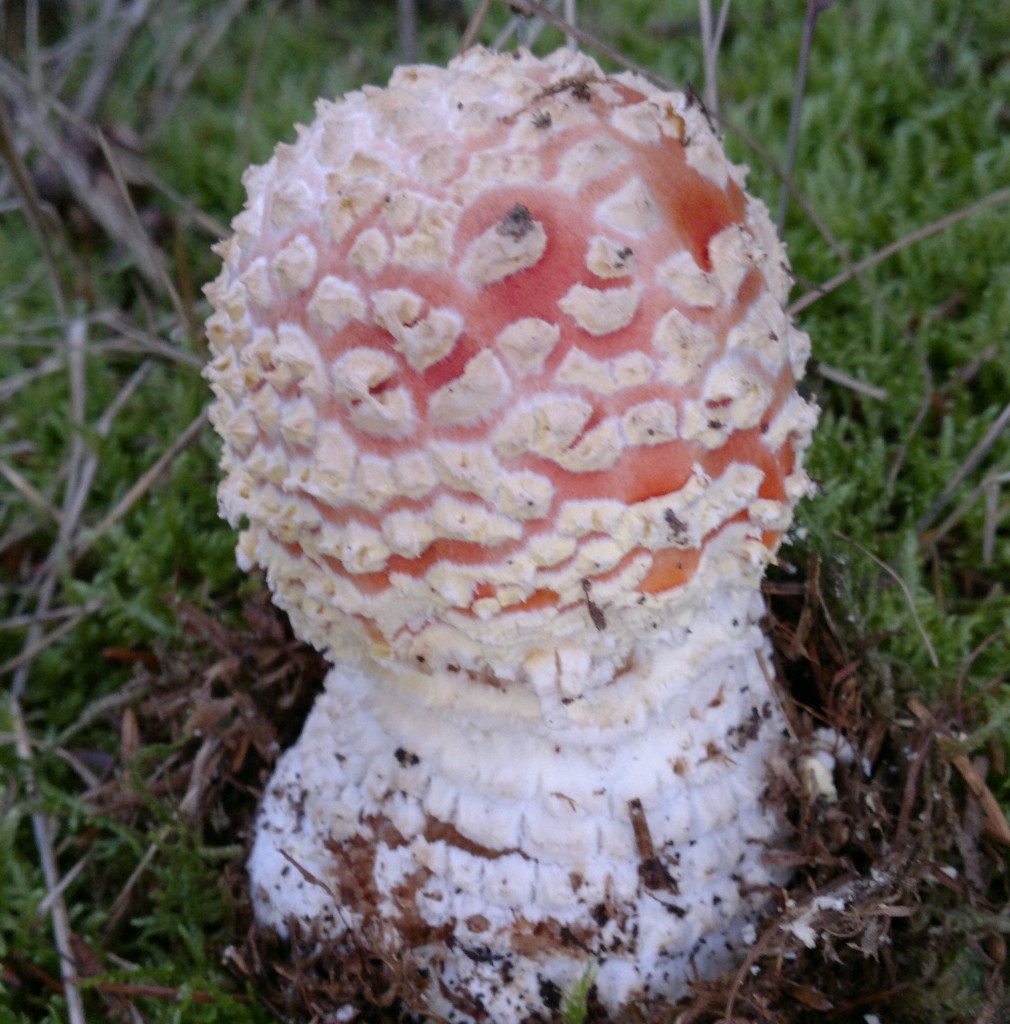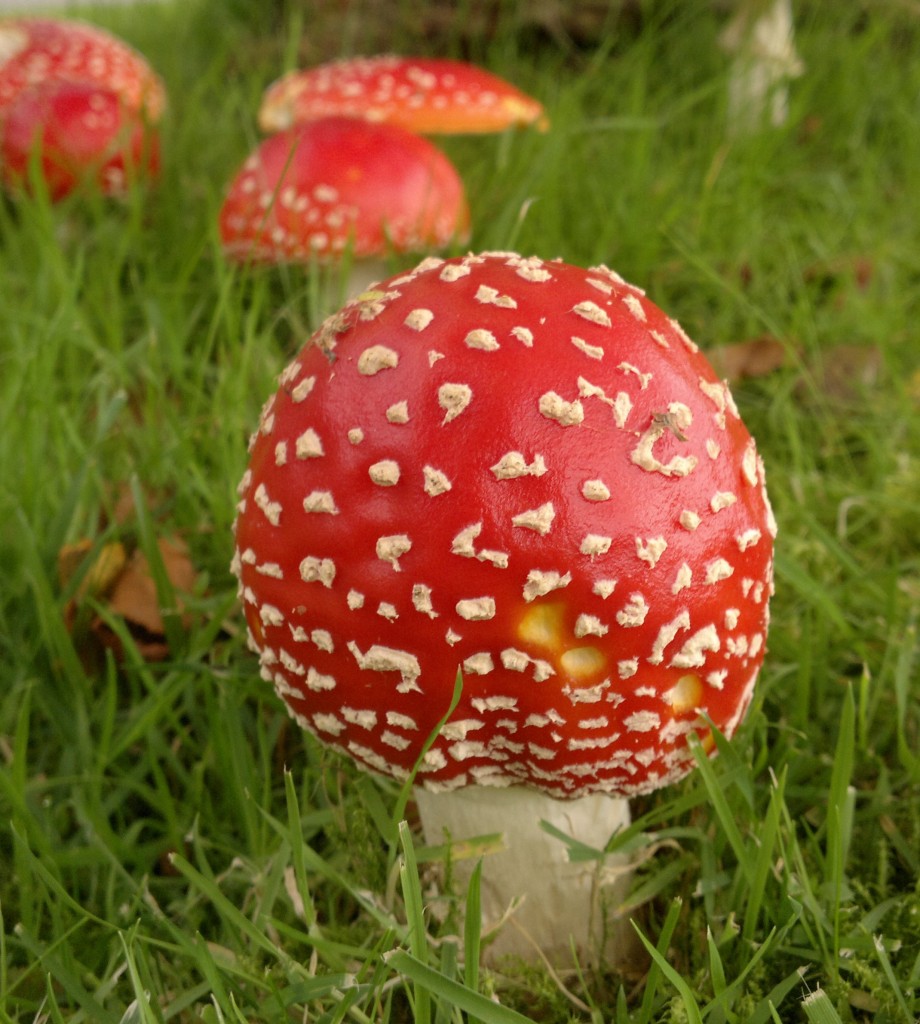 The potency of the active ingredients in fly agaric can depend on when you pick it. First flush FlAgs (which tend to appear between July and August in SW Scotland where I am based) tend to be much more potent than later ones. Also significant is the stage of growth at which it is picked – generally, the younger and more intense the red, the more potent.  And there is also the matter of personal tolerances.
Detoxification of Fly Agaric
When I use fly agaric as food I tend to just roughly chop (quite thin), boil in plenty of salted water for up to 10 minutes, strain, rinse and then cook with them. I've never had any issue with this rather unscientific approach. But if you are going to try them for the first time, you'll probably want the reassurance of a more prescriptive method. So I've adapted the steps below from the Rubel & Arora paper discussed above.
Perhaps you are wondering whether the mushrooms will still be worth eating after a long boiling like this. They are. Unlike vegetables, which tend to go mushy when boiled, mushrooms cell structure is such that they keep their form and much of their texture when cooked for longer periods. This is due to their cell walls being composed of chitin, the same substance (though in slightly different form) as shellfish carapaces are made of. Chitin is also the reason why a high proportion of fungi can be challenging for humans to digest, as we lack the correct gut enzymes to break it down fully.
1. Slice clean specimens (cap and stem) into pieces up to 5mm thick. Note: If you cut them thicker, increase the boil time.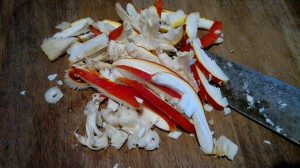 2. Weigh the chopped mushrooms. For every 110g of mushroom, measure 1 litre of water and 1 teaspoon of salt into a pan. Bring to a rolling boil. Note: Salt helps to extract the water soluble components. You can add flavourings like bay leaves, peppercorns etc here too if you wish.
3. Add the chopped mushrooms to the boiling salted water and start a timer once the water returns to the boil. Time 10 minutes (or 15 minutes if you are particularly nervous!)
4. Strain the mushrooms. Note: The strained liquid now contains the active ingredients: they are not destroyed by heat. This liquid is – technically – an illegal Class A drug in some countries, but not in the UK. It will go off if stored for more than a couple of days.
5. Rinse the boiled mushrooms in plenty of fresh water.
6. You can now use the fly agaric as you would any other mushroom.
Foraging teacher Fergus Drennan has reported that after dehydrating correctly prepared fly agaric, some of which he ate with no issues at all, he experienced mild intoxication when he reconstituted and used the same dehydrated mushrooms in a risotto. It seems that any vestiges of muscimol are re-concentrated by dehydration, so care should be exercised if you dehydrate detoxified fly agaric. If you want to be very, very belt and braces with the initial detoxification process, Fergus also suggests baking in the oven for 1hr at 220º – which will remove all possibility of even traces of muscimol/ibutenic acid.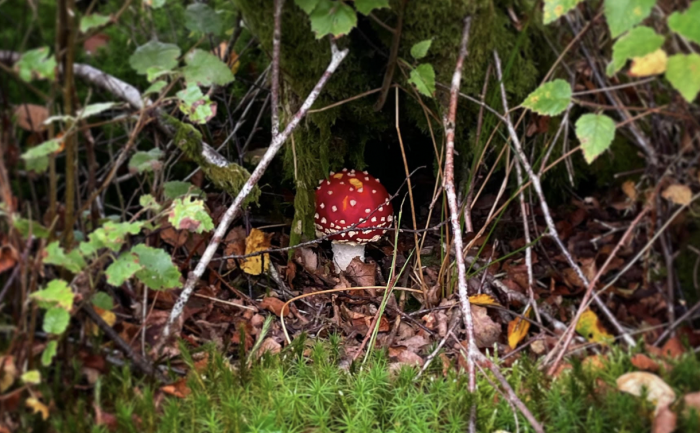 When we find fly agaric on my guided walks we stop and marvel at their extraordinary beauty before exchanging all the well known fly agaric stories of pee drinking, flying reindeer, berserkers etc. No mushroom captures the imagination quite like the fly agaric! Its not surprising that it is the only mushroom to have its own emoji!
🍄🍄🍄🍄🍄🍄🍄🍄🍄
Please share your tales, myths and experiences in the comments box below, but please note that fly agaric is an illegal Class A drug in the UK, so while I am deeply interested in its shamanic and recreational use, I will not discuss it here.
Further reading: