Pepper Dulse – Edibility, Identification, Distribution
Osmundea pinnatifida
Also Royal Fern Weed, Osmundea osmunda
Related pages: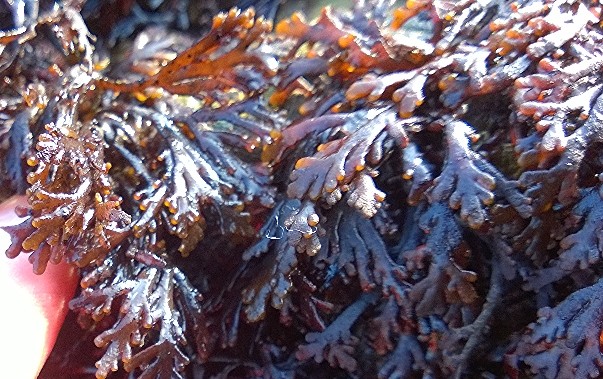 Identification – 3/5 – Quite distinctive when you tune in to it, though novices may confuse it with other small brown seaweeds like caragheen. Look for small (1-6cm) flattened fronds, irregularly branched, though usually roughly pyramidal in outline at the tips. The colour can vary according to where and when it is growing, from yellowish-green (higher up the shore, in summer) to deep chocolate brown (lower down, winter). The taste is very distinctive and as no seaweeds growing in inshore tidal zones are toxic, this is a good way to confirm ID. If you find larger specimens, you may have been lucky enough to stumble upon pepper dulse's big brother royal fern weed (Osmundea osmunda), which has a similar flavour and can be used in all the same ways. Occasionally people mistake wrack syphon weed (polysiphonia lanosa) for pepper dulse. It shares some of pepper dulse's truffly properties, but has an unpleasant gritty texture, and is only found attached to other seaweeds (usually tooth wrack). Wrack syphon weed (I call it mermaid's pubes, though you will occasionally see it more politely listed as sea truffle) has delicious properties once you overcome it's challenging texture. Dried and powdered it tastes like truffly curried cauliflower.
Edibility – 5 /5– Pepper pulse is a true gastronomic gem. Surprising, intense, mineral, aromatic, fishy, peppery, garlicy, powerful umami. Variously described as "The Truffle of the Sea", as a cross between truffle and lobster and (by me!), chef crack.
Habitat – Clinging to rock from mid tidal range downwards
Distribution – 5/5 – Very common in suitable habitats within its tidal range. Best picked, as with most seaweeds, where it is washed by strong currents.
Season – All year round in exposed locations, but at its best December-May
How to harvest – trim from the rocks with scissors. DO NOT PULL as this will bring crumbs of rock and barnacle with it. Don't clear whole areas – spread your picking around.
How to eat: Fresh and raw (ideally with the waves crashing at your feet), or dried as a rich aromatic seasoning
This amazing little seaweed packs an extraordinary flavour that you really have to taste to believe. I've fed it fresh to food lovers who reacted with such amazement, delight and determination to have more, that I expect they are now to be found living in coastal caves as ragged pepper dulse junky hermits, venturing out twice a day to gnaw it fresh from the rocks…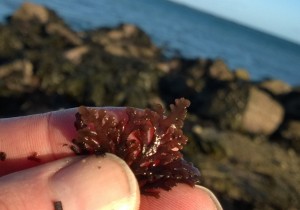 One of my very favourite foraging experiences is gathering and eating pepper dulse on the shore, with the waves breaking about my feet. For me, the flavour is deeply elemental – of rock, sea and brimstone. If you inadvertently pull it from the rocks (rather than trimming with scissors as it should be done), it brings with it some of the rock and barnacle to which it clings. I think this close integration with its rock home that gives it its intense minerality. Seaweed forager extraordinaire, Rory "Fresh From The Sea" MacPhee (to whom I am hugely indebted for introducing me to this delight) believes pepper dulse to live in close and complex mutualism with smaller marine algae and shellfish.
More scientifically, much of the flavour may be due to the presence of terpene, a class of strong-smelling organic compounds that are also found in conifer resin and many essential oils. There is little published research into the nutritional profile of pepper dulse, but my instinct tells me that, while it may contain many of the beneficial minerals and proteins of other seaweeds, it shouldn't be eaten in large quantities. This is unlikely to be an issue, as the flavour is so intense, you'll never need much. Unless you become a certified peppy-D junky like me and over-graze it!
It is possible to buy pepper dulse from commercial harvesters and processors in dried form. This is still a magnificent ingredient that can be used in place of salt, pepper and various spices in many savoury dishes. But really, its but a shadow of its fresh self. Having a fridge-life of about 2 days, I doubt you'll ever be able to buy it fresh. The purest gastronomy is in tasting this seaweed free, among the rock and foam of its elemental home. Why pay infinitely over the odds for less than half the pleasure…?
Apart from just nibbling it fresh, I like to add the fronds to wild sushi and sashimi, or lay them on pieces of smoked egg. Coat the rim of a glass with it in dried, powdered form to make a filthy dirty martini (add a spiral wrack caper instead of a salty olive), or sprinkle it on soft boiled eggs. As a spice, the only limits are your imagination –  but as is so often the case with wild foods, keeping it simple often works best – sprinkle it on fish or (even better) shellfish before grilling. See and listen to my exploration of our native spice rack here.
Related pages: