How to ferment wild greens
A step-by-step guide to fermenting wild greens that works especially well for wild garlic and wild leeks.
Fermentaion is the oldest, simplest and arguably tastiest means of preservation known to man. There isn't a culture that doesn't have a fermented preparation near the heart of its food culture – think kimichi, soy sauce, saurkraut, beer, yogurt, sourdough…the list is endless. I'm not going to go into this vast world here – check out Sandor Katz's excellent website and books for a breath-taking introduction to the art, craft and science of fermentation in all its guises. I just want to describe a simple preparation that turns some already tasty wild foods into something truly delicious that is even better for you than the original, and keeps really well. Better still, you need next to no ingredients.
Many people that seem to be happy to spend money on expensive "probiotic" drinks, under some vague understanding that they are good for them, balk at the idea of fermenting plants. Stepping from a world governed by "use by" dates and built-in food-waste to one where natural flora and bacteria are encouraged to "pre-digest" our food is an understandably big step. But it is an important and hugely rewarding step and I urge anyone to take it for gastronomic, health and even spiritual reasons! It is well worth remembering that humans are not one creature, but complex array of mutually beneficial organisms – especially when it comes to digestion.
I'm not professing to be an expert on this science/craft/art. I have a standard "dry" fermentation  preparation that works extremely well for me and is always a huge hit on my walks and with chefs I work with. I say "preparation" rather than recipe because there really is no recipe – follow the steps, experiment, find out what works for you.
I describe my method as "dry" fermentation because, for the most part, I add no liquid – the plant matter ferments entirely in its own juices. "Wet" fermentation follows a similar process, but the plants are added to a brine. I prefer dry fermentation where possible as their is no dilution, only enhancement, of flavour.
Enough introduction – here are the steps to follow – I suggest you just have a go and see what you think – there is no large outlay of time, effort or ingredients required. This may seem like a lot of steps, but they are all very easy and require only your green matter for fermenting, a little bit of salt and some clean jam jars or a kilner. Don't be scared! I have listed some trouble-shooting steps at the end and some suggestions of how to use your ferments.
1. What to ferment?
I recommend you start with something you can gather quickly and easily in decent quantities. Wild garlic or other edible alliums like few-flower or three-corner leek are excellent candidates and I strongly recommend starting with these if you are new to fermenting wild plants. Both are easy to come by in quantity, and, while tasty enough fresh, have quite a one-dimensional flavour that becomes much more complex when fermented. They are also very reliable fermenters – they hardly ever go wrong. I've never quite got to the bottom of why this is, but suspect its due to their high water content, lack of hairs (which can trap air which disrupts fermentation), and the presence of sulphurous compounds.
You could also try cow parsley, nettle, ground elder, sea beet, sea aster, wild cabbage, sea radish, garlic mustard, common hogweed or any green, leafy wild plant. If gathering plants with a lot of stalk, like cow parsley, you can include all but the toughest stems.
2. Round up enough of the plant you wish to ferment.
How much is enough depends on how much you'd like to make, the plant you are using and the vessel you wish to ferment it in. Going on wild garlic, if you want to fill a 1 litre kilner, you will need a surprisingly large amount – a well filled carrier bag. A quarter of that would do for a standard jam jar. The plants you use should be squeaky-fresh – I don't recommend this process to "rescue" stuff thats been lurking in your fridge for a week. For the rest of this process, i'll be referring to making your ferment with wild garlic.

3. Wash the plants and remove excess moisture. 
A quick whizz in a salad spinner will do – you don't want the plant dripping in tap water – it contains chlorine and additives that inhibit fermentation. Once washed, weigh the plants and calculate what 2% of that weight is. (Ready-reckoner: 2% of 1kg is 20g)
.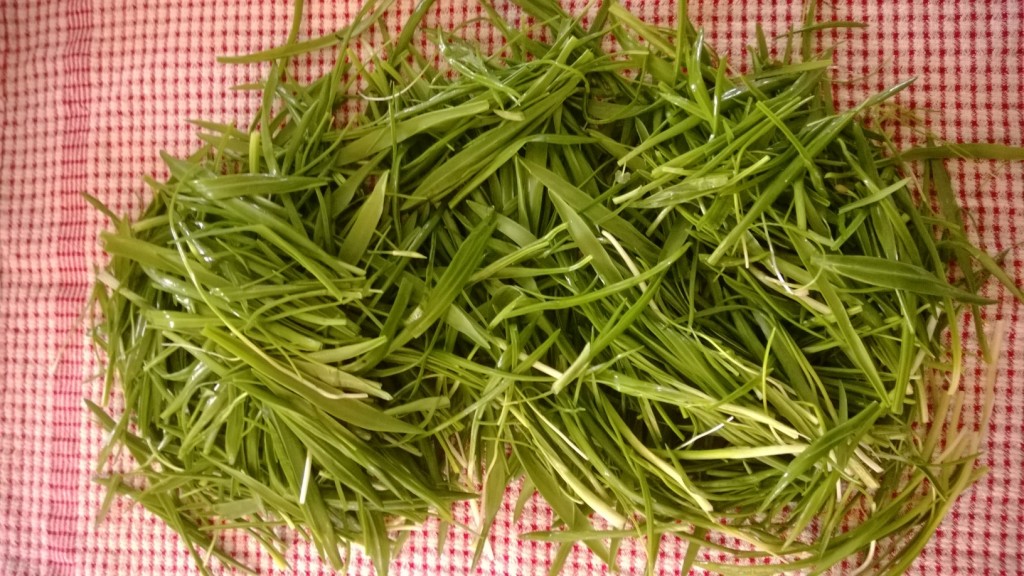 4. Shred the plants. 
You could leave wild garlic, nettle, sea beet etc leaves whole – this is mostly a matter of preference. I suggest shredding as this makes it easier to spoon the finished product out of the jar later.
5. Place the shredded plants in a large open bowl, a few handfuls at a time. 
If you are only fermenting a small amount, it can all go in the bowl at the same time.
6. Sprinkle each layer lightly with natural sea salt (2% – 3% of weight of fresh plant)
It is important to remember that the salt is not a preserving agent in this process, merely a means of drawing out the leaves' natural juices – in the same way as aubergines are often sprinkled with salt, only here you want to keep those juices. 2% salt by weight is adequate for this process, but you could go up to 3%. You may be tempted to add too much salt first time around. This is OK, you'll just have quite a salty ferment and perhaps won't add so much the next time. It is possible to ferment without adding any salt at all – but I suggest leaving that until you are more confident with the process.
7. Leave to stand for 20 to 60 minutes in ambient temperature. 
This allows the salt to start its work drawing the juices from the leaves.
8. Massage the salted, shredded leaves.
Give them a good rub/massage with your hands until they darken, become wet and start to lose their form.
9. Cover and leave to stand for at least 60 minutes, but ideally for 24 hrs
Weighing the leaves down with a plate with something heavy on top can help get the juices flowing here – but its not essential.
10. Pack the leaves firmly into a glass or earthenware vessel.
Your greens should by now have collapsed into a wet mass, with lots of juice exuded from the plants. You now need to pack that densely into jars. Ensure the vessel is very clean – some folk sterilise in a ban-marie in the oven, but I find rinsing already clean jars out with boiling water is sufficient – especially when fermenting wild garlic or wild leeks. Jam jars work fine, or kilners if you are doing a larger amount. As you add the leaves to the vessel, champ them firmly down with the end of a spoon or rolling pin or your fingers if they reach – it is important to avoid air pockets between the wet leaves. By the time you have three quarter filled the vessel with champed down plant, you should be aware of plenty of juice. If you are packing into multiple vessels, ensure you add the liquid left in the bowl evenly to top up each vessel to about three quarters full.
11. Test for liquid.
When your vessel is about three quarters full, press firmly down on the leaves. There should be enough liquid to cover the leaves. If there isn't, ensure you have evenly distributed liquid if you are using multiple vessels. If you cant get the juice to cover the leaves, add some natural, uncarbonated, mineral water – DO NOT be tempted to add tap water, as the additives inhibit fermentation.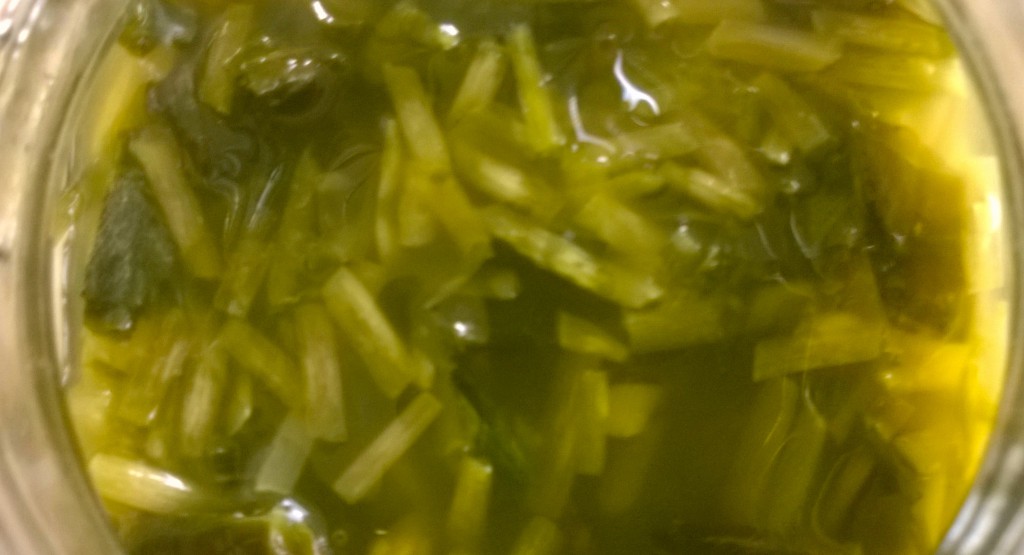 12. Weigh the leaves down in the vessel. 
Fermentation must take place in an anaerobic environment – ie. with no air present. So now you need to find a way to keep the leaves weighed down beneath the level of the liquid in the vessel. Traditional fermenting crocks have specially designed lids for this very purpose. I don't have one, but fortuitously,  a standard jam jar or large yogurt pot is just the right size to sit inside my kilner jars, and tiny yogurt pots or jars are often the right size to fit inside standard jam jars. So play around and see what you come up with. Typically, a jam jar filled with water (or, cunningly, another ferment) should be enough to keep your fermenting leaves submerged. Failing to exclude air at this stage is the main reason that ferments go wrong – so do spend some time ensuring that your ferment is sealed by liquid from the air. Wild garlic or wild leeks are less critical in their requirement for weighing down – but you should still do it if you are new to the process.
Put the lid on your jar, but don't screw it tight as the ferment will emit CO2 as it progresses. The lid is purely to keep insects out. Kilner jars with the rubber seal removed work for this, and can help to hold down whatever you are using to keep things submerged. Alternatively, a piece of muslin secured with string or a rubber band will protect your ferment from flying  insects. If you are fermenting in warmer months, small fruit flies (that have evolved to detect fermenting fruit and vegetables from great distances) can seem to appear like magic around ferments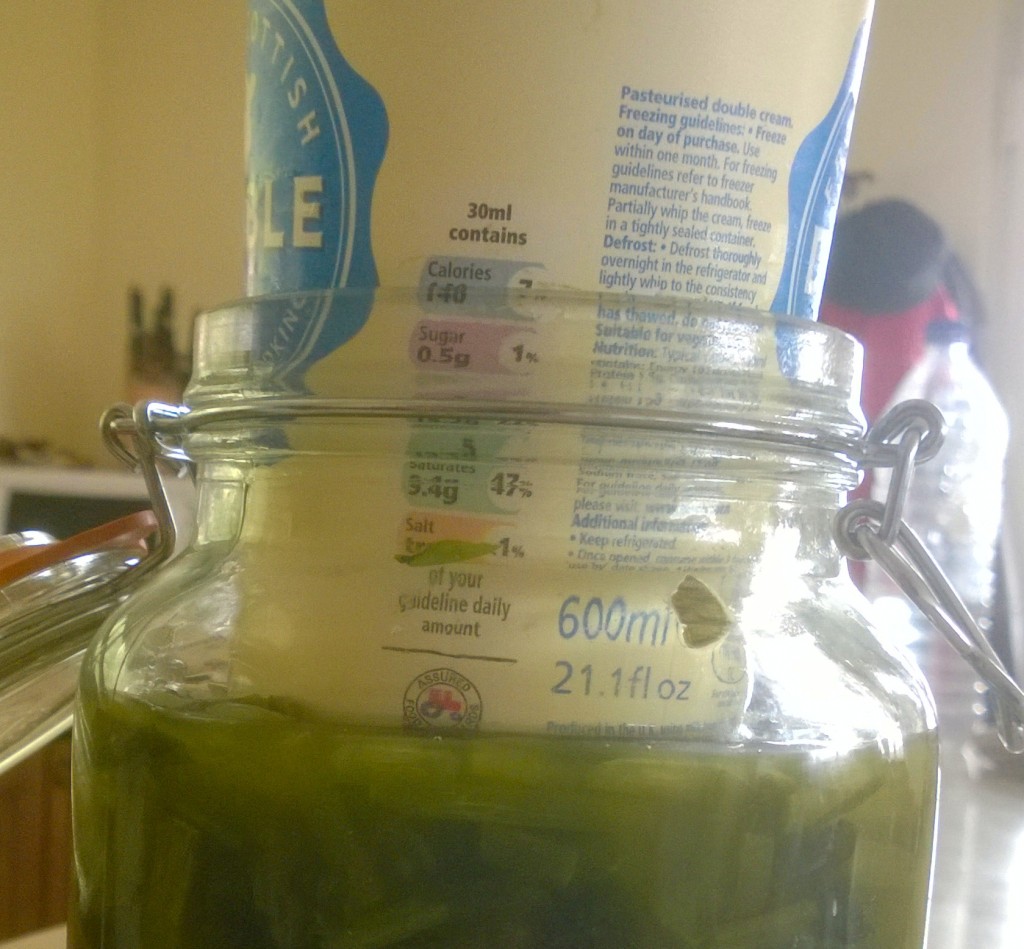 13. Leave to ferment at an ambient temperature.
Resist all temptation to put the ferment in the fridge. The helpful bacteria that will preserve and give character are dormant at low temperatures. Do not be alarmed by white froth/bubbles forming – this is a normal part of the fermentation process. You can scrape the froth off if it disturbs you! Blue mould, blackening or a "cheesy" smell are not good signs – see below for trouble-shooting.
If your jar/vessel is quite full,  the emission of bubbles during fermentation will cause the contents to expand, which may result the liquid overflowing from the jar. So I strongly recommend you sit the jars in a tray while they ferment, lest you end up with fermenting juices running everywhere!
14. How long to leave the ferment? 
Leave it to ferment at ambient temperatures for at least a week, but as long as you wish. By ambient, I mean the temperature of a normal centrally heated house – but not near direct heat. Within a week if you taste a bit, you should notice the characteristic slightly "fizzy" mouth-feel of all lacto-fermented greens (if you are not sure what this sensation is, buy any half decent saurkraut from the shops and taste that) . The greens should retain a surprising crunchiness for something that looks so wet and wilted. The sharp, pungent flavours (of wild garlic for example) should have mellowed into a rounder, more complex flavour. When you are happy with the flavour, and most bubbling seems to have finished, remove the weighing-down item and put on the lid.
15. How to store your ferment
Once fully fermented your ferment should have a PH of less than 4, which makes it stable and immune to moulds, even at ambient temperatures. Chefs and commercial fermenters often use PH meters to check this, but it isn't really necessary at home, provided you have followed my guidelines. If you have fermented in a large vessel, its best to re-jar the ferment in smaller jars for storage – this keeps air exposure to a minimum. The acidic nature of the ferment means it can rust/corrode metal lids, so if you are using them, and intend to store your ferments for a while, stretch a bit of cling film under the lid as you screw it up stops this happening, and keeping you jars upright helps too.
You can store your ferments unrefrigerated, provided the temperature is reasonably cool and doesn't fluctuate – eg. a basement, garage or cellar.  I don't recommend storing them in a centrally heated house, or a space that gets warm in summer, for any length of time – keep them in the fridge if you don't have a stable cool space.
The ferment should keep well for many months in sealed jars – mine are still great eating after 2 years in the garage. Once you open and start using, store them in the fridge and consume within a month.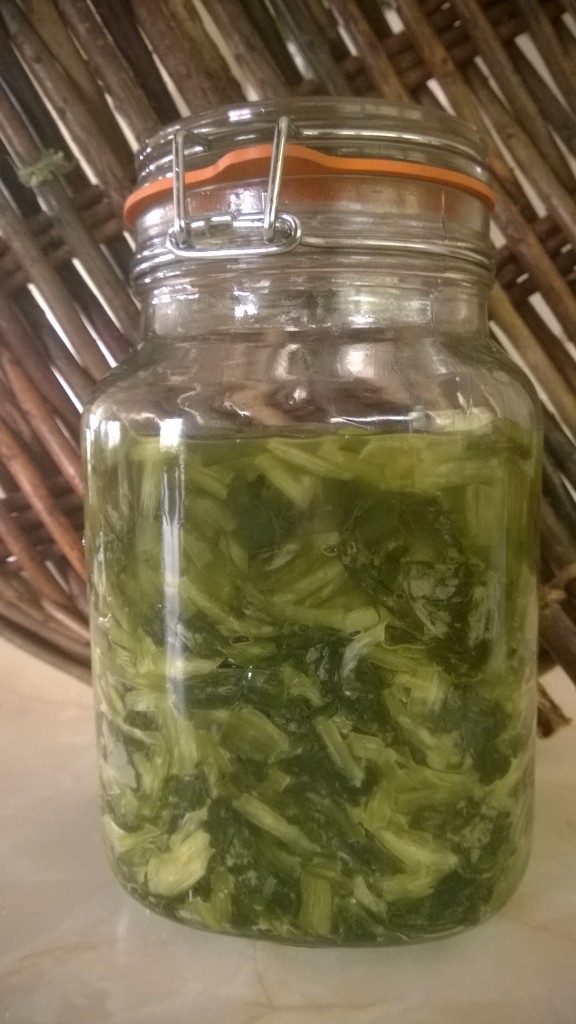 Troubleshooting
If you are new to fermenting, I expect you will feel a bit anxious that the ferment will go "off". This is highly unlikely if you have started with wild garlic or wild leeks and followed my guidelines. Other greens can be more temperamental but I have had very few problems with the method above, except when I topped up a common hogweed ferment with tap water. The top level went black and it developed an unpleasant smell that was instantly recognisable as "off". Observe your ferment and trust your senses. Blue  mould, blackening and a cheesy smell are bad signs and usually occur because you haven't created anaerobic conditions and/or your vessel/plant matter wasn't clean. All may not be lost however: you can scrape off the top mouldy layer, top up with uncarbonated mineral water and a little salt, and give it another chance.
Variations
The simple alchemy of this preparation is part of its charm, but it is easy to add a few twists. Try adding nam pla (fish sauce), chilli and ginger to make vietnamese style kimichi. Green hogweed seeds, sea rocket or wild garlic/leek capers add a bit of extra kick. I make a salty fermented fish sauce from spoot clam offal (garum) which I use instead of salt for fermentation – it adds an extra meaty umami oomph. Play around!
How to eat
A friend (who is a real pickle fan) successfully made this preparation, but when I asked him how he was getting on with it, he said he didn't know what to do with it. Much depends on what you have fermented, but here  are some general thoughts on things that work for me:
As a condiment – on the side of salads, stir-frys, curries etc
As a part of a salad
Added into wild garlic pesto, to add a deeper, more acidic note (instead of lemon juice)
As an ingredient stirred into stir-frys, risottos etc
Great in cheese sandwiches, under cheese on toast
Can be cooked and puréed to make rich green sauce
Don't waste the fermenting liquid – add it to salad dressing, sauces etc or just drink it. I particularly like tequila and fermented wild garlic juice shooters.