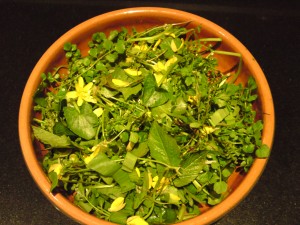 This isn't so much a recipe, just some of my thoughts on assembling wild spring greens into a palatable salad.
Many spring leaves can be pretty sharp and pungent, so I try to balance these with milder ones, and add a few eccentric but complementary extras afterwards. From the following lists, I recommend a ratio of 1:3 pungent to mild, then a judicious scattering of extras, but obviously you can tinker with the proportions according to what you have found and personal preference.
Almost all leaves taste at their best before the plant has flowered, but you will need to be extra careful with your identification at this stage.
Click on links to find out more about each species.
Pungent – Dandelion (left), sea radish, garlic mustard (centre), watercress, bittercress, sea kale young leaves (right), wild garlic, plantain, scurvy grass.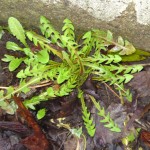 Mild – lesser celandine, ground elder, sea beet, cow parsley, fools watercress (C), chickweed (L), bistort, fat hen, orache (R), hawthorn leaf, scots lovage.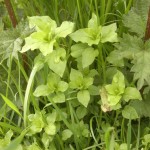 Extras – wood sorrel, sorrel, broom buds (R), gorse flower, sea kale flower, sweet ciceley leaf (L), primrose flower, reedmace shoot (C), marsh samphire, sea purslane.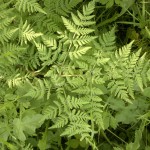 To keep things wild I normally make a simple dressing of walnut oil, elderberry vinegar, seasoning and a little Arran mustard.
Here are a couple of combinations that I regularly return to…
Click here to return to recipe page