Laver Seaweed – Edibility, Identification, Distribution, Preparation, Usage and Laverbread Recipe
Porphyra spp. aka. Nori, Slake (A number of different porphyra species are common and used in similar ways – see below for more info)
---
Related pages:
Check out my Seaweed Webinar which includes an in-depth 20 minute film on laver identification, harvesting, processing, cookery and a recipe demonstration of making laverbread.
"The webinar was amazing! You are a good storyteller. Scientific information, combined with tips and beautiful picturing. 👏" – Kanlenaki on Instagram
"This was absolutely brilliant, thank you so very much for being so generous with your knowledge! The webinar format of videos and live worked fantastically!" – Sarah Hobbs, Webinar chat comments
---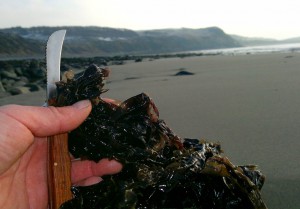 Identification – 4/5 – Easily recognised: deep brown/green/purple sheets, looking like stranded black (or occasionally dull, dark greenish) bin bags when the tide is out. See below for notes on different species.
Edibility – 4/5 – A great ingredient and important member any wild food larder
Habitat – Clinging to moderately exposed rocks on open beaches, from about half to two thirds of the  way down the tidal range. Also on groins, piers and harbour walls. Habitat varies according to the species of porphyra you encounter.
Distribution – 3/5 – UK-wide but occasional and a little picky about where it will grow
Season – One or another  species of larva are likely to be available at most times of year, but its mostly at its best for harvesting November – July.
How to harvest – Mindfully harvested by cutting (never pulling) up to 2/3rds of the growing sheets, leaving plenty connected to the rock, and never clearing a whole rock or area. Don't be put off if it clings to the rocks in dry mats – it soon rehydrates. Gathered on a receding tide it will be easier to clean.
How to eat – Dried, toasted and crumbled as a seasoning for rice, salads, stir-fries etc and in stock powders; Or cooked, as an enricher of soups, stews etc; As a rich textural addition to pies, tarts etc; Mixed (after simmering) with oatmeal and fried as patties to make laverbread; as the core ingredient of very "meaty" tasting vegan patés; the drained cooking liquor makes a thick, umami-rich stock.
Laver has no great flavour if you eat it raw, but once processed, imparts a rich, savoury, umami quality to anything it is added to. I have not found a single savoury dish that can't be improved by its addition and it is a cornerstone of my wild larder.
Varieties of Laver
Those of a geeky disposition will be interested to know that several species of laver – porphyra – are indigenous to UK waters, all of them edible and of more or less similar culinary merits. So all the following species can be treated in the ways I describe below.
Even marine biologists can struggle to distinguish between larva species, with habitat and gestalt often being the best clues. The species you are most likely to encounter are Tough Laver (p. umbilicatis) or winter laver (p. linearis) which is quite translucent. It is winter larva that I mostly find around SW Scotland, and that you see in most of the photos on this page. I haven't tried all the varieties, but am reliably informed that winter larva is pretty much the  tastiest.
Another variety, Pale Patch Laver (p. leucosticta) can be found clinging epiphitically to pip weed and serrated wrack. Another species of laver  – p. yezwensis – does not grow wild around the UK, but is the variety you are most likely to encounter wrapped around sushi and labelled by its Japanese moniker, nori.
Porphyra yezwensis does not grow wild around the UK, but is farmed and harvested commercially in vast quantities around Japan. I have made several, admittedly half-hearted,  attempts to make nori sheets from our indigenous porphyra species to serve around my wild sushi. The most successful efforts came out more like (tasty!) fish-net tights than anything that might hold rice. I've given up, but I have seen some respectable efforts from my friend Monica Wilde (who has rather more of an eye for detail than me). Hers came out like dark, brittle cardboard, great for breaking up and serving tit-bits on, but never likely to embrace anything. The undisputed master of sushi paper making (and all sorts of wild paper making) in the UK is Fergus Drennan – read his beautiful rambling blog on the subject here.
Cleaning, Preparing, Cooking and Drying Laver
For a deep dive into using laver in the kitchen, see my Seaweed Webinar.
Once harvested, most of the work is in rinsing out the sand and silt. Don't rush this job – my friend gave me a jars of smoked dried laver that tasted fantastic (seaweeds and smoke are natural bedfellows), but was basically unusable because it was full of silty sand. The most delicious of things can be rendered quite unpleasant by only a small amount of sandy crunch!
Collecting in net bags and rinsing thoroughly in clean sea water before you take it home is a good start, but you'll also need use plenty of changes of cold fresh water once you get it to your kitchen. I put fat handfuls into the basket of a salad spinner, and run cold water through them, before sitting the basket in its spinner, filling with water and swirling it round (while still full of water), before draining, spinning off excess water and then repeating the whole process. By checking the bottom of the water after each spin, you can monitor how much sand/silt remains. Usually repeating this method about three times is enough.
I then pack the spun, squeezed-out laver onto shelves of my dehydrator. On fine spring days, i'll leave these out in the sun to begin the drying process, but (unless you do separate out the individual sheets, and/or have a really warm, breezy day), they won't fully dry like this (remember that laver has evolved to resist drying out at low tide by forming an "outer crust" while trapping plenty of moisture between its sheets below).
Provided you have a good dehydrator don't worry about separating out individual sheets. You can also use a fan oven on its lowest possible heat setting (perhaps with the door left slightly ajar) or anywhere warm with good air flow.
Laver goes chewy and awkward to use when you simply dry it like this, but, once dried, a little toasting in the oven or in a dry frying pan works magic, turning it slightly green and bringing out the deeply savoury nori flavour you will be familiar with in Japanese cuisine and seaweed snacks. Don't over toast it as it can go over and burn very quickly at which point it becomes unpleasantly bitter.
Ground to a fine powder, dried, toasted laver is one of the most useful additions to any forager's wild pantry, imparting rich umami to anything it is sprinkled on, or added to shortcrust pastry or sourdough bread. Paired with dried cep powder, it becomes a supercharged savoury weapon of mass deliciousness, and enhances any savoury dish to which it is added.
To cook laver from fresh or dry, place in a pan with fresh water – just a little if the laver is fresh or already rehydrated, as it will exude plenty more water as it cooks, but more water if it is dried to allow for rehydration. Then bring to a simmer and cook on just enough heat to keep it "blipping", with a lid on, for about 4 to 6 hours, ensuring it doesn't boil dry. Just add more water if you think its necessary. You can reduce the cooking time a little, and improve the keeping qualities of the cooked seaweed, by adding a little apple cider vinegar to the pan.
Once the laver is very soft, drain and squeeze out, taking care to reserve the liquid which is the richest, most umami and nutrient rich stock you could imagine. Reduce the stock down further once you've removed the seaweed to make a concentrate and freeze it in ice cube trays for throwing into sauces or making a glaze for meat. If you aren't planning to use it all right away, put the cooked, drained laver in small tubs or ziplocks in the freezer (it doesn't keep very well unfrozen). This is a great freezer resource, which I brink out to add to savoury richness and body to stews and soups, as a filling for tarts, in mushroom/vegy/vegan patés and as a layer in mile-high wild pie.
Laverbread Recipe
For a demonstration of laverbread making, see my seaweed webinar.
To make laverbread, the Welsh favourite, blitz the cooked, strained laver with a stick blender or in a food processor then add pinhead oatmeal (I use 2/3rd medium, and 1/3rd fine oatmeal), until it becomes thick enough to roughly mould into patties. Unusually for seaweed, you may wish to add some seasoning – depending on my mood, I add some or all of: mushrumami "soy" sauce, spoot clam garum, pepper dulse, sun-dried white sea lettuce and fermented wild garlic.
Shallow fry the patties in a fat of your choosing, pressing them with the back of a spatula to a thickness you like as they fry, until the oatmeal starts to bronze and form a nice crust. Bacon fat it the acme of frying mediums for laverbread, but they are still extremely good fried in less decadent fats.
I make them in huge batches, then once cool, IQF freeze them (ie. lay them on trays in the freezer so the patties aren't touching, then once frozen move them into tubs. Stored this way, you can take them out and reheat them in the oven as you need them. This is very practical, but do be sure to eat some freshly fried when the the oatmeal is still bronzed and crispy on the outside!
I like hot laverbread with smoked fish and sea beet for breakfast. They are often served with cockles or mussels, and I particularly enjoy them in a deep, deep umami-fest with very lightly steamed razor clams. These are top notch "grows-together, goes-together" pairings, but don't feel restricted to marine themes. They are also delicious served cold, maybe for dipping in wild garlic pesto or alongside nettle soup.
 Related pages: