Super Simple Nettle Soup, with some even wilder suggestions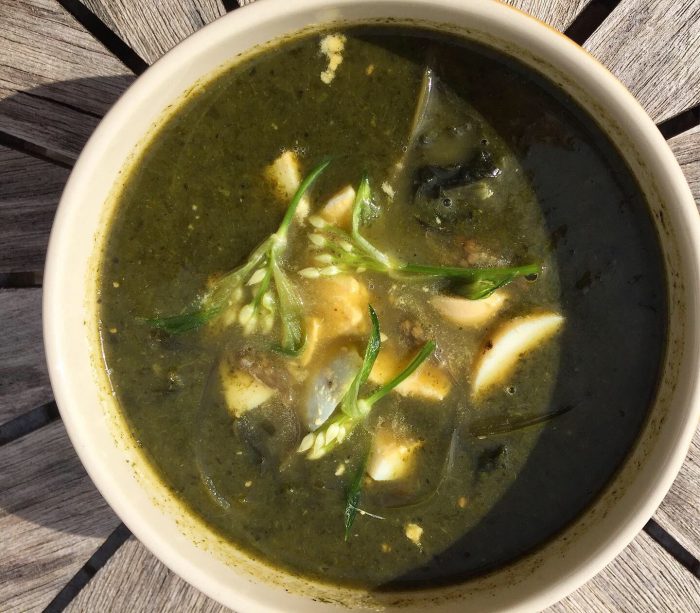 Nettle soup is a forager's classic for all the best reasons…
Nettles are everywhere
Nettles are very good for you
Nettles are delicious
I'm giving my basic recipe below, with wild twists and other alternatives you can throw in depending what you have. This recipe is very flexible, working equally well if you substitute other flavoursome wild greens for the nettles – in whole or in part. Try ground elder, wild garlic, wild leeks, cow parsley, common sorrel, wild watercress, or anything that takes your fancy!
Pick a bag of nettle tops. By tops, I mean the top 3 or 4 pairs of leaves. Why? – the stem gets tough & fibrous lower down, and old leaves develop sillicates which are hard for your body to process in quantity. Don't be a hero, wear gloves, and scissors help too. Its fine to take a bit of the upper stem when snipping your nettle tops. By bag I mean as much as you can be bothered picking! I usually start quite grumpily, begrudging the 'work', then quickly start to enjoy it! Moving about different nettle spots breaks the monotony and leaves leaves plenty for others – both human and other animals.
Give your nettles a good wash. Remember, they thrive on fertile ground, which includes dog pee zones!
Chop a couple of onions (or/and a fat sheaf of wild garlic/wild leeks/leeks) and sweat them in some butter in a saucepan until they soften, but don't brown them.
If you want to make your soup even wilder, use wild garlic or wild leeks instead of regular onions. These cook down in the same way as cultivated alliums, turning from pungent to mellow sweetness as the heat evaporates their volatile sulphurous compounds. You'll need to start with quite a high volume of them, as they break down to less than a quarter of their starting size. Keep a few back for later.
Chuck in half of your nettle tops and let them sweat down a bit. Cooking removes all their stinging properties.
Chop 2 or 3 potatoes into small (<1cm) cubes and chuck them in to sweat a bit too – these will thicken and add body to your soup later.
Wild alternatives to potatoes include reedmace root, ideally in powdered form – see here for how to make reedmace flour.
Once all that has sweated down a bit, add some boiling water. If you start with just a bit, you can always add more later.  If you have vegetable stock, or seaweed stock, use that.
If you just added water, now add some vegy stock powder or stock cube(s)
Wild additions to further enrich the stock, or to use as wild stock alternatives include dried seaweed powder and/or powdered dried mushrooms
Bring to a gentle simmer and cook until the potatoes are soft
Add in the rest of the nettles (and wild garlic/wild leeks if you are using them) and blitz the soup. This will add vibrant green and fresh allium punch.
Simmer for another minute or two, taste and add more seasoning and/or stock if required
Serve with, for example, chopped hard boiled eggs, fermented wild garlic, ramson flowers etc
A couple of bowls of this and I guarantee you will feel a healthy, satisfied glow!