Scarlet Elf Cup – Identification, Edibility, Distribution, Ecology, Recipes
Sarcoscypha austriaca
also Sarcocypha coccinea, the Ruby Elf Cup
Both these species are variously referred to as scarlet or crimson elf cups. They are virtually indistinguishable to the naked eye. Learn more about their microscopic differences on the Scottish Fungi website here.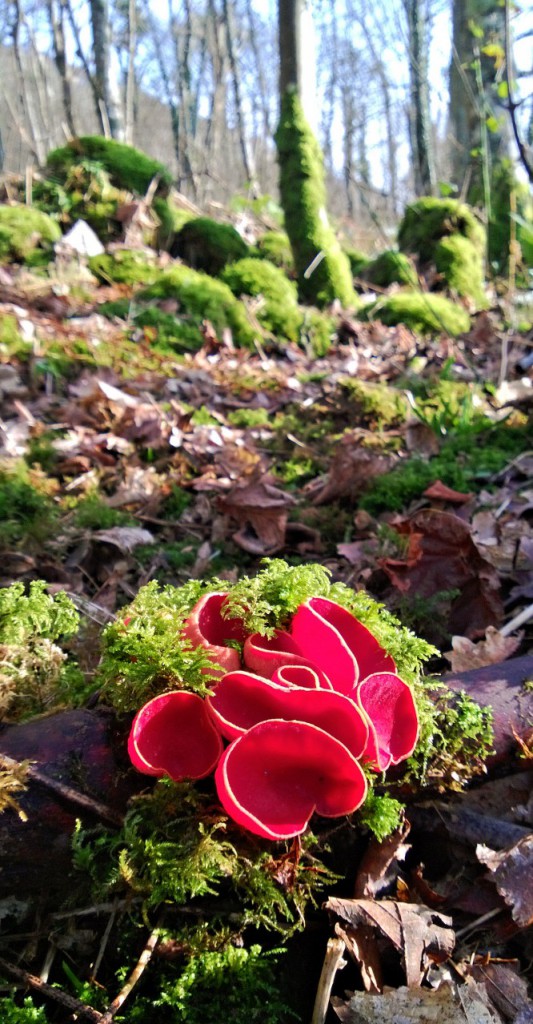 Edibility – 3/5 – Some guide books list them as inedible, perhaps because of their lack of succulence. I have heard one "uncorroborated report from someone who read somewhere that they may not be especially good for you in large quantities" (like a lot things!), but have been unable to track down the reference.  I rate them highly and eat a small amount every year, and am yet to encounter anyone who has had any issues eating them. As with all wild fungi, eat only a small amount, cooked, the first time you try them.
Identification – 5/5 – Crimson red, young specimens goblet shaped, stem becoming less noticeable with age so becoming cup-shaped, 1-5cm diameter, pale on the outside, thin fleshed. Orange variants (not to be confused with orange peel fungus, which does not grow at the same time of year) occur occasionally, as do even rarer pure white variants.
Distribution – 3/5 – Can be found in large numbers where established. They seem more common in the West and near the sea. I suspect this is to do with heavier rainfall and exposure to prevailing winds, which tends to create more windfall.
Season – December to April – often flushing after a thaw
Habitat – Fairly common in humus rich, damp, deciduous woods with plenty of fallen wood, from which they grow. They have a preference for moss-covered sycamore, willows, beech and hazel, though identification of host trees can be tricky as they are usually in an advanced state of decay and covered in moss. I find most of mine in snowdrop and wild garlic-filled woods.
Ecology – Scarlet elf cups are saprophytic (rotters) on fallen deciduous wood – a secondary decomposer. A 2011 research paper indicates that elf cups play an important role in releasing nutrients from woody debris in early spring, supporting the growth of early spring plants. Unlike most edible fungi, elf cups are ascomycetes, meaning that they actively shoot their spores into the air, rather than dropping them through pores or gills like basidiomycetes. Scarlet elf cups offer one of the best opportunities to observe this phenomena: by blowing on them (ideally later on in their growth cycle) can trigger them to shoot clouds of spores which can be seen with the naked eye. This is not the movement of your breath raising a cloud, but the subtle change in temperature that it brings triggering many thousands of spores into being simultaneously shot from the inner surface of the cup by pneumatic action. Try it, its amazing – great fun to do with kids, and a reminder that we can actively support spore dispersal. You can view a short video of it happening here.
Foraging is full of pleasant surprises, and elf cups are one of its best. I find lots in a snowdrop and ramson-filled wood by the sea and the contrast of the red elf cups, white flowers and vibrant green moss makes it a very special place in February.
I admired them for years without really bothering to try eating them – their thin red flesh put me in mind of chamois leather and didn't seem to offer too much promise of flavour, and most fungi guides either omitted them or were circumspect about their digestibility. So when a keen wild food chef I work with started raving about them, I decided it was time to do some research, give them a go, and share my thoughts here. That was nearly 10 years ago, and since then scarlet elf  cups have rocketed from near obscurity to winter social media superstars of the wild food world. Its hard to find a foraging social media feed that isn't plastered with them in February – not surprising given their startling beauty!
Scarlet elf cups have a subtle, earthy flavour – fungal, with perhaps a hint of beetroot. Though the texture isn't typical of mushrooms, they do cook well – either frying or in stews seems best. Once you park your expectations of what you think a mushroom should taste and feel like in your mouth, and embrace them for what they are, most people find them tasty.
They lend themselves so well to holding things, that I can't resist filling them with other woodland gifts for some on-the-hoof raw hedgerow munching. I don't usually recommend eating wild fungi raw, but haven't encountered any problems with elf cups. If you do give it a go, try a little bit the first time. Early few-flowered garlic shoots, baby velvet shank (which taste like mushroom toffee!), pink purslane and cep-infused lichen have all worked well and look, frankly, stunning.
Watch a video of me making wild winter elf cups sushi/hedgerow canapé/amuse bush…
Scarlet elf cups are related to the equally attractive orange peel fungus which appears in the autumn usually on disturbed ground, new path edges etc. They look exactly as their name suggests, and I regularly pounce on actual orange peel by mistake!
Elf cups can be found in large numbers in certain places when they are flushing, but even then I urge people to pick these beautiful fungi with restraint and leave plenty to continue to do their important work decomposing wood and for others to enjoy. Read more about responsible mushroom picking here.
Below are some ideas and recipe suggestions on what to do with elf cups.
View this post on Instagram
View this post on Instagram
View this post on Instagram
View this post on Instagram
View this post on Instagram
View this post on Instagram
View this post on Instagram
View this post on Instagram
View this post on Instagram
View this post on Instagram
View this post on Instagram
Related Pages: